Poser
Talia Chetrit
Sies + Höke
Sept 8 – Oct 8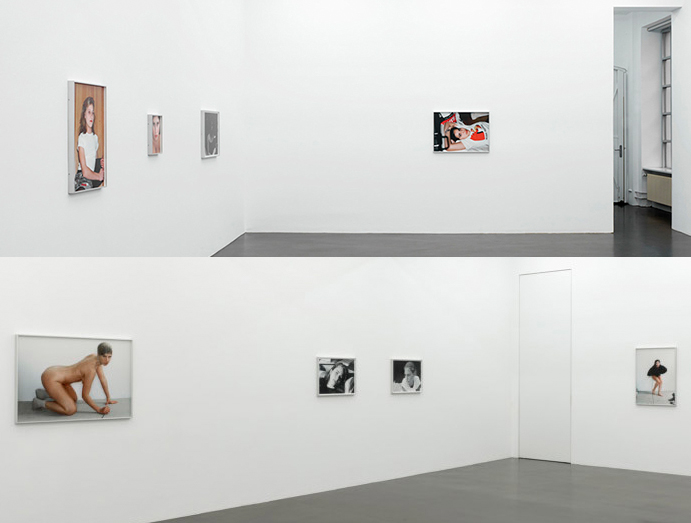 Talia Chetrit: Poser Sies + Höke, September 2017
From the Sies + Höke press release:
In Poser Talia Chetrit takes her own archive as the subject of an exhibition. In this show she presents two rooms of staged photographs taken over a 23 year span as a contiguous body—portraits taken by Chetrit as a teenager of her friends, all aged 12-15 from 1994-1997, and three new self-portraits shot in 2017. In the first set of photographs we see crops of young girls' faces, other girls in lackadaisical repose, two listlessly lying on a bed nude as well as more recent, provocative images Chetrit has taken of herself—donning only panty hose on her face or a plastic shirt, both in overly dramatized makeup.
The work is possible within scalar and temporal shifts of representation that call the very processes of image making into question—framing and reframing the failures of her subjects' intentions, of pretense and of appearing. Her preoccupation with the memory of those early shoots gives impetus to this show as something beyond 'autobiography', however.  At the time, she—newly behind the lens as an artist—and her friends were enacting their burgeoning agencies through each other, as peers, sharing in the spectacle of these photoshoots; this—opposed to her present experience, in which she uses these same images of the girls, then more than half age that she is now, along side images of her adult self—elicits a potently perverse anachronism. We see structures of power and dynamics of relations, prescience of our younger selves, all stripped bare and redressed by turns.
She has consistently, and by necessity, been concerned with the limits of the self-image and the implication of others in her practice. The forensic aspect of this work allows the artist to produce a double take on her own processes. The leaky, violent sophistication of the teen murder scenes alongside the almost clown level of makeup and 'costuming' –in both the images taken of her friends, and those she takes of herself–are leveled on a strange plane of equivalence. Like her previous shows, this work sits inside the unbounded intersections of staging and discovery, of human bodies, objects and meaning, which naturally emerge when photography is considered an act of performance—it's through this process that Chetrit continually reappraises her role as a photographer and that of photography itself.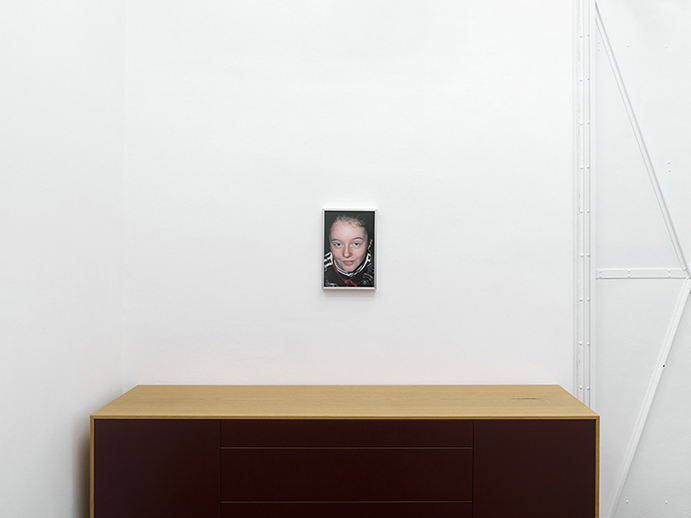 Talia Chetrit: installation view Poser,  Sies + Höke, 2017
This is the third exhibition of Chetrit's work we've helped produce for Sies + Höke. We've been working with Talia since 2009.
For more on our projects with her click here
For more on I'm selecting at Sies + Höke click here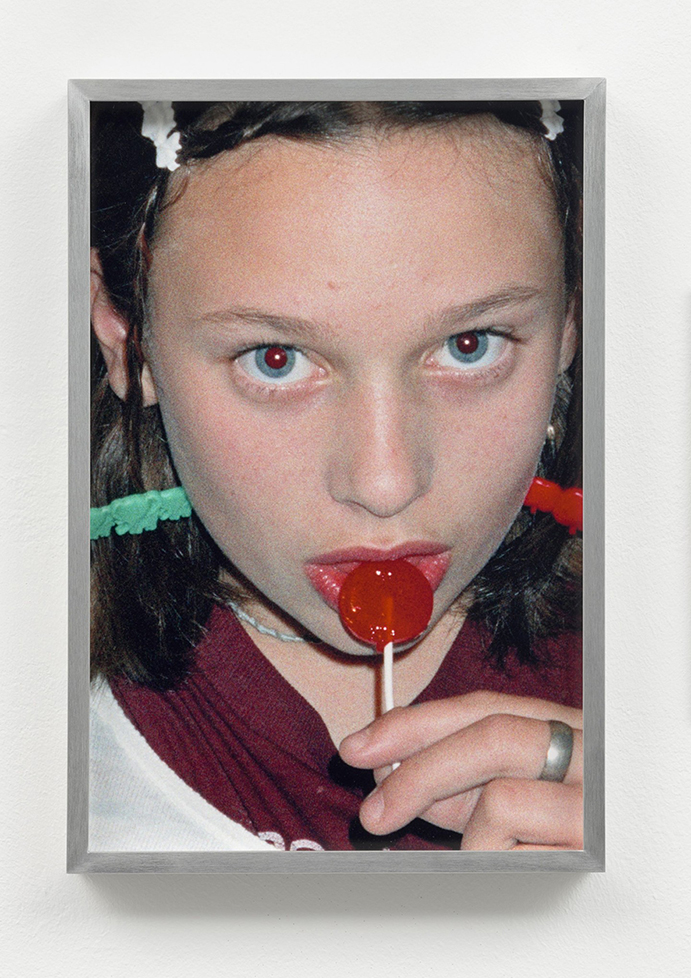 Talia Chetrit: Face 1, 1994 / 2017. 
14″ archival inkjet print
Tags: Archival Pigment Printing (Inkjet), Exhibitions, Imaging, Mounting, Scanning, Sies + Höke Galerie, Talia Chetrit
Playground
James Mollison
Aperture Foundation Gallery
April 16 – June 11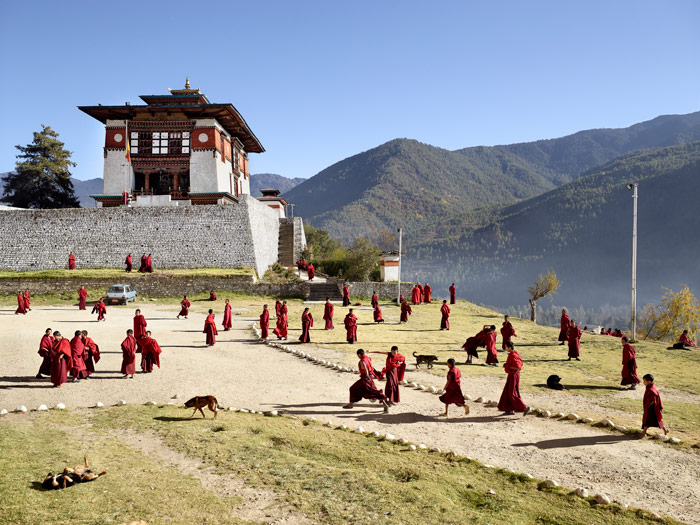 James Mollison: Dechen Phodrang, Thimphu, Bhutan 2011
37.5 x 50 archival pigment print
Back in December 2014, Kellie McLaughlin from Aperture Foundation approached us to print an exhibition for James Mollison's project, Playground.  Aperture and Mollison had been working on the book and the exhibition was to be timed with its release for Spring 2015. We weren't familiar with James' work, though Chris Boot (Aperture's Director) had published a number of his projects over the years before coming to Aperture. So obviously, we had not met him at this point — and as it would turn out — we wouldn't meet him until the opening night of his show!
This could be considered a somewhat unusual approach — or at the very least, maybe not ideal circumstances for producing a 30 (+) print exhibition of works for the first time, with a new customer! But James lives in Italy and wasn't in a position to travel for proofing and well, sometimes these things just happen this way …
The solution turned out to be fairly straightforward: we would simply use FedEx to shuttle a series of tests and proofing rounds between Italy and New York. It was certainly easy enough for us to produce a set of full frame proofs and an additional set of "at-size" sections of each image. This enabled James to review all of his on-screen post-shoot work in physical form and lay out the entire exhibition to get a feel for the balance of color and density. The at-size sections were particularly useful in allowing him to examine the minute details of each complex interaction — a hallmark of this project — and rest assured that everything was falling into place as intended.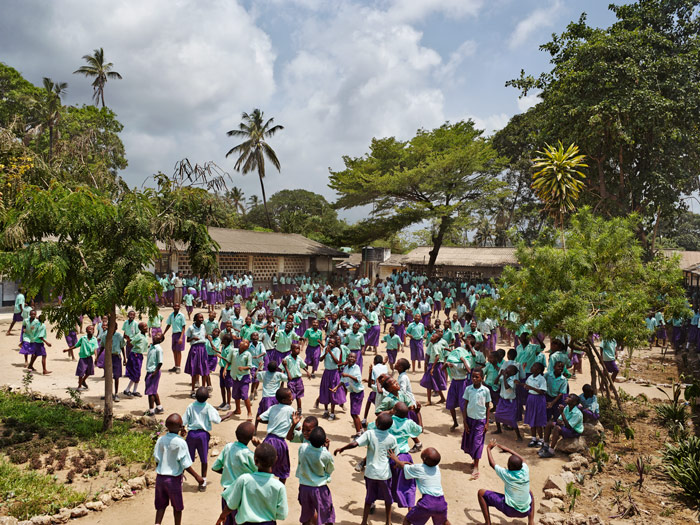 James Mollison: Freretown Community Primary School, Mombasa, Kenya, 2011
From the Aperture Press Release:
Mollison's photo projects are defined by smart, original concepts applied to serious social and environmental themes. For Playground, Mollison photographed children at play in their school playgrounds, inspired by memories of his own childhood and interested in how we all learn to negotiate relationships and our place in the world through play.
Various scenes of laughter, tears, and games demonstrate the intense experiences which happen in the playground. For each picture, Mollison sets up his camera during school break time, making multiple frames and then composing each final photograph from several scenes, in which he finds revealing "play" narratives.
With photographs from rich and poor schools, numerous middle schools, and some high schools, in countries including Argentina, Bhutan, Bolivia, India, Israel, Italy, Japan, Kenya, Nepal, Norway, Sierra Leone, the United Kingdom, and the U.S., Mollison also provides access for readers of all ages to issues of global diversity and inequality.

The scene at Aperture Foundation for the opening of James Mollison's Playground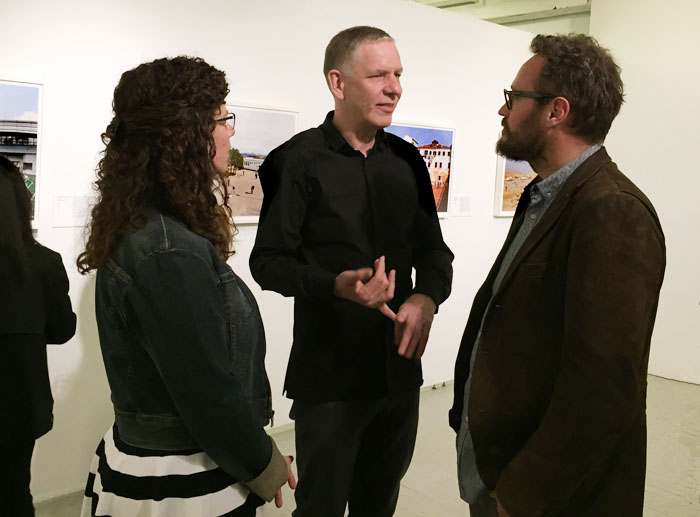 Aperture's Chris Boot (center) counting down the ways he is so pleased with James Mollison's (right) work.
James Mollison's (born in Kenya, 1973) work has been featured widely in such publications as Colors, the New York Times Magazine, and the Paris Review, among many others. He has also published several books, among them James and Other Apes (2004), The Disciples (2008), and Where Children Sleep (2010).
You can see more of James' work on his website by clicking here.
Tags: Aperture Foundation, Archival Pigment Printing (Inkjet), Exhibitions, James Mollison, Mounting
Model
Talia Chetrit
Kaufman Repetto / Milan
November 20 – January 10

Talia Chetrit: Parents in the Sun #1,  2014
From Model, Kaufman Repetto, Milan
20 x 25 digital-c print, acrylic mount
From the Kaufman Repetto press release:
In Model, Talia Chetrit reflects on the complex relationship between reality and representation, investigating themes of authenticity in the photographic medium through the exchange between subject and photographer. Alongside the new series of photographs, a video captures Talia Chetrit's parents – present in earlier photographic works – as unwitting subjects of a collection of video clips. Parents candidly records the self-conscious posturing of the artist's mother and father, contrasting the act of staging an image with the relationships created in the act of photographic portrayal.
While Talia Chetrit photographs, a digital camera films the artist's unsuspecting parents, capturing interstitial situations – bits of conversations and gestures – whose intimacy is made public. The video exposes what happens behind the curtains of the photographic sessions, moments which lead to an image but are normally left out of the final photograph, revealing the view of the artist as curious, voyeuristic and directorial. Explicitly rendered is a vulnerable and private exchange between three members of a family, as well as a photographer and her models.

Talia Chetrit: Parents, 2014
Installation view, Kaufman Repetto, Milan
This process exposes artifice – the posing of subjects for a desired effect – while simultaneously revealing the net of relationships that exist between husband and wife, parents and daughter. Accordingly, the family unit alternates between complicity and disobedience to the power dynamic that exists between the photographer and the portrayed subject. The ostensible sincerity of the candid camera gives a window to the illusory character of photography.
The accompanying series of photographs show Talia Chetrit's parents gazing into each other's eyes, then at their phones or a compact mirror, then back at the camera lens. Employing a number of photographic styles, the components of which allude to authenticity or staging, Chetrit debases the tropes of portraiture. Encountered after viewing Parents in the adjacent gallery, a seemingly candid image taken from a second floor balcony feels intently posed. The use of three different camera formats further highlight the ways in which the fabrication of an image influences its reception.
The interrelation of the video and photographic works in Model places emphasis on the unseen structures inherent to photography, investigating the role of photographer and subject as both attempt to fashion an image that reads as sincere. What becomes visible through Talia Chetrit's laying bare of her working process is that from behind the camera lens sincerity can also be constructed.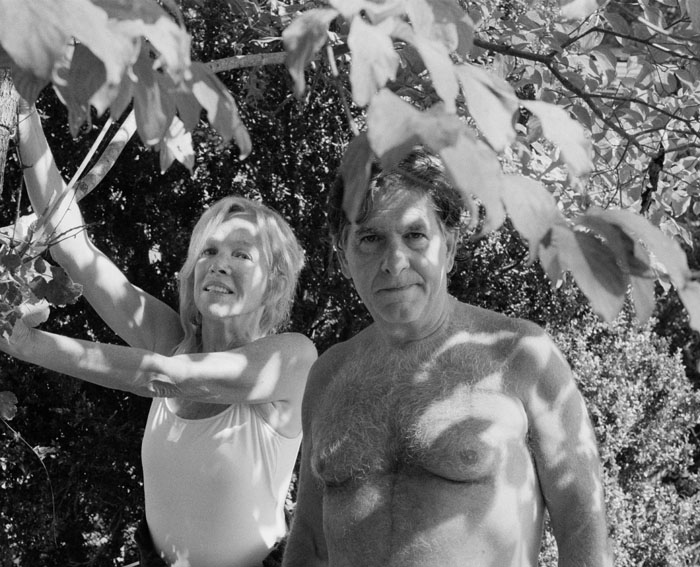 Talia Chetrit: Parents / Trees, 2014
From Model, Kaufman Repetto, Milan
20 x 24 conventionally enlarged silver gelatin print, museum board mount
Aside from the video piece, this exhibition includes (5) digital-c prints and (5) conventionally enlarged silver gelatin prints. You can see installation views and more from Kaufman Repetto here.
This is LTI/Lightside's third solo exhibition  with Talia Chetrit — see more here.
Tags: B+W Silver Gelatin Printing, Digital-C Printing, Exhibitions, Kaufman Repetto, Mounting, Talia Chetrit
La Town
Cao Fei
Lombard Freid Projects
September 10 – October 25
Cao Fei returns for her fifth exhibition at Lombard Freid Projects — this time premiering the 43 minute film, La Town. Projected onto a 9′ x 15′ screen, which dominates the main space of the gallery, La Town drags the viewer on a journey through fantastically film-noir stylized version of contemporary China gone very, very wrong.

Cao Fei: La Town, 2014
9′ x 15′ projection screen / Lombard Freid Projects
In Cao Fei's words:
At a place called the Night Museum", open only after dusk, various artifacts about "darkness" are on display. There is the American horror film: "30 days of Night", Chinese artist Chu Yun's installation "Constellation" and surprisingly, there is even an iPad app game for "The Godfather". The current exhibition is about La Town.
Everyone has heard the myth of La Town. The story first appeared in Europe but after traveling through a space-time wormhole, reappeared in Asia and Southeast Asia. It was last seen near the ocean bordering the Eurasian tectonic plate, vanishing in its midst as if a mirage.
La Town, struck by unknown disaster – where without sunlight, time froze. Polar night was all encompassing so the few instances of white nights have been momentously recorded in the town's history. Yet, through the drifting of time and space, various countries have rewritten La Town's history — and details have been neglected. Now, the story of the small towns past — love affairs, politics, life, demons and disasters — have all been sealed beneath the museums vitrines, the historical "specimens" becoming an authoritative but limited interpretation of this town's history.
The exhibition continues in the back room with five large dibond mounted digital-c print still images from the film (this is our part!).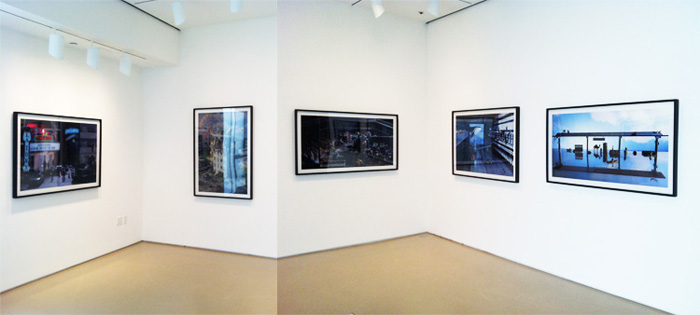 Cao Fei: La Town
Digital-c print, dibond
This is our third exhibition with Cao Fei at Lombard Freid Projects — her previous show Playtime can be seen here.
Tags: Cao Fei, Digital-C Printing, Exhibitions, Lombard-Freid Projects, Mounting
Kids In Love
Olivia Bee
agnès b. Galerie Boutique 50 Howard NYC
June 20 – July 26
By all accounts, Olivia Bee's opening of Kids In Love at the agnes b. galerie boutique on Howard street was a rousing success.
Bee's printed images transcended their intimate boundaries easily transforming into a mega-sized presentation that wasn't even remotely overshadowed by the free posters and t-shirts — or the fervent social-sharing sea of twenty-somethings that eventually overflowed onto the street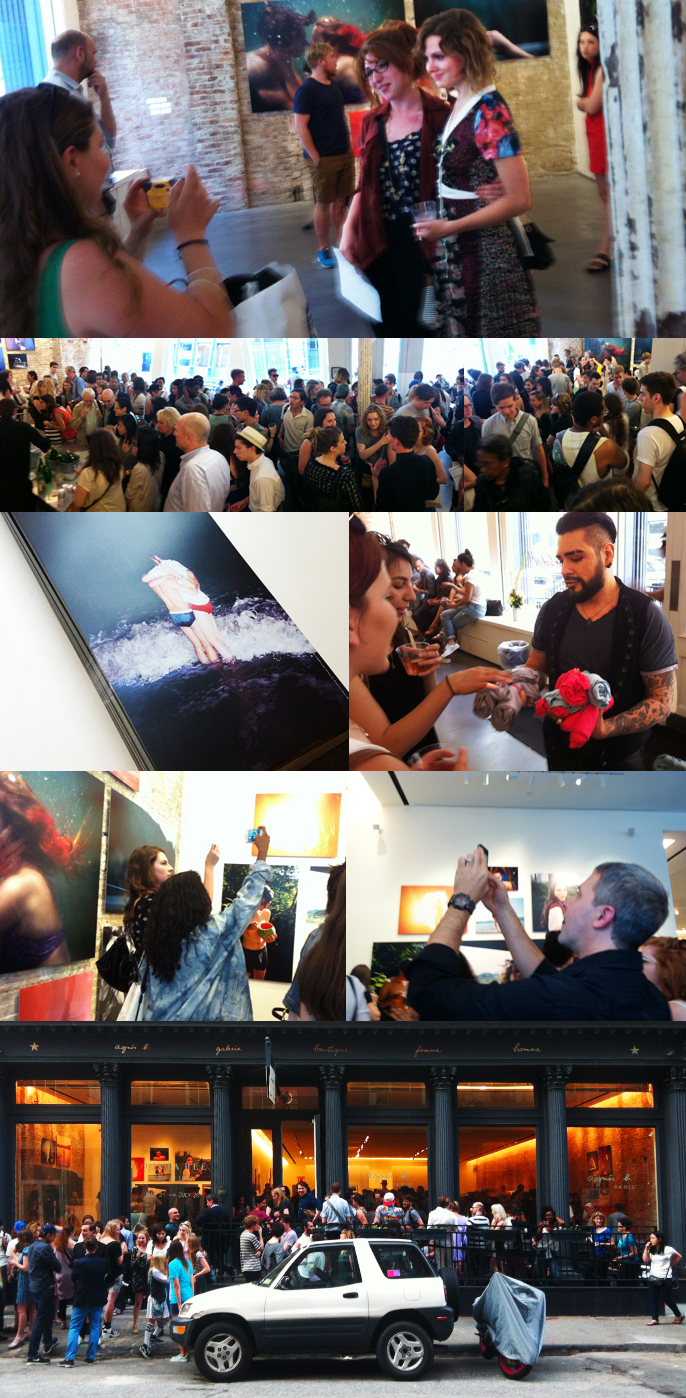 Tags: Digital-C Printing, Exhibitions, Mounting, Olivia Bee, Retouching
Kids In Love
Olivia Bee
agnès b galerie boutique, New York
June 20 – July 26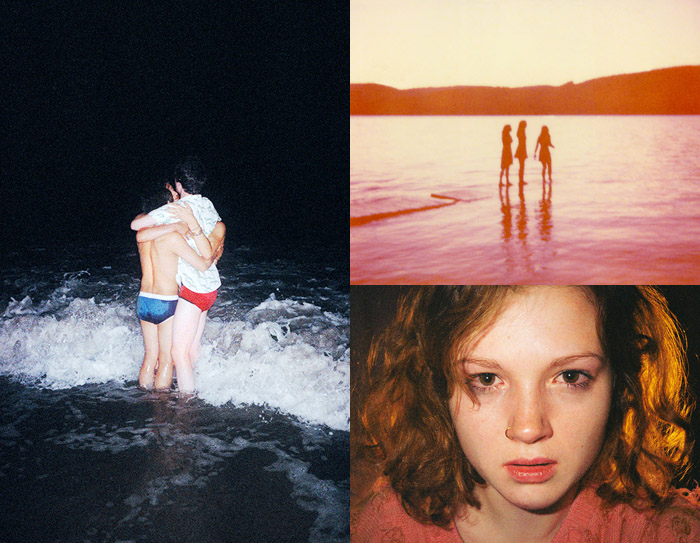 Olivia Bee: from Kids In Love
L: 4th of July (The Family You Choose), 2013
R: top – Running Away Lightly / Magic Hour, 2012
R: bottom – Bad Day, 2013
There's a lot being said about Olivia Bee's Kids In Love photographs and her exhibition at the agnès g galerie boutique — a quick google search will pull up about 3,270,00 results in 0.43 seconds — so I'm going to keep it brief here.
We had a great time producing this show.
Olivia is super-nice and easy to work with.
If you need to know more, check our other posts here or ask google  — the best stuff comes from her and she's quoted, like, everywhere.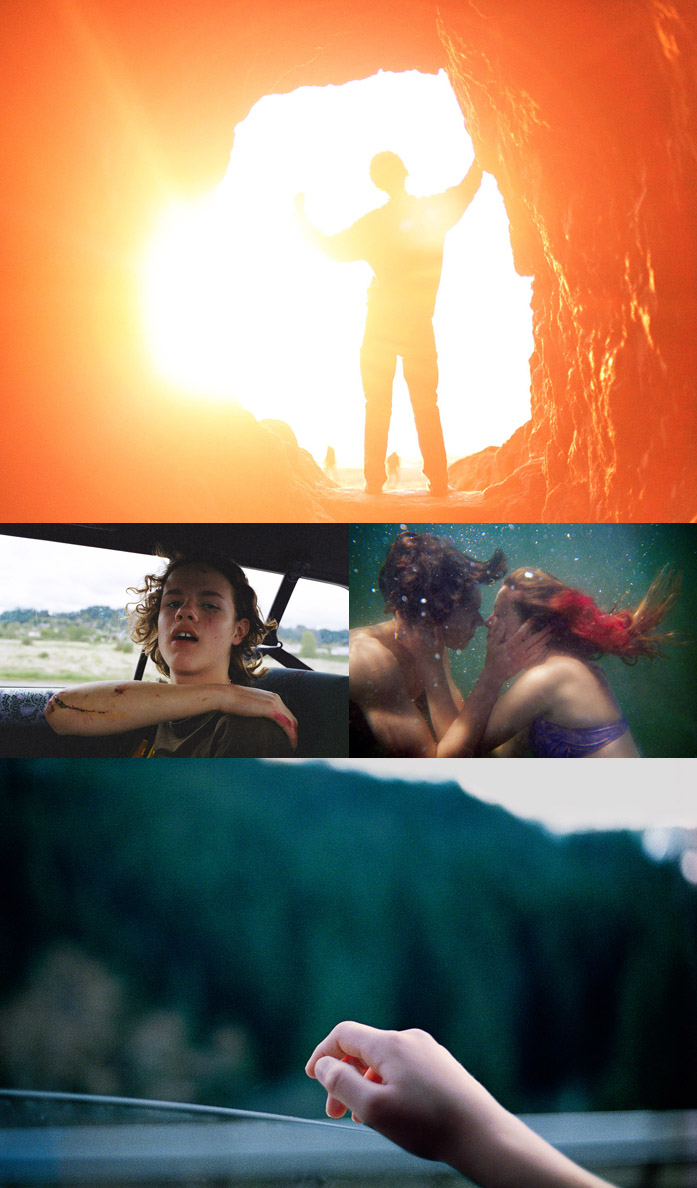 Olivia Bee: from Kids In Love
top: Untitled, 2010
middle left: Max Jumped Off a Train, 2012
middle right: Pre-Kiss, 2010
bottom: Fingertips, 2010
Tags: Digital-C Printing, Exhibitions, Mounting, Olivia Bee, Retouching, Scanning
Touching Strangers
Richard Renaldi
Aperture Gallery
April 3 – May 15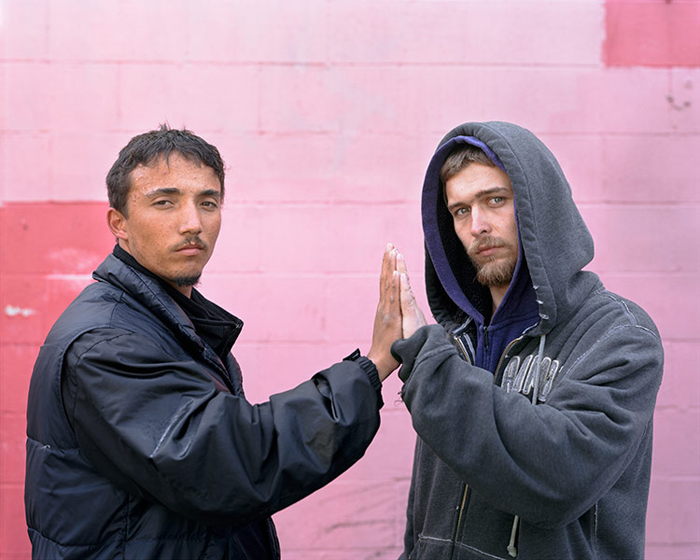 Richard Renaldi: Vincent & Charles, Los Angeles from Touching Strangers, 2012/2013
50 x 60 archival pigment print
From the Aperture Press release:
Since 2007, Richard Renaldi has been working on a series of photographs that involve approaching and asking complete strangers to physically interact while posing together for a portrait. Working on the street with a large format 8-by-10-inch view camera, Renaldi encounters the subjects for his photographs in towns and cities all over the United States. He pairs them up and invites them to pose together, intimately, in ways that people are usually taught to reserve for their close friends and loved ones.
Renaldi creates spontaneous and fleeting relationships between strangers for the camera, often pushing his subjects beyond their comfort levels. These relationships may only last for the moment the shutter is released, but the resulting photographs are moving and provocative, and raise profound questions about the possibilities for positive human connection in a diverse society.
This exhibition coincides with the launch of Renaldi's book Touching Strangers and includes thirty-five photographs from the series, curated by Ann Pallesen, director of Photographic Center Northwest, Seattle (where the exhibition will tour following its presentation at Aperture Gallery).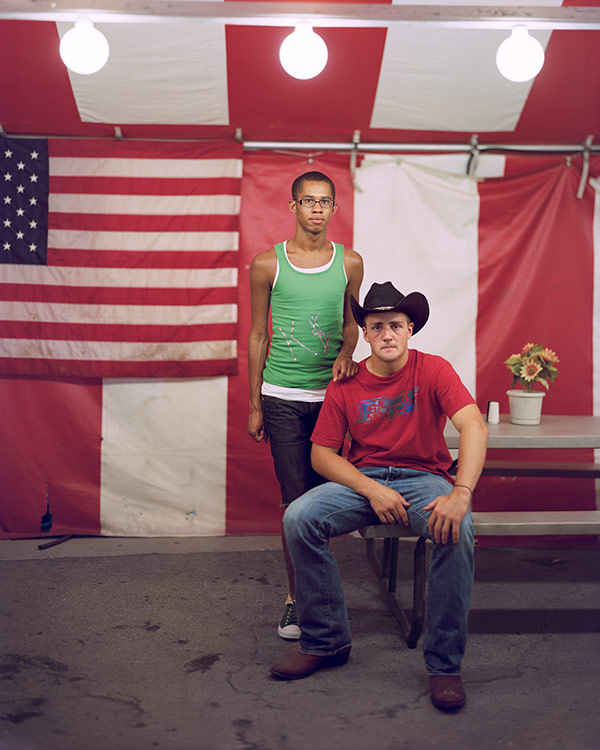 Richard Renaldi: Jeromy & Matthew, Columbus Ohio, 2011/2013
From Touching Strangers
50 x 60 archival pigment print
This LTI-Lightside's first exhibition with Richard though we've been working with him for years. We've processed his 8 x 10 color negative and black & white film from a multitude of projects going further back than even Fall River Boys. And, of course, we've made prints here and there along the way … it's always been a pleasure seeing Richard's projects evolve and we're flattered to have been invited to be an integral part of the working process of Touching Strangers.
 
About Richard Renaldi:
Richard Renaldi (born in Chicago, 1968) graduated from New York University with a BFA in photography in 1990. He has presented solo exhibitions both in the United States and abroad, including at Fotografins Hus, Stockholm; Robert Morat Galerie, Hamburg, Germany; and Yossi Milo Gallery, New York. Renaldi's work has also appeared in group exhibitions, including Strangers: The First ICP Triennial of Photography and Video at the International Center of Photography, New York (2003). Touching Strangers is Renaldi's third book, following Figure and Ground (Aperture, 2006), and Fall River Boys (2009).

Visit Richard's website here.
Tags: Aperture Foundation, Archival Pigment Printing (Inkjet), Exhibitions, Film Processing, Mounting, Richard Renaldi
Italian Pictures
Lawrence Beck
Sonnabend
March 29 – April 26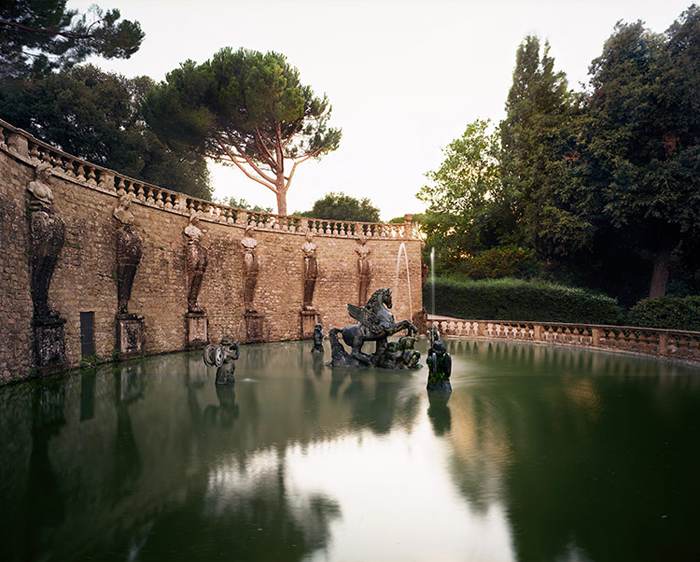 Lawrence Beck: Villa Lante III, 2013
60″ x 73″ archival pigment print on dibond
From the Sonnabend press release:
These new "Italian Pictures," consisting of large format photographic tableaux of formal gardens, aqueducts, and fountains, were photographed in and around Rome last year. The patinated ruins, bridges, and statuary in these works are captured in early morning and late afternoon light that provides both atmospheric softness and chiaroscuro definition. The motif is the same as that used by classical artists as a source of contemplation and inspiration, but here is used in a way that uniquely blurs the distinction between photography and painting.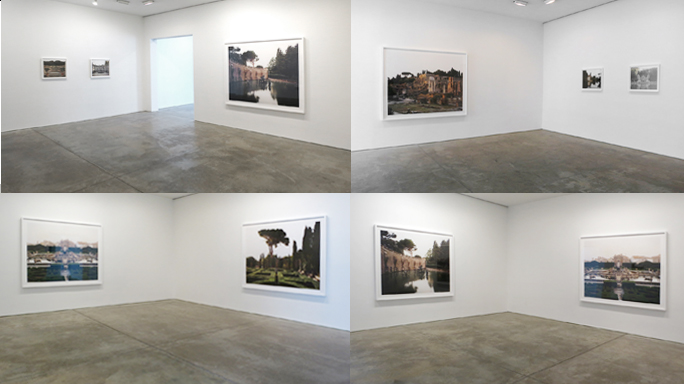 Sonnabend Gallery: Lawrence Beck, Italian Pictures, 2013
This installment of Italian Pictures is LTI-Lightsides's sixth exhibition at Sonnabend Gallery with Lawrence Beck. As were all the previous works, these 59″ x 72″ archival pigment prints are imaged from high resolution scans of his original 8 x 10 color negatives.
For more images from this exhibition and of Beck's work in general, please visit his website by clicking here.
Tags: Archival Pigment Printing (Inkjet), Exhibitions, Film Processing, Lawrence Beck, Mounting, Scanning, Sonnabend Gallery
Natura Morta and Flowers, Fish & Fantasies
Paulette Tavormina
Robert Klein Gallery
February 8 – March 29
Botanicals
Ars Libri
February 7 – March 29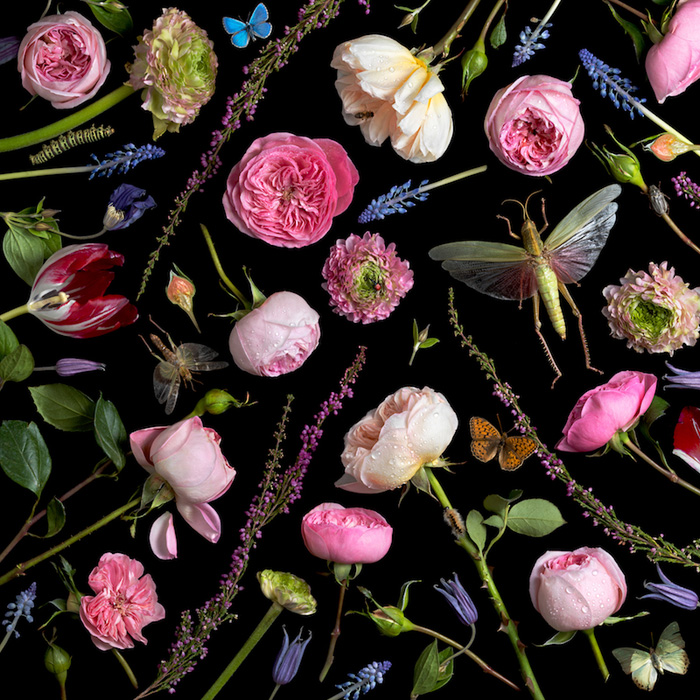 Paulette Tavormina: Botanical VI (Juliet Roses), 2013
54 x 54 archival pigment print
The following text is from the Robert Klein Gallery press release:
Following successful shows in London, Moscow, Paris, San Francisco, New York, and Chicago, PAULETTE TAVORMINA will have a solo exhibition in Boston this February. ROBERT KLEIN GALLERY debuted Tavormina's photographs in 2009 and presented her first solo show in 2010.
The forthcoming exhibition, Black & Bloom, has two distinct parts: Tavormina's newest series, Botanicals, will be shown at ARS LIBRI beginning Friday, February 7; work from her earlier series, Natura Morta and Flowers, Fish & Fantasies, will be shown at Robert Klein Gallery beginning Saturday, February 8. The exhibition runs through March 29 in both locations.
Paulette Tavomina: Crabs & Lemon, after P.C. From the series Natura Morta, 2009
A regular visitor to New York City's flower and farmers markets, Tavormina looks for "perfectly imperfect" plants to set the scene. But she does not limit herself to items on sale; she has found butterflies on the sidewalk and picked lilies of the valley through wrought iron fences. Florence Fabricant of THE NEW YORK TIMES called Tavormina's still lifes "arresting." Vince Aletti of THE NEW YORKER writes of the work: "[f]ruits, vegetables, and flowers spill from their containers in an almost obscene display of abundance. Everything seems poised between voluptuousness and rot, at once gorgeous and doomed."

Botanicals, a series Tavormina started in 2013, takes a traditional genre and flips it on its head. At first glance, the images appear to be deconstructed still lifes from her earlier series Natura Morta and Flowers, Fish & Fantasies. But where she once directed the viewer's eye, Tavormina is now dispersing with a central focus and playfully pulling our attention to the edges of the image.

"These are all my favorite flowers, in all stages of life," says Tavormina. "They represent my childhood, my memories." In her quiet, beautiful way, she reminds us that winter's root vegetables and summer's roses can flourish side-by-side, that the seasons have given way to age and time.
LTI-Lightside has been working with Tavomina since 2009. Her work has been exhibited in New York, Miami, Chicago, Los Angeles, London, Paris, and Moscow among other venues. For more of Paulette's work, please visit her website here
Tags: Archival Pigment Printing (Inkjet), Exhibitions, Mounting, Paulette Tavormina, Retouching, Robert Klein Gallery
KE-17 JIGSAW
KE-03 LARGE PINKING
KE-24 SCALLOP
KE-16 POSTAL
Anna-Sophie Berger
JTT
January 26 – February 23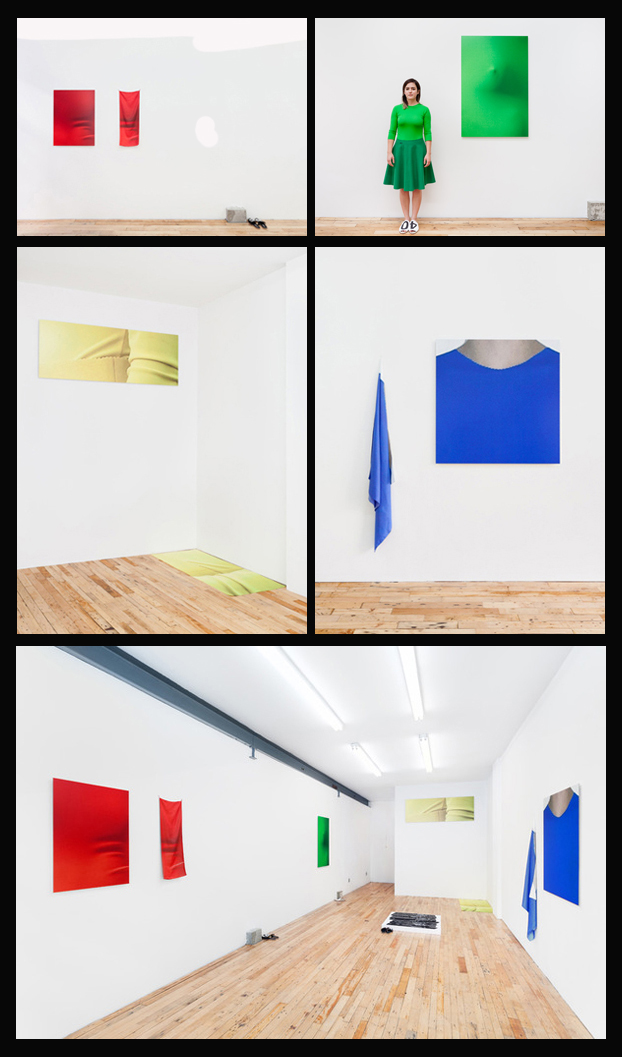 Anna-Sophie Berger: JTT Gallery, 2014
From the JTT Gallery press release:
JTT is proud to present the first solo exhibition by Anna-Sophie Berger. On display are four photographs derived from a group of garments from Berger's latest textile works—pixelated digital information in contrast to specific material used in the production of clothing. Each of these garments will be visible as part of a four person performance the evening of the opening.
The same images that are made into photographs are also reproduced onto silk scarfs of the exact same size. The difference between the two objects lies within their haptic reality, their ideal value in terms of fashion versus art, merchandise versus edition, handcrafted versus manufactured, static versus the mobile possibilities of site – a scarf and an image.
In marketing, colors are used as means of distinction, as well as to create an elaborate ordering of the needs of any given consumer—the possibility of choice, red over green. Hard, medium, soft, ultraflex.
LTI/Lightside was pleased to produce four pieces for Anna-Sophie Berger's exhibition. Red, Blue, Green and Yellow are archival pigments prints ranging in size from 21″ x 36″ to over 25 x 70. The presentation is wood and aluminum braced dibond with UV vinyl over-lamination.
This is our first exhibition with Berger and JTT.
Tags: Anna-Sophie Berger, Archival Pigment Printing (Inkjet), Exhibitions, JTT Gallery, Mounting