Artists in Dialogue: Katherine Newbegin & Jim Osman
Katherine Newbegin
Lesley Heller Workspace
October 23 – December 4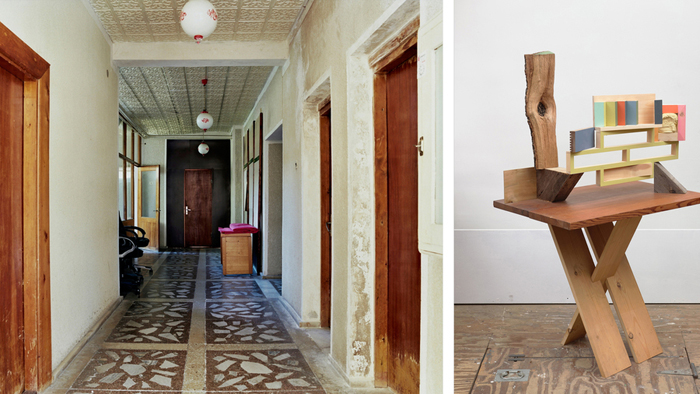 Leslie Heller Workspace: Artists in Dialogue: Katherine Newbegin & Jim Osman
October 23 – December 4, 2016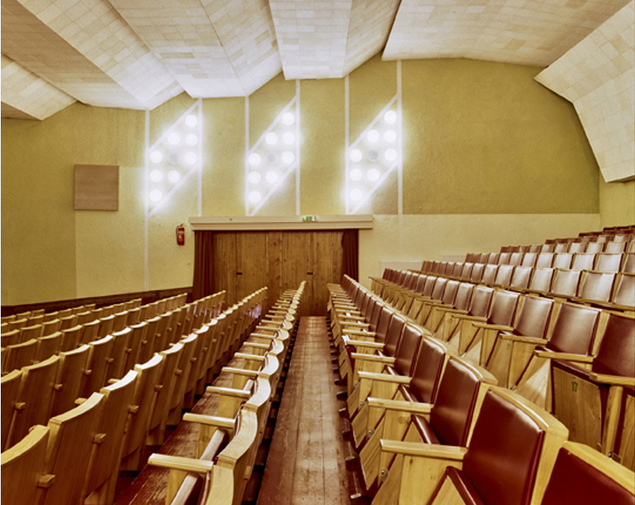 Katherine Newbegin "Auditorium circa 1972 (Eglés Sanatorium, Druskininkai, Lithuania)"
2016, C-Print, 40 x 50 in. Ed. of 2 + 1AP
From the Leslie Heller Workspace website:
Artists in Dialogue presents the work of photographer Katherine Newbegin and sculptor Jim Osman.
Katherine Newbegin's photographs explore vacant and long unused places of leisure, travel and transitional occupancy. All of these spaces are deeply informed by the traces of the human activities that had once taken place there, and linger now only in the remnants left behind.  The architecture of these hotel rooms, sanatoriums, and auditoriums, holds a stifling sense of deadness, as if already ossified, channeling imagery of a distant yet recent history.  Newbegin's newest series of photographs explore Polish and Lithuanian hotels and sanatoriums which were used in the 1970's as vacation and therapeutic destinations by citizens of the former Soviet Union.
Jim Osman's sculptures center on explorations of structure, architecture and space. Working with wood, paint, and construction paper, Osman instinctively combines materials, forms and colors to create dynamic 3-dimensional compositions. The sculptures presented in this exhibition range from  complex free-standing floor pieces, to smaller and more intimate sculptures with simplified geometric contours. The sculptures excavate formal relationships of line and structure and invite contemplations on architecture, furniture and the materiality of wood.

 Katherine Newbegin "Couples (Eglés Sanatorium, Druskininkai, Lithuania)", 2016
C-print, 30 x 40 inches, Ed. of 3 +1AP
LTI/Lightside has worked with Katherine Newbegin for a number of years — we printed this series of 30 x 40 and 40 x 50 conventionally enlarged c-prints directly from her original negatives.
Katherine Newbegin (b.1976) received her MFA from Hunter College and her BA from Yale. Newbegin has been the recipient of a Tiffany grant in 2009, a DAAD fellowship in 2008, and has been awarded residencies at the Marie Walsh Sharpe Foundation, Yaddo, the Camera Club of New York, and the Catskills Mountain Foundation. Newbegin has shown her work nationally and internationally, including at: Dina4Projekte, Haas & Fischer Gallery, Galerie Open, Pinakothek der Moderne, Kunstverein Munich, Kommunale Galerie Berlin, the Loeb Art Center at Vassar College, Deutsches Haus, and the Chelsea Art Museum. Newbegin has published catalogues with Revolver in Germany, and the Loeb Art Center at Vassar College. Her work has been featured in Berlin Zitty, Time Out New York, Lettre International, Camera Austria, Neues Deustchland, ParisBerlin, Zuricher Zeitung, Die Welt, and the Berliner Morgenpost. She lives and works in Brooklyn, New York.
Tags: conventional c-prints, Exhibitions, Film Processing, Katherine Newbegin
Four Decades
Tina Barney
Paul Kasmin Gallery
May 7 – June 20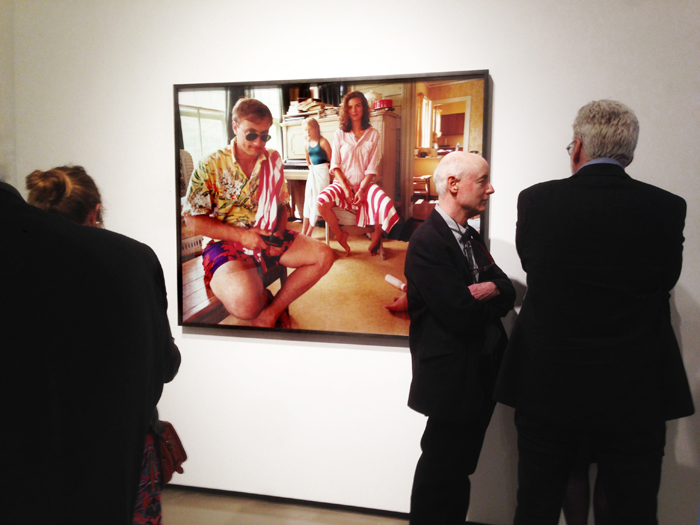 Tina Barney Four Decades,  Paul Kasmin Gallery, 2015
From the Paul Kasmin Gallery press release:
Since the early 1980s, Tina Barney's large-scale photographs have laid bare candid moments in the elusive lives of those in the upper classes of American and European society.  Through Barney's humanist lens, she consistently demonstrates that life in a rarified world is idiosyncratic and spontaneous in its own way. The works presented in Four Decades offer a succinct overview of Barney's oeuvre, featuring notable early works such as Mark, Amy and Tara, 1983, and The Reception, 1985. Later photographs from the acclaimed series "The Europeans" and "Players" continue to articulate a narrative about the lives of the wealthy as Barney depicts familiar scenes against lushly saturated, opulent backdrops allowing the viewer to share in intimate moments. Four Decades also highlights one of Barney's editorial masterpieces, The Limo, 2006, as well as works from her series "Small Towns," focusing on the nuances of regional American life.


Tina Barney: Four Decades opening at Paul Kasmin Gallery, 2015
This is Tina's first exhibition with Paul Kasmin and our second with her. Four Decades allowed us to print a few pieces from her archive that we had not seen before as well as more recent work that we've been involved with since we started working together in 2010.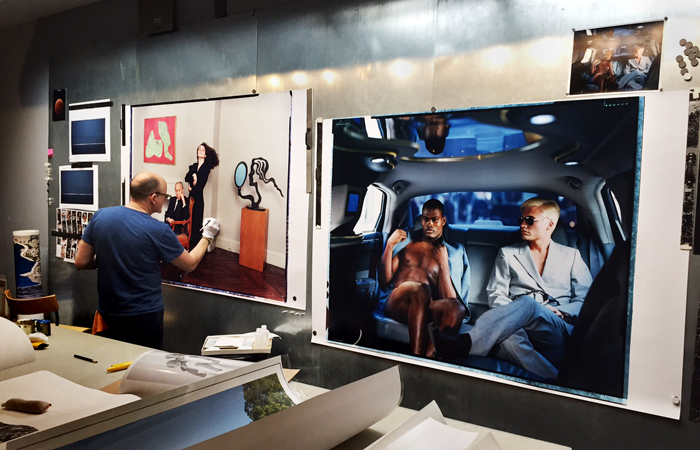 Production on Tina Barney Four Decades at LTI-Lightside, 2015
Tina Barney's legacy is well documented, of course … but here's a brief bit anyway — again, from the Paul Kasmin Gallery press release:
Born in New York City in 1945, Barney turned her concentration to photographing in color with a large format view camera in 1982 – an analogue process she steadfastly continues today. The artist was included in the 1987 Whitney Biennial, and significant solo exhibitions have since been held at the Museum of Modern Art, NY, in 1990; Das Museum Folkwang in Essen, Germany, in 1999; The Barbican Art Gallery, London, in 2005; the Museum der Moderne, Salzburg, Austria, in 2006; and the First Center for the Visual Arts, Nashville, TN, in 2015. Barney's works are in the permanent collections of the Museum of Modern Art, New York, NY; the Whitney Museum of American Art, New York, NY; the Los Angeles County Museum of Art, CA; and the Museum of Fine Arts, Boston, MA, among many others. She currently lives and works in New York City and Westerly, Rhode Island. 
You can see more works from Four Decades here.
Tags: conventional c-prints, Exhibitions, Paul Kasmin Gallery, Tina Barney
In Country: Soldier's Stories from Iraq and Afghanistan
Jennifer Karady
SF Camerawork
May 6 – August 7, 2010
This month we're featuring Jennifer Karady's new work: In Country: Soldier's Stories from Irag and Afghanistan, currently on view at SF Camerawork in San Francisco. The project reflects upon a widely under-publicized consequence of the ongoing war on terror; the post-battle physical and psychological burden of war zone trauma borne by enlisted individuals.
Photographed near their homes in the United States after an extensive interview process, Karady encourages the subject's immediate family and close friends to help bring their wartime memories into focus against the backdrop of our everyday landscape. This collaborative effort creates a visual experience for the viewer that while still quite abstract, offers a far more personalized window into their stories than an evening newscast ever could.
In Country has been well received in the press with a feature article in the New York Times and an interview on National Public Radio's All Things Considered.

Jennifer Karady: Former Sergeant Jose Adames, US Marine Corps Recon, Stinger Gunner, 1st Platoon, Alpha Company, veteran of Operation Iraqi Freedom, Brooklyn, NY, February 2009. From In Country: Soldier's Stories from Iraq and Afghanistan
48 x 48 Fujiflex Super Glossy optical c-print
In Country corrals the often incomprehensibly distant issue of America's wars in the Middle East by focusing on the intensely personal post tour-of-duty experiences of individual soldiers – conveyed visually through the fabrication of highly conceptualized domestic scenes that are at once familiar and yet jarring.
A mix of styles and influences, Karady's images reflect elements of photojournalism and narrative tableau painting and through this she manages to create a positive experience for the soldiers to aid in their adjustment back to civilian life.
Use the Quick Links above to visit Karady's website and see the entire ongoing project.
Click here to order the 40 page exhibition catalog with an introduction by SF Camerawork curator Chuck Mobley and a detailed account of each soldier's story, plus an interview with Jennifer Karady and an essay by Carol McCusker.
Click here to read the New York Times review of the exhibition. Click here to listen to the National Public Radio interview.
LTI / Lightside worked closely with Karady to print ten 48″ x 48″ optically enlarged Fujiflex Super-Glossy prints from her original negatives and produced the master digital files for the exhibition catalog.
Tags: conventional c-prints, Exhibitions, Film Processing, Jennifer Karady, SF Camerawork