41 Degrees Latitude
Micheal McLaughlin
Robin Rice Gallery
April 10 – June 12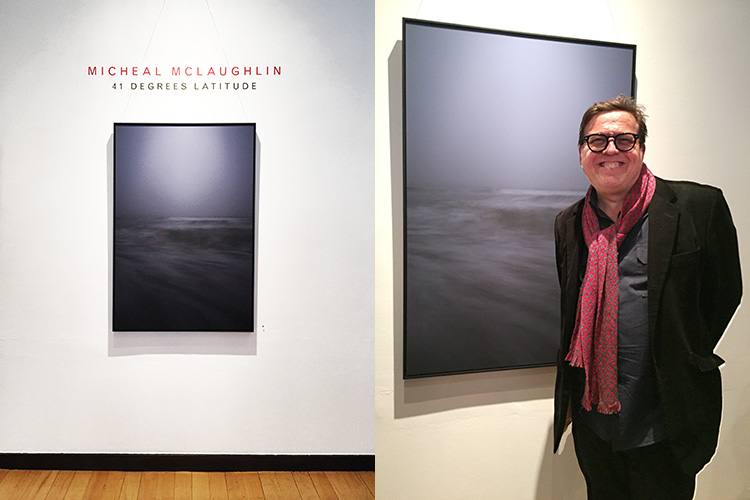 Micheal McLaughlin at Robin Rice Gallery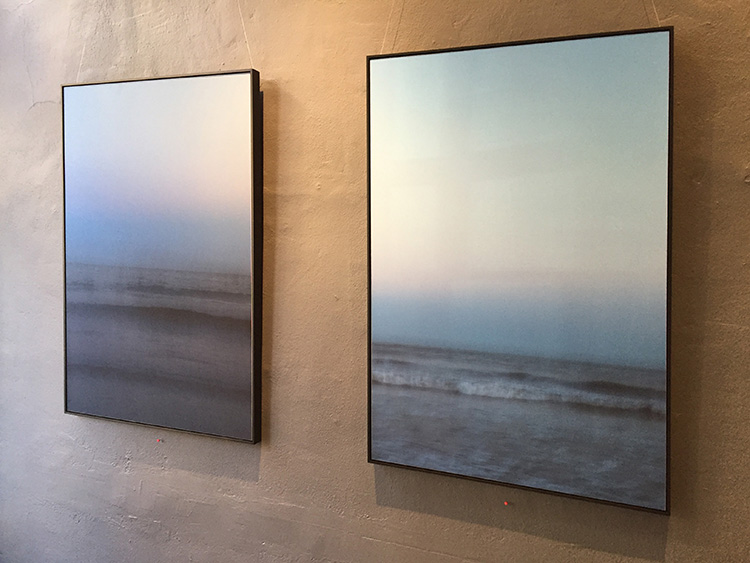 Micheal McLaughlin: from 41st Parallel at Robin Rice Gallery
26 x 40 archival pigment prints
Micheal McLaughlin captured his dreamy oceanscapes along the 41st parallel north, which, not coincidentally runs right though a number of beaches in the tiny state of Rhode Island where enjoyed part of his childhood. You can read more about that in Robin Rice's press release here.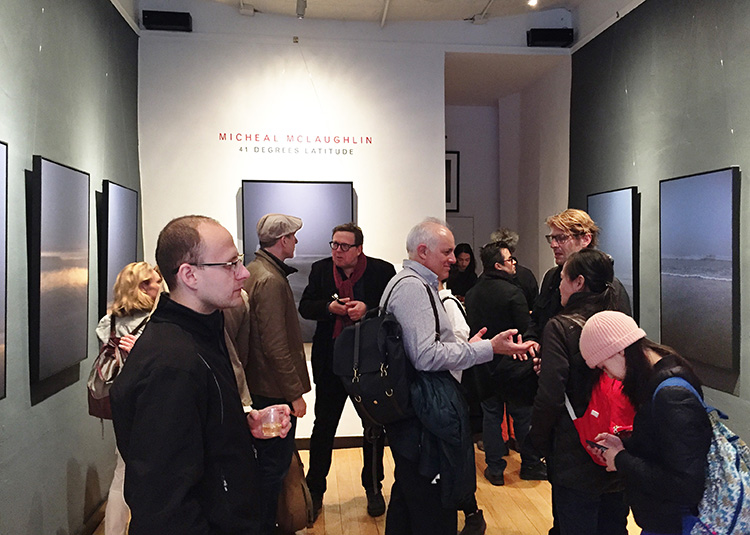 Micheal McLaughlin: 41st Parallel opening night at Robin Rice Gallery.
Michael is a long time customer of LTI-Lightside. We were happy to produce 13 archival pigment prints for this exhibition.
Look for more of his work online here and on his very entertaining Instagram feed here.
Tags: Archival Pigment Printing (Inkjet), Exhibition Mounting, Exhibitions, Micheal McLaughlin, Robin Rice Gallery
Your Nearest Exit May Be Behind You
Micheal McLaughlin
Robin Rice Gallery
Jan 14 – February 22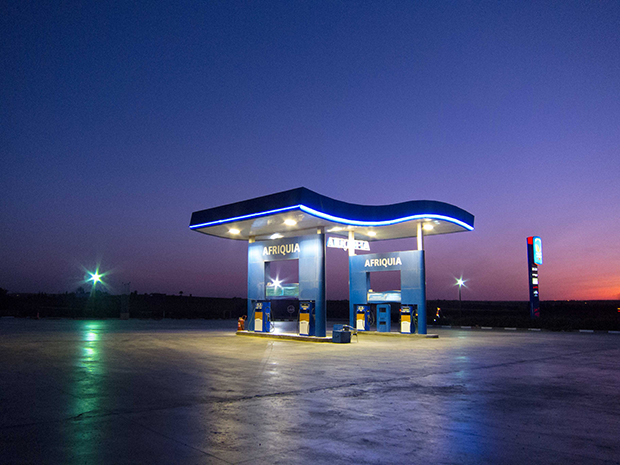 Micheal McLaughlin: Jorf Lasfar, Morocco, 2012
From Your Nearest Exit May Be Behind You, Robin Rice Gallery, January 2015
30 x 40 archival pigment print
From the Robin Rice Gallery press release:
Your Nearest Exit May Be Behind You, a reference to the traditional pre-flight instructions of airline hostesses, is fine art photographer Micheal McLaughlin's collection of the sights found universally in the act of travelling between countries and continents. From dark Hong Kong skylines shot through hotel room windows to the familiar, scratched silver buttons of a New York subway elevator, the resulting images are what McLaughlin describes as being "as much of a peripheral view as they are a direct view of the world."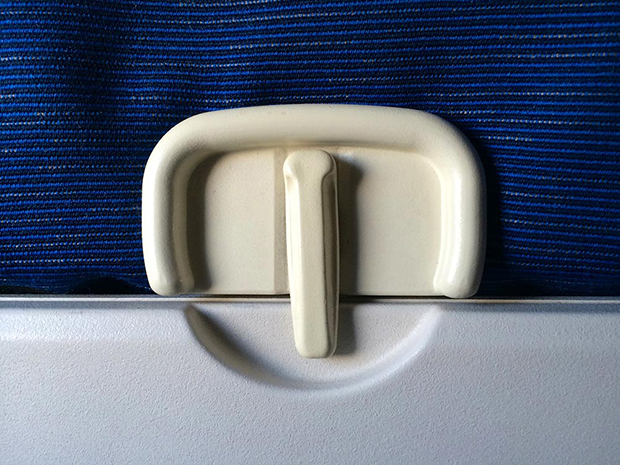 Micheal McLaughlin: Ord, 2014
From Your Nearest Exit May Be Behind You, Robin Rice Gallery, January 2015
24 x 30 archival pigment print
The minimalistic and boldly colorful images are highlighted by their size, which demonstrates a level of detail often missed by an initial glance. Some rectangular, some square, the images are each displayed in large-scale frames. A world traveler by profession, McLaughlin's new series of images is reminiscent of Ed Ruscha, Richard Diebenkorn, or Wayne Thiebaud, whom the artist cites as some of his many artistic inspirations.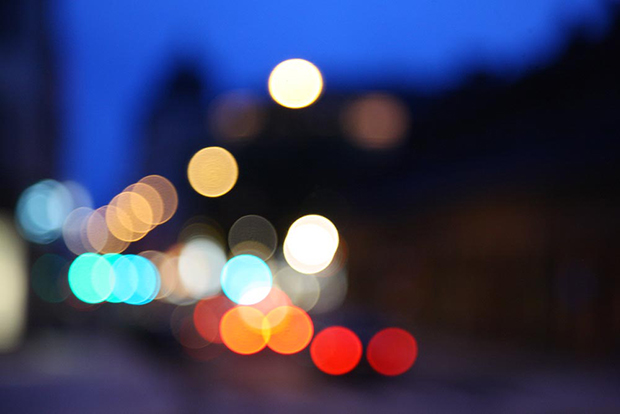 Micheal McLaughlin: Oslo, 2009
From Your Nearest Exit May Be Behind You, Robin Rice Gallery, January 2015
24 x 30 archival pigment print
A third-generation Brooklynite, Micheal McLaughlin's interest in photography began at the tender age of 11. He attended the Nova Scotia College of Art & Design (BFA, 1983), and now works as a New York-based advertising and editorial location photographer. Among others, his clients include IBM, Apple, and American Express. McLaughlin has received honors from Photo District News, Communication Arts, and the NY Art Directors Club. McLaughlin lists a wide array of artistic influences, from fellow photographers (Robert Frank, Harry Callahan, Diane Arbus) to the writings of authors such as William Faulkner, Graham Greene, and Eudora Welty. This is McLaughlin's fifth solo exhibition at the Robin Rice Gallery.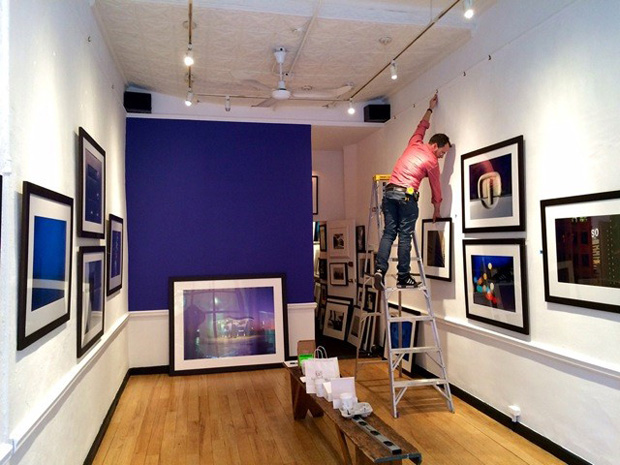 Micheal McLaughlin's install at Robin Rice Gallery, 2015
Micheal McLaughlin has been a customer in LTI/Lightside's sphere since at least 2000. He's utilized a wide range of our services over the years and like many of our long-term customers he's transitioned away from film to digital and back again. True to his form, this exhibition consists of images made between 2008 and 2014 on a variety of devices — from "professional" to casual — a signature mix of film and digital capture.
Tags: Archival Pigment Printing (Inkjet), Exhibitions, Micheal McLaughlin, Robin Rice Gallery