(ok, yeah …just kidding)
It's not really our issue but still, we were pretty excited to see three (3!!) of our fabulous customers stories published in the same book. Now, if we could only get on the list for some of those super-cool parties …
Just click the spreads for more …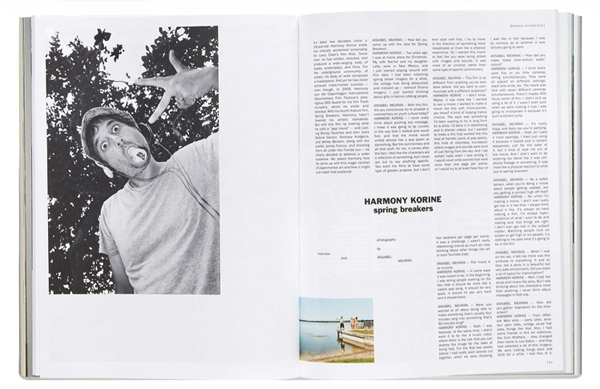 Annabel Mehran: Harmony Korine
Tags: Annabel Mehran, Film Processing, Max Snow, Purple Magazine, Retouching, Scanning, Theo Wenner
The following is re-posted from a New York Times blog: The 6th Floor. Our client, Annabel Mehran shot portraits of Bon Iver's Justin Vernon for The New York Times Sunday Magazine …. now, oddly, The 6th Floor blog exists for readers looking to read back stories on the original stories printed in the magazine. Yes, apparently, there are people out there with that much time on their hands for reading … good lord, I wish I was one of them.
Anyway, here's a link to the rest of the story:
http://www.nytimes.com/2011/06/05/magazine/who-what-and-where-is-bon-iver.html?_r=1
Just don't get upset with me if The Times blocks you out without an account … heck, I'm beginning to wonder if I'll end up in some sort of trouble with them for posting this stuff in the first place!
June 3, 2011, 4:23 PM
Feelin' Wisconsin
By WM. FERGUSON
My favorite odd detail in Jon Caramanica's profile of Bon Iver's Justin Vernon in Sunday's magazine — in an article stuffed with odd details — is Vernon's description of the tattoo he has of the state of Wisconsin, with the six counties he knows best outlined. The specificity struck me with such force: the six counties? I mean, not to be parochial, but as far as homogeneous states go — well, let's just say I had preconceptions about Wisconsin.
I am happy to report that the article disabused me of my parochial preconceptions about America's Dairyland.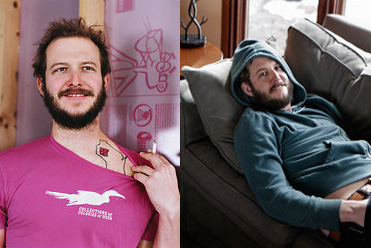 Photographs by Annabel Mehran
Justin Vernon in Eau Claire, Wisc.
CARAMANICA: Your tattoo here.
VERNON: It's Wisconsin with the six counties that I know really well outlined. They're all just in a box here. It's where my dad's cabin is, where I went to summer camp, where I used to take drives, all that. . . . And a reason I got a tattoo like that is because of this very thing. Like, well, I'm from Wisconsin, and I always talk a big game about it, but there's also an element to it that's weird, because when I go to Milwaukee, when I go to southeastern Wisconsin, I feel that Wisconsin-ness, but I also feel it's different. There's a Wisconsin-ness that I'm really into even more.
CARAMANICA: Your specific subset of Wisconsin.
VERNON: Yeah, but I like still calling it Wisconsin.
Tags: Annabel Mehran, Editorial, Film Processing, Retouching, Scanning, The New York Times