Censored
Milagros de la Torre
Museu Oscar Niemeyer, Curitiba, Brazil
August 31 – December 31, 2013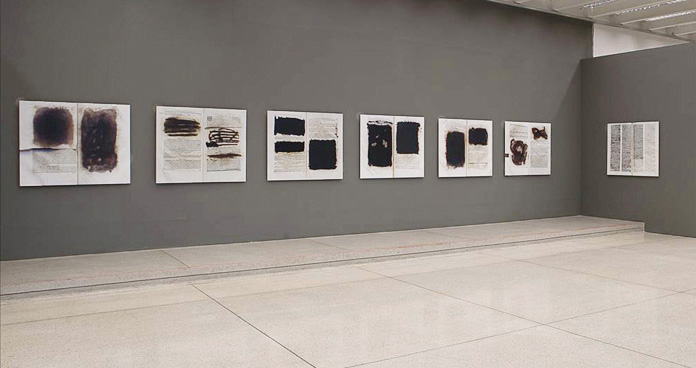 Milagros de la Torre: Censored, 2013
Museu Oscar Niemeyer
The following text courtesy of Milagros de la Torre:
"Censored" was researched in the University of Salamanca's library in Spain. Concentrating its attention on books (dating from XV – XVII C.) which were obliterated and repressed by the Spanish Inquisition.Images of subtle colors and a level of subdued aggression, the elegant beige of the cotton hand made paper contrasts with the intense black of the censored passages. From a distance they could be mistaken for expressionist paintings, but a closer examination reveals almost indecipherable texts effaced by various techniques. Thus creating a new formal appearance, which seems  silenced and restrained but reveals itself as a coded message to be deciphered.Tension arises when the viewer perceives, behind this apparent beauty, the violence implicit in these images, which stand as witnesses to the suppression of ideas by the powers of authority.

Milagros de la Torre: Censored 2000
40 x 48 matt chromogenic color print mounted on aluminum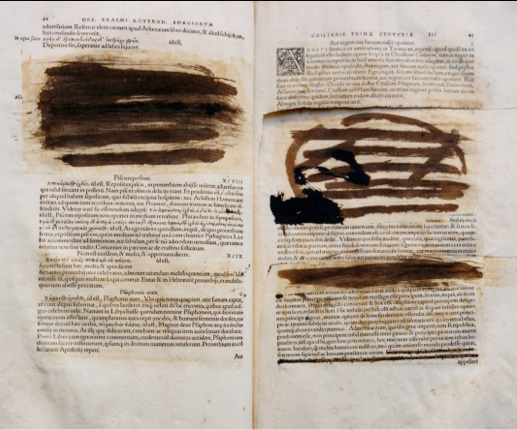 Milagros de la Torre: Censored 2000
40 x 48 matt chromogenic color print mounted on aluminum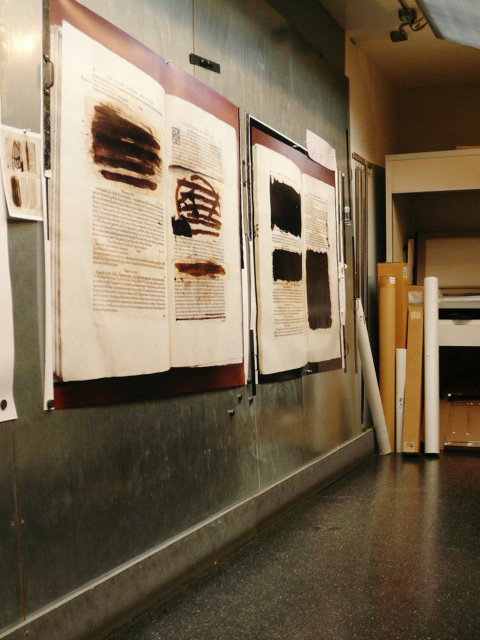 Milagros de la Torre: Censored LTI-Lightside production still

These prints were optically enlarged at LTI-Lightside from de la Torre's original 4 x 5 negatives. This is our first exhibition with Milagros.
More on Milagros de la Torre:
Milagros de la Torre has been working with photography since 1991 and has been exhibited extensively and is part of permanent museum collections including The Art Institute of Chicago, Illinois;  Museum of Fine Arts, Houston, Texas; El Museo del Barrio, New York; Harvard Art Museum, Cambridge, Massachusetts; Yale University, New York; Diane and Bruce Halle Collection, Phoenix; Worcester Art Museum, Massachusetts; Fonds National d'Art Contemporain, Paris, France; Museo Nacional Centro de Arte Reina Sofia, Madrid, Spain; Essex Collection of Art from Latin America, Colchester, U.K.; Museo de Arte Carrillo Gil, Mexico; Museo de Arte de Lima, Peru; Museo Nacional de Bellas Artes, Buenos Aires, Argentina among others.
Two important monographs have been recently published, one designed by Toluca Editions, edited by RM Editorial, Mexico/Barcelona, with a text by Marta Gili, Director of the Jeu de Paume Museum in Paris. The other one, co-published by the Americas Society, New York and the Museo de Arte de Lima, MALI with texts by Dr. Edward J. Sullivan and Miguel Lopez along with an interview between the artist and Anne Wilkes Tucker, The Gus and Lyndell Wortham Curator of Photography at the Museum of Fine Arts, Houston.
In 2003, her artist book Trouble de la Vue (Paris: Toluca Editions) was published with text by Jose Manuel Prieto and design by Pierre Charpin.  She received the Guggenheim Fellowship in Creative Arts, Photography in 2011.
Born in Lima, Peru, De la Torre now lives and works in New York.
Tags: Conventional C-Printing, Milagros de la Torre, Museu Oscar Niemeyer