For those of you who thought film was dead, we're happy to report that sentiment is clearly an exaggeration. First of all, a quick hashtag search on Instagram shows nearly 6 million users of #filmisnotdead vs a mere 6,816 tags with #filmisdead (!) Heck, that should settle it right there … but hey, don't just take I/G's word for it — go ahead and scroll down to see no less than five (5!) editorial stories and current ad campaigns that have run though the lab recently … and we've got more, believe us!
From the New Yorker to Nordstrom and Sonia Rikel to Nike — Zoe Ghertner, Max Farago, Ben Grieme, David Banjamin Sherry and Stefan Ruiz shot every format from 35mm to 8 x 10 this past season to deliver a stunning array of well …  really cool stuff.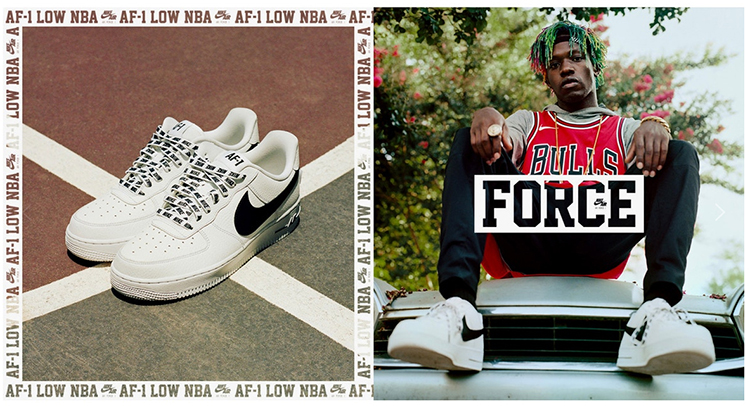 Ben Grieme: Nike AF-1 campaign, Fall 2017, click here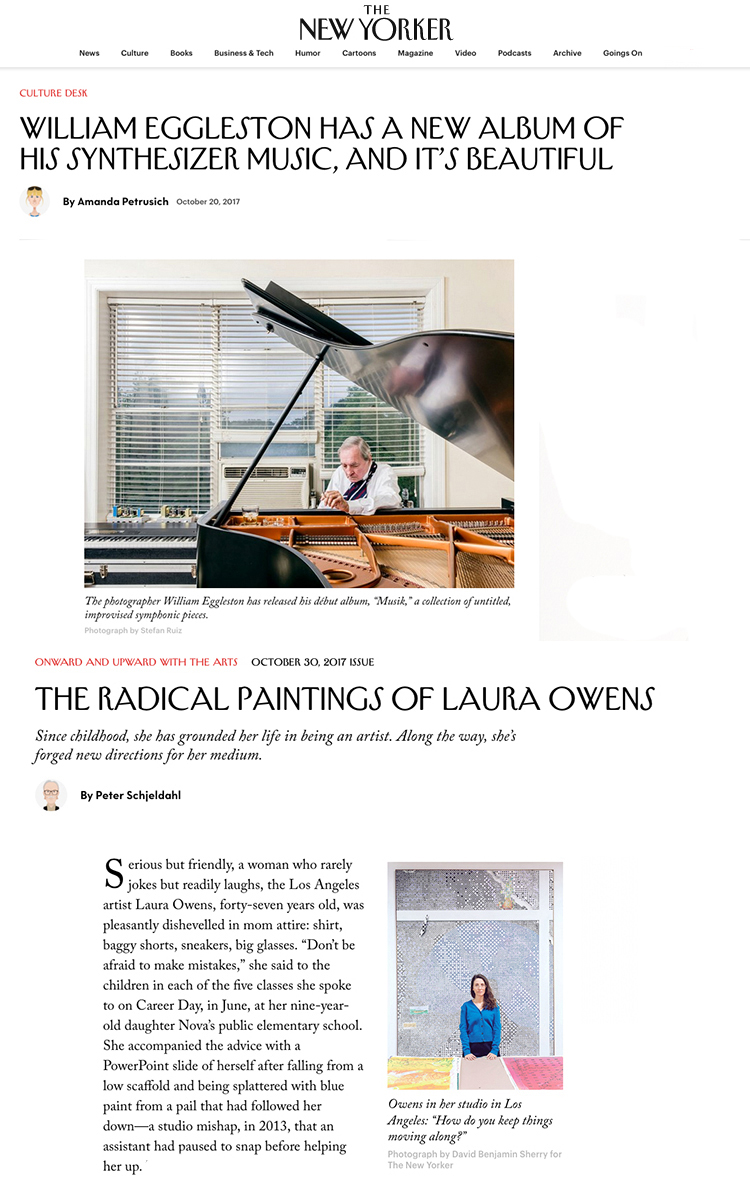 Top: Stefan Ruiz: William Eggelston, New Yorker, October, 2017
Bottom: David Benjamin Sherry, Laura Owens, New Yorker, October, 2017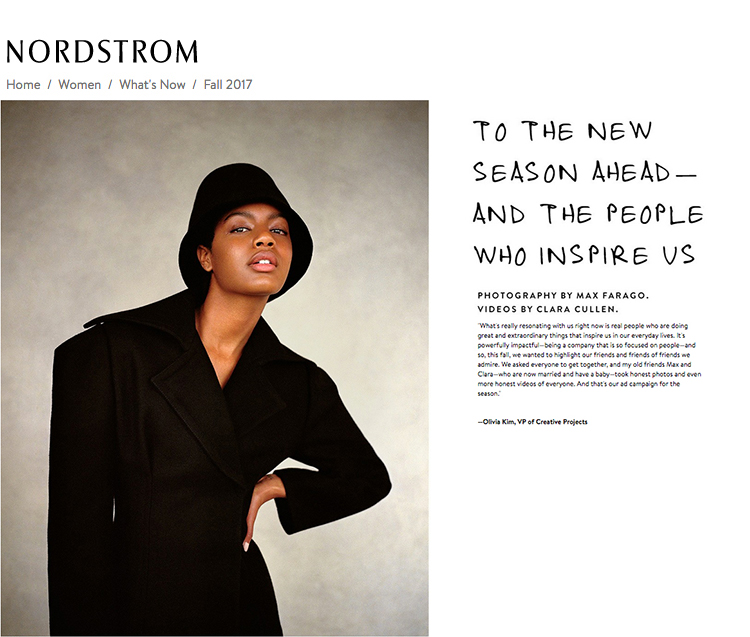 Max Farago: Nordstrom: Fall 2017 click here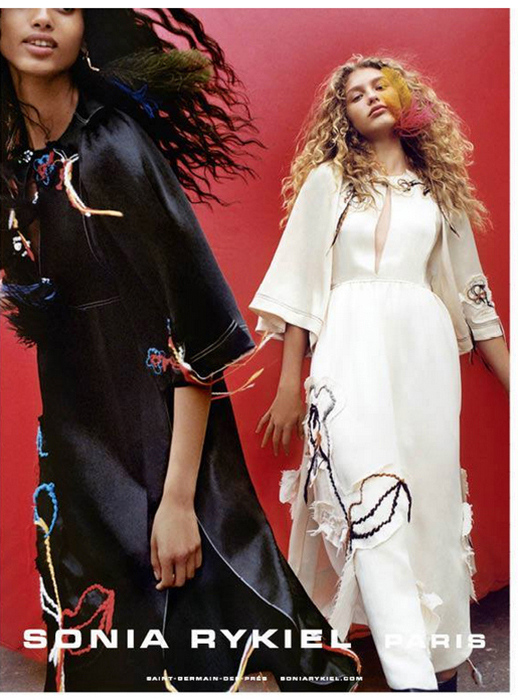 Zoe Ghertner: Sonia Rykiel, Fall 2017 click here
Tags: Advertising, Ben Grieme, David Benjamin Sherry, Editorial, Film Processing, Max Farago, Scanning, Stefan Ruiz, Zoe Ghertner
You just can't make this stuff up.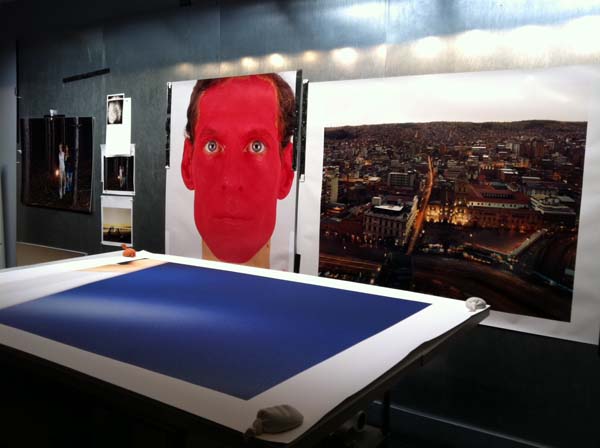 Justine Kurland meet David Benjamin Sherry meet Sze Tsung Leong meet Barbara Probst ….
Tags: David Benjamin Sherry, David Sherry, Justine Kurland, Some Days ..., Sze Tsung Leong
Form Forming Formation
David Benjamin Sherry
OH WOW Gallery
April 30 – May 27. 2011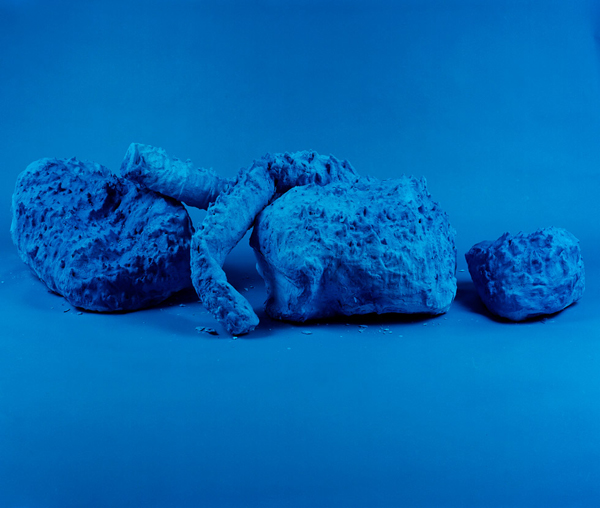 David Benjamin Sherry Royal Ruin Ultramarine Umbilical Fiend Fallen Cobalt Core, 2011
50 x 60 optical c-print
We're pleased to have produced 11 prints for David Benjamin Sherry's newest body of work this past month: Form Forming Formation. Sherry has certainly been on roll this past year with his work being exhibitied in numerous shows (see our April 13th post: David Benjamin Sherry Gets the Nod, 5 Art Stars You Need To Know, re-posted from The L / online).
In Form Forming Formation, Sherry studies concepts of geometry, science, color, materiality and the course of change. This exhibition includes both traditional color prints and photographic collage work. Read the press release here.
If you're in Los Angeles, you should take a look …
Tags: Conventional C-Printing, David Benjamin Sherry, Exhibitions, Film Processing, OH WOW Gallery
Reposted from The L online. Read the entire article here
#5 DAVID BENJAMIN SHERRY
2010 was a big year for the Long Island-born, Woodstock-raised, New York-based photographer David Benjamin Sherry: after being featured in over 20 group exhibitions throughout the city since 2006, when he entered Yale's MFA program, he not only made a strong impression in MoMA PS1's quinquennial emerging artists-vetting salon Greater New York, but had his stateside solo debut (after shows in Berlin and Vienna) at East Hampton's trendy non-profit gallery The Fireplace Project. He dabbles in fashion photography—shooting for I-D, Another Man and others—which makes sense given the beautiful young, naked bodies populating the technicolor landscapes in many of his fine-art photos.
Sherry is a die-hard analog purist in the age of digital manipulation, which wouldn't be so astounding if his carefully staged photos didn't emerge from the darkroom with dazzling palettes, abstract mirroring effects and unnatural monochrome tints. He makes plentiful use of makeup, as in the self-portrait "Blueballs" (2010)—his bust completely covered in royal blue with a matching backdrop and gag-ball clutched in his mouth—which might have been a porny parody of the Blue Man Group if not for the vulnerable look in his light-blue eyes. In "Wake Me Up On Oh Phenomena" (2010) he lies naked face down on a cliff, covered entirely in yellowish-orange makeup so that he nearly blends into the rocks under a surreally blue sky.
SLIDESHOW: 20 NYC Art Stars, When They Were Young!
Much of his work has a genuine and revelatory tone undercutting the lush colors and often spectacular locations. Sherry's outdoor shots are mostly taken on road trips—more spartan and quasi-spiritual than Ryan McGinley's, more personal than Ansel Adams's—especially to national parks. His studio-based works allow him to incorporate his sculptures, which are similarly playful while being neither pretentious nor flippant. This year he's showing work in Aspen, Rome and Moscow, affording him many more road trips as we await his solo debut in New York.
Slideshow
5 Art Stars You Need to Know: David Benjamin Sherry
Images courtesy the artist.