Sitting in the Dark with Strangers
Richard Finkelstein
Robert Mann Gallery
December 10 – January 30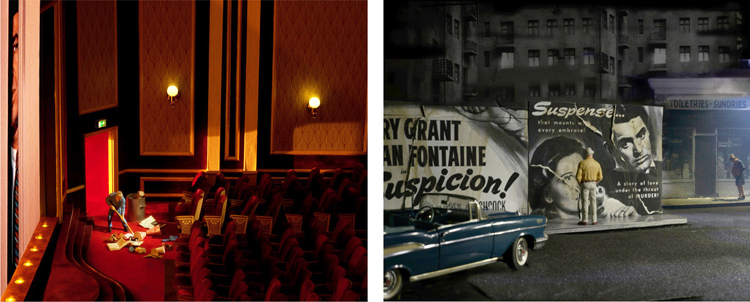 Richard Finkelstein: Sitting in the Dark with Strangers
Robert Mann Gallery, December 10 – January 30
Tags: Archival Pigment Printing (Inkjet), Exhibitions, Richard Finkelstein, Robert Mann Gallery
Bodegon
Paulette Tavormina
Robert Mann Gallery
February 5 – March 21
From the Robert Mann Gallery press release:
Meaning "from the pantry," Bodegón is inspired by the paintings of 18th-century Spanish still life painter Luis Meléndez. Featuring the elegant everyday cookware of the rustic kitchen, these spreads bring the artist's signature gift for vibrant simplicity to a new cornucopia of grains, meats and sweets. Hearty loaves bookend bountiful fruits, grounded by burnished copper pots and humbly charismatic country jugs.


Paulette Tavormina: from Bodegon
L: Still Life with Jamón Ibérico, after L.M., 2014
R: Still Life with Quince and Jug, after L.M., 2014
both 36″ x 48″ archival pigment prints
Accompanying Bodegón, Tavormina's Botanicals series recalls the botanical illustrations of the seventeenth and eighteenth centuries, re-imagining these scientific studies as exuberant cascades of flora and fauna. A fantastical menagerie of bugs, buds, and dewy blossoms burst against velvety black depths, leading the eye in figure eights around the canvas.  And yet Tavormina's signature motifs of darkness and decay keep these works from pure flights of fancy—rather, they are visions of life in all of its subtle shades of beauty.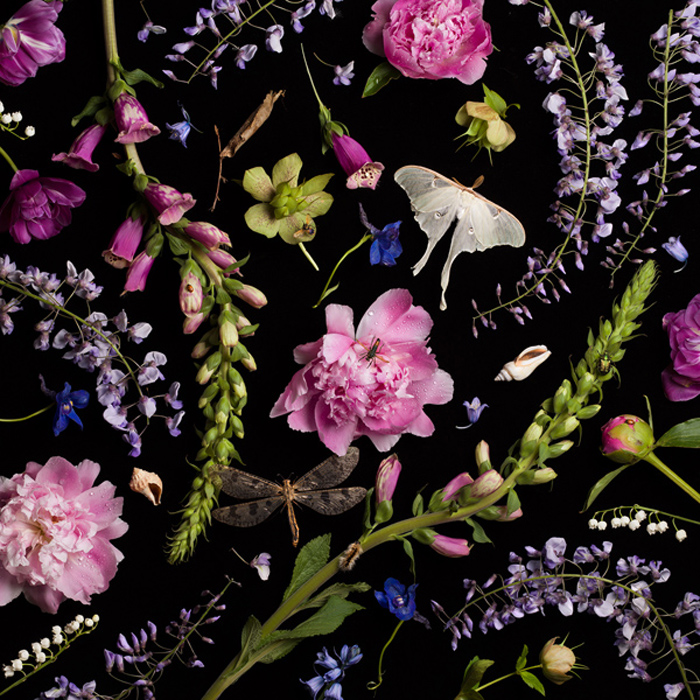 Paulette Tavormina: from Bodegon (Botanicals)
Botanical V (Peonies and Wisteria), 2013
24 x 24 archival pigment print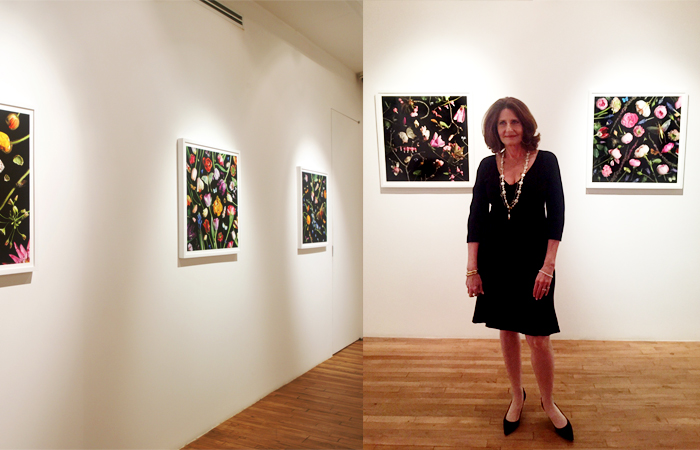 Paulette Tavormina surrounded by her Botanicals
This is Paulette's second show with Robert Mann. You can read more of our interactions with her and find links to her website and exhibition's here. Check her website here for news … she's got a lot coming in 2015/16!
Tags: Archival Pigment Printing (Inkjet), Exhibitions, Paulette Tavormina, Robert Mann Gallery
A Bunch of Lonesome Heroes
Richard Finkelstein
Robert Mann Gallery, NY NY
May 16 – June 29, 2013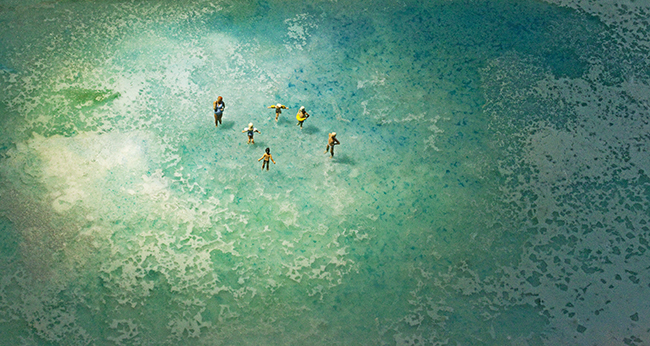 Richard Finkelstein: Wading to Cambodia, 2013
59.5 x 106.5″ archival pigment print on 3mm dibond
From the Robert Mann Gallery press release:
In his debut exhibition at Robert Mann Gallery, Richard Finkelstein presents: A Bunch of Lonesome Heroes. Constructing elaborate, atmospheric pictures of miniature dioramas, Finkelstein produces images infused with impressive emotional intensity. The images offer visual trickery as the viewer oscillates between interpreting them as real world settings and seeing them as artificial constructions.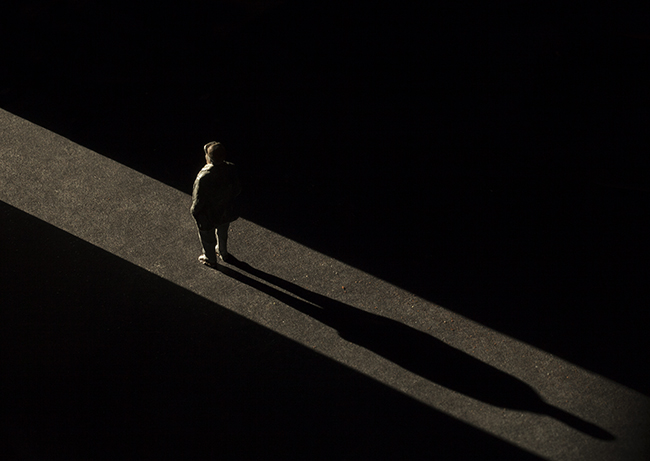 Richard Finkelstein: Lonesome Hero 1, 2013
34″ x 48″ archival pigment print
The artist's employment of the solitary figure seen from behind, the lonesome hero, as he contemplates the sublime landscape before him is an art historical trope that emerged in the 19th century paintings of Caspar David Friedrich, and is an element which is central in Finkelstein's work. While these "lonesome heroes" survey the cavernous spaces and sublime natural expanses they are set within, the viewer simultaneously begins to conjure an imagined narrative for these figures who remain adrift in a complicated world.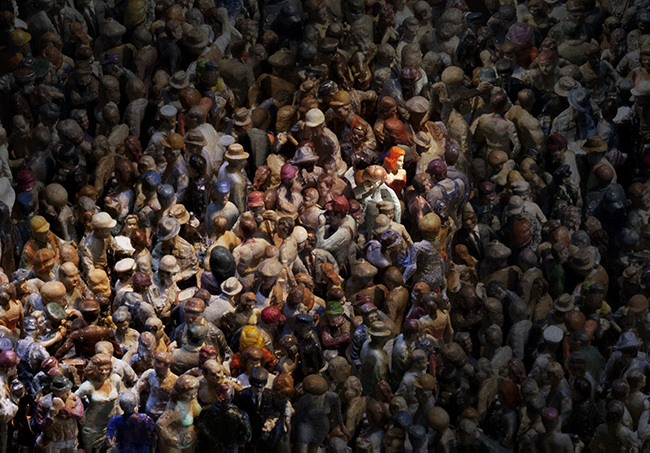 Richard Finkelstein: Ginger, 2013
34″ x 48″ archival pigment print
The pictures provide only vague hints of their background stories anchored by these figures who appear in psychological states of trouble. Inspired by works and events of art historical significance, Finkelstein cleverly riffs on the compositions found in canonical historical imagery through his photographic constructions.
LTI/Lightside was introduced to Finkelstein through the Robert Mann Gallery early in 2013. We've enjoyed a brief but busy period of activity since … starting with the production new work for AIPAD and culminating in the printing, mounting and framing for the Lonesome Heroes exhibition.

Finkelstein's work has posed interesting challenges regarding scale and perspective both within the files and throughout the physical production of the pieces as Rick has pushed to reproduce his miniature worlds into sometimes massive proportions. It has been a pleasure to to work with him throughout the entire process.
See more of Finkelstein's work by clicking here.
Tags: Archival Pigment Printing (Inkjet), Exhibitions, Framing, Mounting, Richard Finkelstein, Robert Mann Gallery
Natura Morta
Paulette Tavormina
Robert Mann Gallery
January 17 – March 9, 2013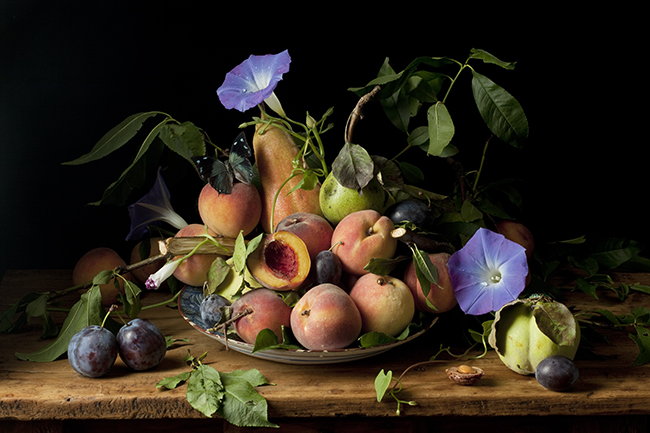 Paulette Tavormina: Peaches and Morning Glories, After G.G., 2012.
32 x 48 archival pigment print from the exhibition Natura Morta
From the Robert Mann Gallery press release:
Robert Mann Gallery is pleased to present Natura Morta, Paulette Tavormina's first solo exhibition with the gallery. Natura Morta will bring together a selection of exquisite still life photographs that recall the traditions of 17th century Old Master painting. Luscious fruit and flowers among other things are rendered in a painterly perspective reminiscent of Francisco de Zurbaran, Adriaen Coorte and Giovanna Garzoni, whom Tavormina counts among her greatest influences.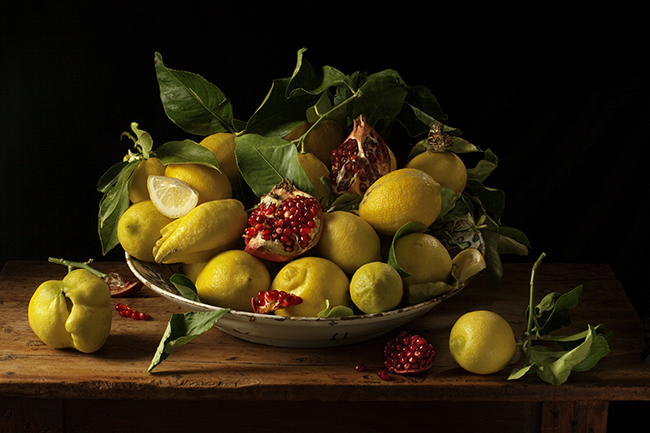 Paulette Tavormina: Lemons and Pomegranates, After J.v.H., 2012. 32 x 48 archival pigment print from the exhibition Natura Morta
An avid collector of butterflies and insects, shells, dried flowers, and ceramics, the sourcing of props is a crucial part of her process. Each object is closely tied to the place it was discovered – fresh produce from a New York City farmer's market, horseshoe crabs tossed ashore in Nantucket, ladybugs found at a taxidermy shop in Paris. Not only do these objects look to the art historical roots of the genre of the still life, but their meaning is often multi-layered, a fig perhaps referring to the artist's own Sicilian heritage.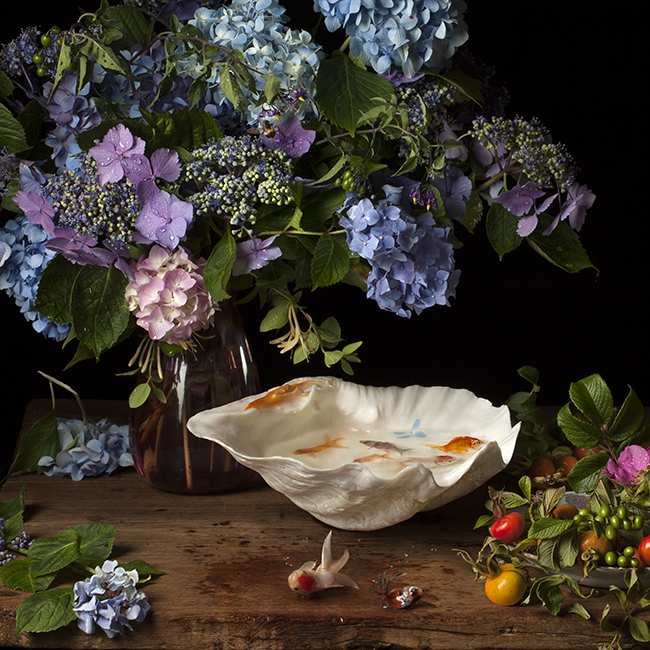 Paulette Tavormina: Flowers and Fish IV, After G.V.S., 2012. 24″ x 24″ archival pigment print from the exhibition Natura Morta

Largely self-taught, Tavormina has been exhibited internationally and was the winner of the Grand Prix at the 2010 International Culinaire Photography Festival in Paris. She has worked on set as a food stylist in Hollywood and also photographs works of art for Sotheby's. Her work has been featured in several publications including the New York Times, Boston Globe, L'Express, Martha Stewart magazine and Photo Technique magazine. She lives and works in New York City.
LTI-Lightside has been working with Tavomina since 2009. Her work has been exhibited in New York, Miami, Chicago, Los Angeles, London, Paris, and Moscow among other venues. For more of Paulette's work, please visit her website

here

. For more on the exhibition at Robert Mann Gallery, click

here

.
Tags: Archival Pigment Printing (Inkjet), Exhibitions, Mounting, Paulette Tavormina, Robert Mann Gallery