Here's an image of Tom Morello in His 1971 Dodge Demon by Danny Clinch. Originally shot in Los Angeles sometime in 2000 on a Rage Against The Machine shoot, this five-frame continuous half-frame strip of color negative film has been scanned and imaged at 36 x 96″!
The first frame shows it here at LTI/Lightside having just finished printing. The second is the install view at the Wall Street offices of Droga5, who commissioned the piece.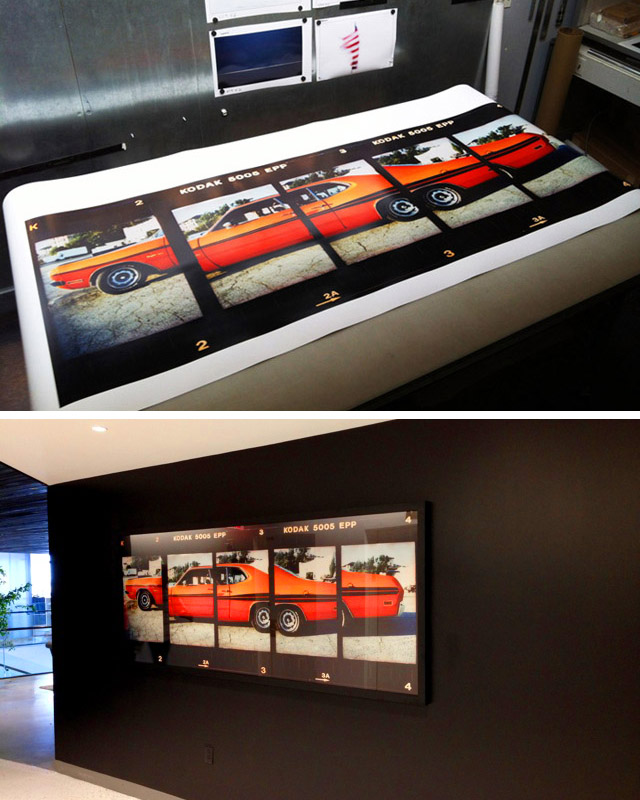 Tags: Archival Pigment Printing (Inkjet), Danny Clinch, Film Processing, Some Days ..., The nicest things ...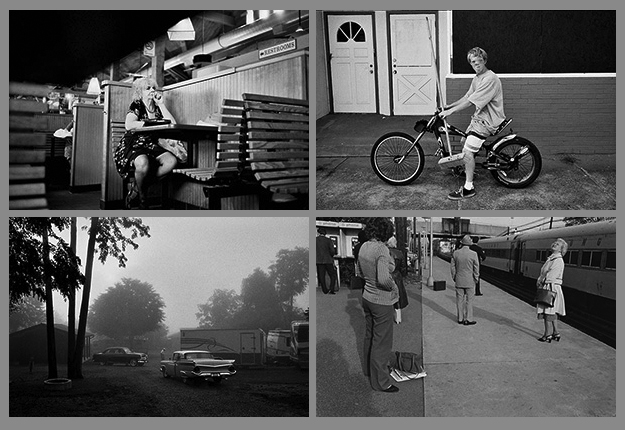 Susan May Tell: from Appalachia and the Rust Belt, 2012
Susan May Tell was recently interviewed in the "Best of 2013" feature on the ASMP (American Society of Magazine Photographers) online journal. The focus was on her personal project spanning Appalachia. A few excerpts from the interview follow below:
In the summer of 2012, Susan May Tell traveled 4,000 miles through rural Appalachia, a region known to have fallen on hard times. Shooting black & white film in her Leica, she explored deserted downtowns and shuttered steel mills, sleeping in her '90s rust bucket.
And now for the good part (well, to us, anyway)
ASMP: When and how was your film from this trip processed, printed and scanned. Did you do your own darkroom work?
SMT: Since I no longer have a wet darkroom, I found a lab that simulated the way I used to work, which meant editing from work prints and not contact sheets. At the same time the lab needed to incorporate newer technologies. All the requests were easier said than done, since nowadays digital supersedes analogue. After a bit of research I found LTI Lightside Photographic Services in Manhattan, and they have been nothing short of spectacular.
LTI developed the film; scanned every negative full frame with black border, with no corrections; made a 4-by-6-inch machine print from the scan with the full frame and black border; and made three index prints for each roll, one of which I submit to the Copyright Office as a deposit copy. As I edit and provide negatives, LTI is making gelatin silver prints.
Of course, we are so thankful that Susan made the effort to mention us and explain our services in her interview. Please take a moment to peruse the rest of the text here.
Go ahead, scroll down … that's us, just under Russ and Daughters but above, and I mean ABOVE MoMA.
Why I love NYC: Laura Levine
The rock & roll photographer shares the spots that inspire her.
Re-posted from Time Out New York,
By Amanda Angel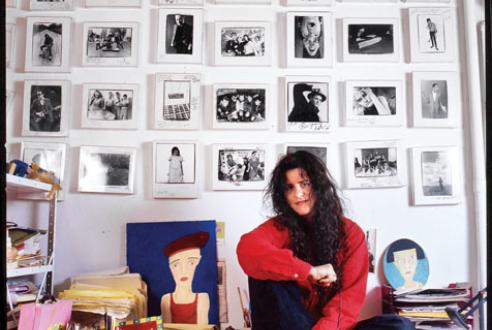 Laura Levine, Self-Portrait, 1986
Laura Levine's name may not ring many bells, but you've surely seen her work. The Brooklyn-born, Chinatown-raised photographer—who's lived in the same Soho loft since 1985—is responsible for some of the most iconic images of New York's music scene from the 1980s and '90s. Her work has appeared in The Village Voice, Rolling Stone and the now defunct New York Rocker, and some of her snaps were included in the Museum of Modern Art's recent exhibit "Looking at Music 3.0." On the eve of Levine's first New York solo show, "Laura Levine: Musicians," which opens Thursday 21 at Steven Kasher Gallery (521 W 23rd St between Tenth and Eleventh Aves; 212-966-3978, stevenkasher.com; Mon–Fri 11am–6pm; Thu 21–Aug 19), we asked her where she finds inspiration in the city.
Corner of Madison Street and St. James Place
"I see the corner [on which] I shot [the band] DNA all the time because it's across the street from where my parents live. It's this great acute corner at the intersection of Madison Street and St. James Place where you have the city on the right and the left coming at you. I used that corner for a few shoots. What's really interesting is they just renovated the building there and got rid of the siding, and uncovered this old stone from probably the 1800s. [It's] up 20 feet on the St. James side, and it says BOWERY from when the street actually used to be an extension of the Bowery."
The High Line
"I absolutely intend to go to the [new section of the] High Line, especially since the Steven Kasher Gallery is directly underneath. I love finding hidden, secret little spots in New York that people don't know about. I did some sessions on what is now [the park], but then it was just abandoned railroad tracks. I would go up there because there was no one around bothering you. It was just overgrown weeds in the middle of New York City. I love those bits of nature that insist on being there even when New York tries to pave them over." The High Line, from Gansevoort St at Washington St to W 30th St at Tenth Ave (212-206-9922, thehighline.org). Daily 7am–11pm.
Noodle King Restaurant
"My family's not very adventurous at all. Once we find a place we really like, we just kind of stick to it. When I go see my parents for lunch or dinner, our favorite place is Noodle King; it's directly across the street from my old elementary school, P.S. 1. It's not one of the places that does the whole hand-stretching [method of making noodles], but it's just a great, off-the-radar, inexpensive place with very good soups. If I'm eating on the go, I try to find noodle carts. They have steamed broad rice noodles, and you can get a container for a dollar with various sauces squeezed on. It's delicious." Noodle King Restaurant, 19 Henry St at Catherine St (212-571-2440, 19noodle.com). Mon–Thu, Sun 10am–9:30pm; Fri–Sat 10am–10pm.
Russ & Daughters
"Russ & Daughters is the other family staple for whenever the relatives are in town. My favorites are definitely lox ($28–$52/lb), sable ($44/lb) and especially herring ($3.25 per fillet). The store has several different types of herring, and I'm down with all of them. A secret to the lox is you can buy the trimmings—not the head and tails—that come off the nice big slices for really cheap ($3.99/lb)." Russ & Daughters, 179 E Houston St between Allen and Orchard Sts (212-475-4880, russanddaughters.com). Mon–Fri 8am–8pm, Sat 9am–7pm, Sun 8am–5:30pm.
LTI Lightside
"I used to do all my own printing in a darkroom in my loft. Now I use one darkroom exclusively and they're wonderful. They're just master printers. The same guy there has been printing my stuff for years, and they do a beautiful job." LTI Lightside, 34 E 30th St between Madison and Park Aves (212-685-6871, lti-lightside.com). Mon–Fri 9am–6pm.
Museum of Modern Art
"I don't think I'd been [to the museum] since it was renovated; it's just wonderful. I ended up going back there several times while the show ["Looking at Music 3.0"] was up, and I intend to make it back and spend more time at the whole place: the sculpture garden, the galleries and the restaurant. When I went to the Modern [restaurant] for a friend's birthday, even the plates were like works of art." Museum of Modern Art, 11 W 53rd St between Fifth and Sixth Aves (212-708-9400, moma.org). Mon–Wed, Sun 10:30am–5:30pm; Thu–Sat 10:30am–8:30pm. $20, seniors $16, students $12, children under 16 free.
Tags: B+W Silver Gelatin Printing, Laura Levine, The nicest things ...
So, this guy walks into the lab the other day …
and he says: "Is it just me or does it smell like tarter sauce in here?" Dead silence on our end … I mean, how are you supposed to respond to that?
Anyway, turns out he was delivering Pedro Arieta's 8 x 10 mag, Issue B. A joint publication of Pedro's with Kareem Hamady. It's a beautiful thing to behold: (7) portfolios with somewhere around (39) unbound 8 x 10 prints … all encased in a custom made shiny black & blue plexi slipcover. Most notably, 8 x 10 mag presents the work of these photographers uncluttered by text or advertising.
Aside from the publishers (Pedro and Kareem) 8 x 10 mag lists David Karwan as Design Director along with the website addresses for the contributors: Noritoshi Hirakawa, Stian Foss, Joe Hume, Todd Matarazzo, Sigurjon Guojonsson and Antonio Ibarra.
Best I can tell, there aren't any pictures of fish sticks in the entire issue.
Visit www.8x10mag.com to find out how to get yours.
Tags: 8 x 10 mag, Pedro Arieta, Tarter Sauce, The nicest things ...
the uncovering (feature story)
Boogie
the art street journal, vol ii – issue i, p. 12-13, 2010
Got this in the mail yesterday. Seth Carmichael, of The Carmichael Gallery, was nice enough to send it along to us. We recently printed a show of Boogie's work called "The Uncovering" for his gallery (which we foolishly failed to mention here … perhaps due to summer laziness?). However, Seth and Elisa Charmichael were smart enough to feature it on the cover of their refreshingly lo-fi art street journal.
This came as a welcome site in our otherwise boorish daily mail package … it seems like nothing good ever comes via real mail anymore in these days of RSS feeds and e-mail newsletters (yes, just like the one we send out periodically). This one packs a lot of great stuff into its 24 unbound single fold pages.
Tags: B+W Silver Gelatin Printing, Boogie, Charmichael Gallery, the art street journal, The nicest things ...