Lived, Lives, Will Live!
The Propeller Group
Lombard Freid Projects
September 12 – October 26, 2013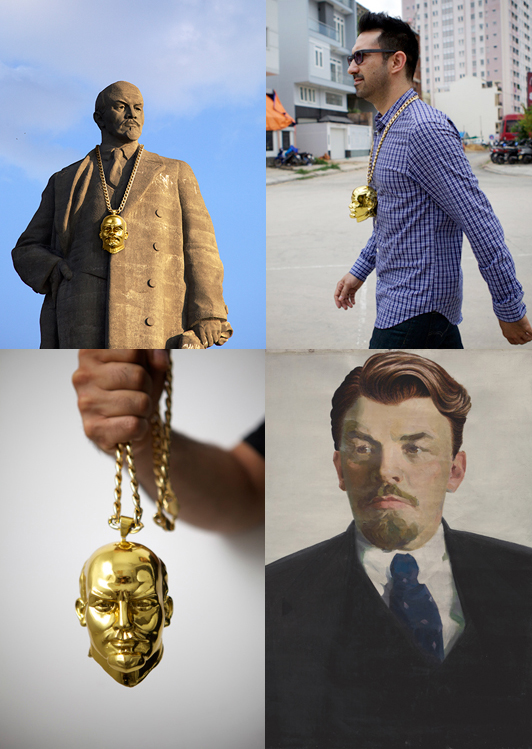 From Lived, Lives, Lived, The Propeller Group
From the Lombard Freid Projects press release:
Ho Chi Minh City and Los Angeles-based collective The Propeller Group—formed by Phunam, Matt Lucero, and Tuan Andrew Nguyen in 2006—will open their debut solo exhibition in the United States at Lombard Freid. Reinvigorating a once famous Leninist slogan, Lived, Lives, Will Live!, the group's new works are part of a larger practice exploring the relationships between politics, celebrity culture, and collective histories. Following close on the heels of the media frenzy surrounding Jay Z's now infamous "Picasso Baby" performance, TPG's paintings, sculptures, and photographs form a new strategy where hip-hop and Hollywood converge as historical and political resurgence.
The rise of Communism in the twentieth century led to the erecting of statues of Vladimir Ilyich Lenin around the world, making him the most monumentalized individual in history. Lived, Lives, Will Live! reexamines the legacy of the revolutionary leader as the unraveling of Communism has brought about the subsequent toppling of these monuments. TPG's works revive Lenin through a hyper-consumerist rebranding of his public image for the twenty-first century.
Inaugurating an ongoing series of paintings, TPG have commissioned hand-embroidered interventions on original painted portraits of Vladimir Lenin that once hung in regional Communist Party headquarters across the U.S.S.R. With the addition of various hairstyles spanning Leonardo DiCaprio's filmography, the revolutionary leader is equipped for contemporary superstardom. Drawing from Internet conspiracies about DiCaprio's being a lost relative of Lenin, the series addresses the political ramifications of representation and celebrity idolatry. As culture blogs report that DiCaprio will play Lenin in a rumored film, TPG will continue the series throughout the actor's career until the two figures are united in a Hollywood historical drama, collapsing history and identity.
Additionally, TPG will embellish public monuments of Vladimir Lenin with jewelry as grandiose as the statues themselves. Beginning with one of the first dismantled monuments of Lenin—removed from Leninplatz, East Berlin in 1992—TPG plan to acquire the head of the monument, plate it in gold, and hang it from an oversized Cuban-link chain on the 27-meter tall Lenin statue in Volgograd Russia—the largest remaining in the world. In preparation, the group has created a set of large scaled architectural maquettes depicting the process of beheading, blinging, and installing the transformed head of the Leninplatz sculpture.
The gold pendant, amplified to a monumental scale, references various methods of portraying power throughout history—royal jewels, war medals, etc.—and the appropriation of these tactics through the ostentation and exaggeration of hip-hop culture. Alluding to diamond-encrusted Jesus pieces and rapper Rick Ross's pendant portraits of himself, TPG's proposed monumental bling explores the border between identity and ornamentation, tracing the malleability of personality in the public sphere.
TPG will also produce a series of photographs, imagining the blinged-out Volgograd Lenin in its site-specific context. These digitally produced renderings highlight the enormous scale of their proposal and reference the unrealized utopian plans of Vladimir Tatlin and El Lissitzky. Pedestals around the gallery will hold jewelry-store displays, showcasing human-scale gold-plated Lenin necklaces. Produced in an edition of 5, these 3D printed necklaces blur the line between sculpture and jewelry, transforming a public monument into reproducible, privately owned commodities.
The Propeller Group uses mass media as a platform to combine seemingly contradictory phenomena: advertising and politics, history and future, and public and private. TPG often pushes their work back into the public sphere, using commodities as a form of public art. As an integral part of their practice, TPG has cultivated the guise of an advertising agency—a public relations firm that confuses the brand and the brand message.
LTI-Lightside was asked to image and print five 30″ x 40″ archival inkjet photographs for this exhibition. We also advised and facilitated the framing of those works along with six additional augmented oil paintings.
Tags: Digital-C Printing, Exhibitions, Framing, Lombard-Freid Projects, Mounting, The Propeller Group
A Bunch of Lonesome Heroes
Richard Finkelstein
Robert Mann Gallery, NY NY
May 16 – June 29, 2013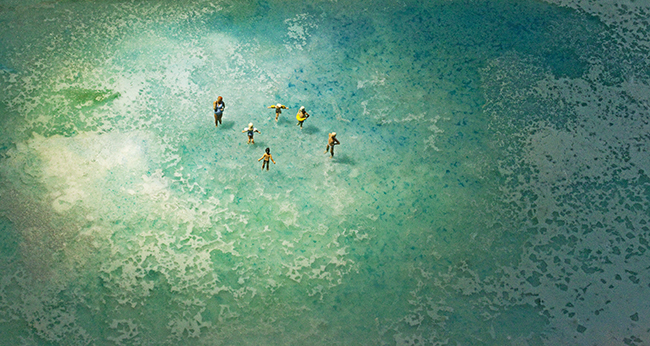 Richard Finkelstein: Wading to Cambodia, 2013
59.5 x 106.5″ archival pigment print on 3mm dibond
From the Robert Mann Gallery press release:
In his debut exhibition at Robert Mann Gallery, Richard Finkelstein presents: A Bunch of Lonesome Heroes. Constructing elaborate, atmospheric pictures of miniature dioramas, Finkelstein produces images infused with impressive emotional intensity. The images offer visual trickery as the viewer oscillates between interpreting them as real world settings and seeing them as artificial constructions.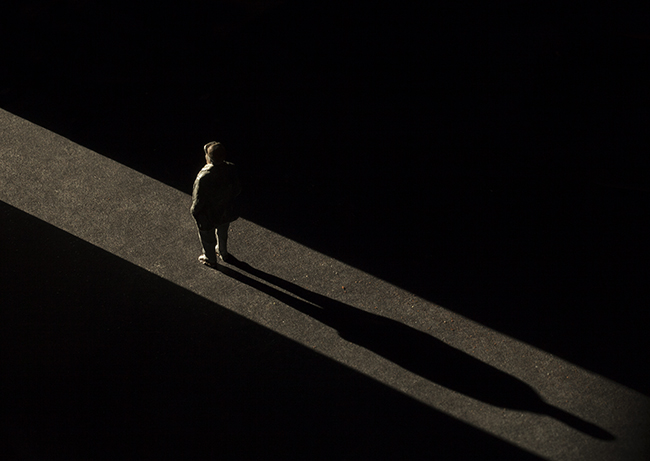 Richard Finkelstein: Lonesome Hero 1, 2013
34″ x 48″ archival pigment print
The artist's employment of the solitary figure seen from behind, the lonesome hero, as he contemplates the sublime landscape before him is an art historical trope that emerged in the 19th century paintings of Caspar David Friedrich, and is an element which is central in Finkelstein's work. While these "lonesome heroes" survey the cavernous spaces and sublime natural expanses they are set within, the viewer simultaneously begins to conjure an imagined narrative for these figures who remain adrift in a complicated world.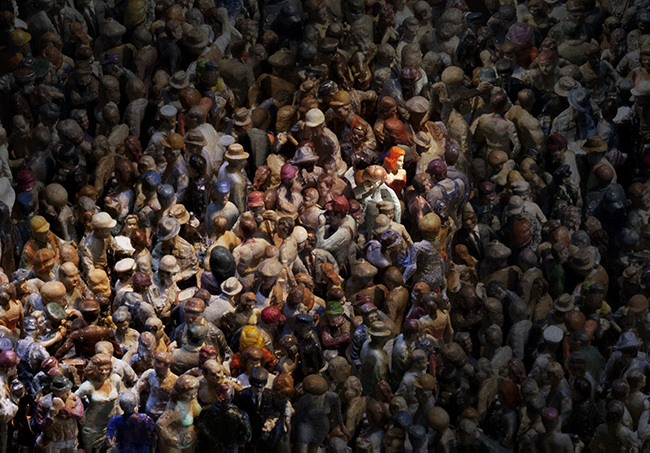 Richard Finkelstein: Ginger, 2013
34″ x 48″ archival pigment print
The pictures provide only vague hints of their background stories anchored by these figures who appear in psychological states of trouble. Inspired by works and events of art historical significance, Finkelstein cleverly riffs on the compositions found in canonical historical imagery through his photographic constructions.
LTI/Lightside was introduced to Finkelstein through the Robert Mann Gallery early in 2013. We've enjoyed a brief but busy period of activity since … starting with the production new work for AIPAD and culminating in the printing, mounting and framing for the Lonesome Heroes exhibition.

Finkelstein's work has posed interesting challenges regarding scale and perspective both within the files and throughout the physical production of the pieces as Rick has pushed to reproduce his miniature worlds into sometimes massive proportions. It has been a pleasure to to work with him throughout the entire process.
See more of Finkelstein's work by clicking here.
Tags: Archival Pigment Printing (Inkjet), Exhibitions, Framing, Mounting, Richard Finkelstein, Robert Mann Gallery
Sex Cells (curated by Asli Unal)
Natasha Gornik
Emmanuel Fremin Gallery
June 28 – July 29, 2012
From the press release: In Sex Cells, eight contemporary photographers explore how we direct sex appeal, both consciously and unconsciously, as a means of empowerment and manipulation. From the provocative to the grotesque, the featured artists combine familiar props and subjects in an original manner as they tackle themes of seduction, bondage, religion and bestiality."
Here we produced four pieces for Natasha and I have to say, they are total knock outs. From the compelling imagery to the slickly conceived framing presentation; this represents a benchmark for Gornik's work and portends of great things to come from her.

Opening night: Sex Cells at Emmanuel Fremin Gallery … looks like fun, no?
Tags: Archival Pigment Printing (Inkjet), Emmanuel Fremin Gallery, Exhibitions, Framing, Mounting, Natasha Gornik
As always, there are a ton of openings on any given Thursday evening in New York City … and we've spent the past few weeks simultaneously working our way through two exhibitions that open tomorrow night. Both were pretty straight-forward projects involving the usual mix of services: silver gelatin b+w, archival pigment printing, digital and conventional c-print, and some mounting and framing … the funny part (to us, anyway) was how worlds-apart the work felt .. or at least in this case, a half a world apart, literally.
And although these artists will likely never be exhibited side-by-side in the same gallery, this post might at least give you a sense of how weird it is for us to be surrounded by say, a still youngish Keith Richards making breakfast in 1975 next to a derelict band of CBeebies living under a bridge in the middle of China somewhere …
Cao Fei, meet Ken Regan …  Ken, Cao Fei.
Ken Regan
Morrison Hotel Gallery
May – June, 2011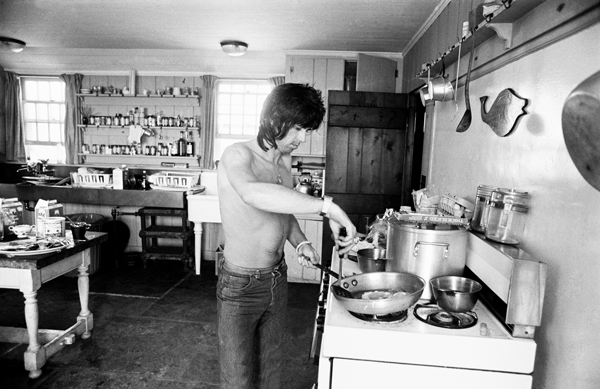 Ken Regan: Keith Richards Making Breakfast, Montauk, NY, 1975
30″ x 40″ archival pigment print
Playtime
Cao Fei
Lombard Freid Projects
May 19 – June 25, 2011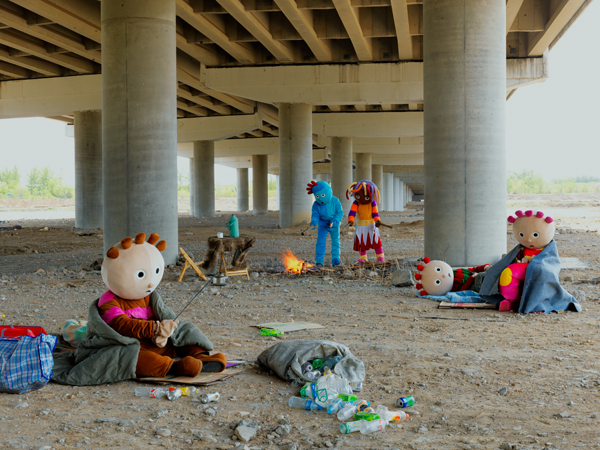 Cao Fei: After a Long Day (Post Garden, Eye-SPY Photo Series), 2011
60cm x 80cm digital c-print, dibond mount, maple frame
Tags: B+W Silver Gelatin Printing, Cao Fei, Digital-C Printing, Exhibitions, Framing, Ken Regan, Lombard-Freid Projects, Morrison Hotel Gallery, Mounting
Minor Cropping May Occur (selected diaries 1961-2001)
Group Exhibition
Lombard Freid Projects
February 17 – March 18, 2011
Opening tonight at Lombard Freid Projects is a particularly ambitious photographic survey spanning five decades. Curated by Lea Freid and Nick Haymes, Minor Cropping May Occur (selected diaries 1961-2011) sports over 150 images from thirteen internationally scattered photographers. Our contribution? An odd mix of trimming, mounting and framing, all at breakneck speed … and I can tell you one thing for sure, the show title is accurate!

row 1: Nick Haymes
row 2: Diafu Motoyuki
row 3: Keizo Katajima
row 4: Walter Pfieffer
You can read more about Minor Cropping May Occur by clicking here.
Tags: Exhibitions, Framing, Lombard-Freid Projects, Mounting
31 Women in Art Photography
Humble Arts Foundation
Affirmation Arts
March 6 – April 10, 2010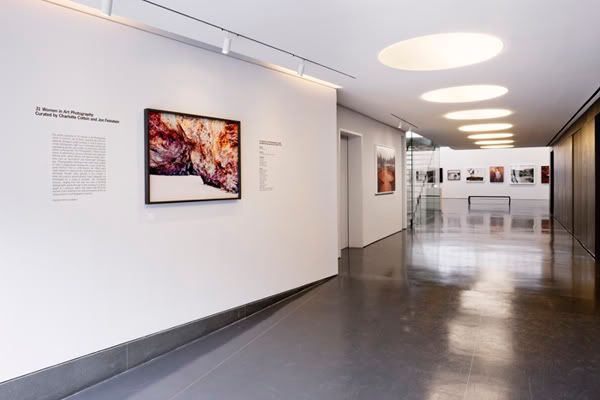 Installation views courtesy of Nat Ward and Humble Arts Foundation
There are two things that struck me about Humble's second edition of 31 Women in Art Photography. The first came in the form of plain statistics that I received from Humble co-founder, Amani Olu:
"This year in New York City hundreds of galleries and museums will mount group and solo exhibitions. On average, less than 25% of the artists presented in these exhibitions will be women. Less than 20% of those artists will be women photographers, and even less will be emerging."
This is the key to understanding why HAF has championed this project for the second time and provides a clear reflection of its principles as a foundation. Not coincidentally, this is also a core reason why LTI / Lightside signed on to be the exhibition sponsor as well as co-founding the Women in Photography LTI / Lightside Individual Project Grant last year.
The second is easily recognizable to anyone who visits the show … it's the extraordinary level of professionalism on display, which is not just evident in the work, but also in the presentation of the exhibition itself. 31 Women in Art Photography is simply a beautiful show to behold. The Affirmation Arts space, with its 20′ sky-lit ceiling and diffuse natural light enhances what many have remarked upon as one of the strongest curated shows to open during this year's New York Art Fair week.
Humble does a great job of spreading the word … and in this day and age it's always tempting to skim the reviews and click through the jpegs online. In this case, however, those of you in New York might consider this … don't miss it!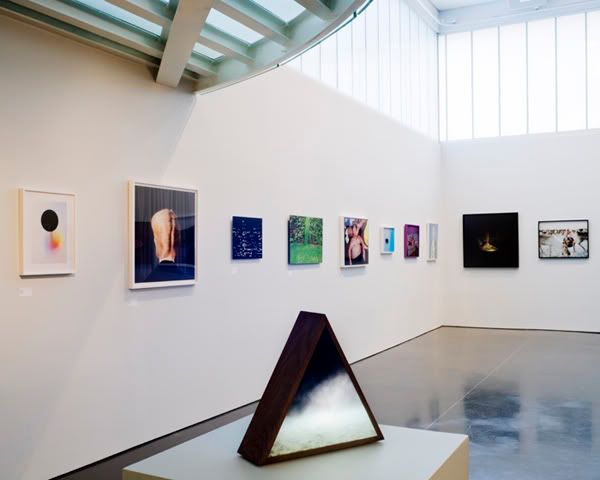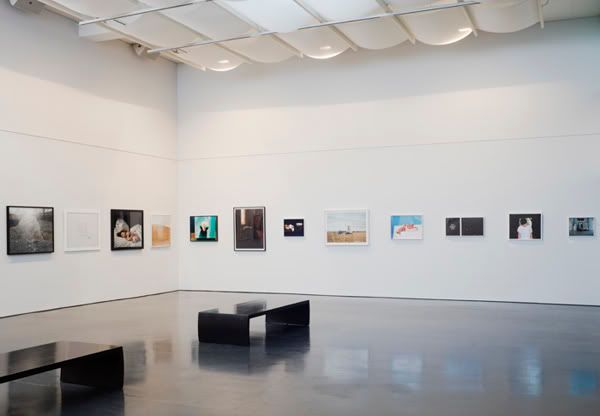 Tags: 31 Women in Art Photography, Archival Pigment Printing (Inkjet), Exhibitions, Framing, Humble Arts Foundation, Mounting
After Color
Bose Pacia Gallery
July 8 / August 21, 2009

Curator Amani Olu (Humble Arts Foundation) "examines how artists employ conceptual black + white photography to strengthen their ideas and how such usage comments on the dominance of large-scale color photography as seen in the contemporary art world over the last 25 years".

Talia Chetrit:Gradient Tool #1, 2009

Michael Buheler-Rose: Edition, 2009
Lightside and LTI provided conventional black + white printing, mounting and framing services for Talia Chetrit's photographic Gradient Toolseries and framing for Michael Buhler-Rose's mixed media Editionseries.
Tags: After Color, Amani Olu, B+W Silver Gelatin Printing, Exhibitions, Framing, Humble Arts Foundation, Michael Buhler-Rose, Mounting, Talia Chetrit