New Next New York
Christian MacDonald
Interview Magazine
November 2016
"American fashion is a big family—we all compete, but we love each other at the same time" writes Diane Von Furstenberg to open this wide reaching story about New York Fashion photographed by Christian MacDonald.
Fourteen pages. See the full story here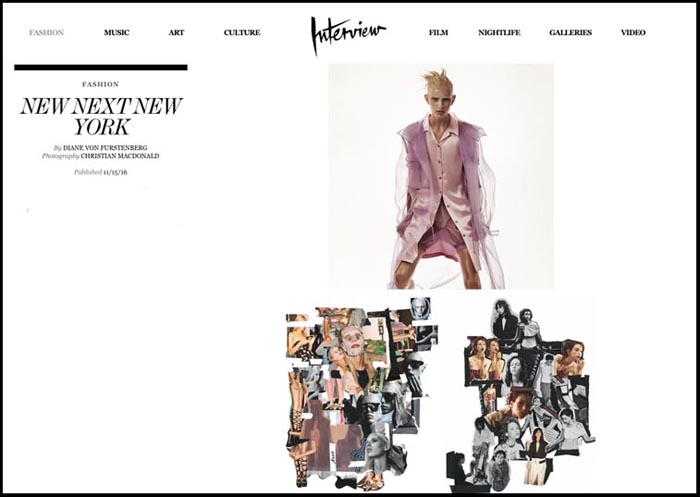 Christian MacDonald: New Next New York, Interview, 2016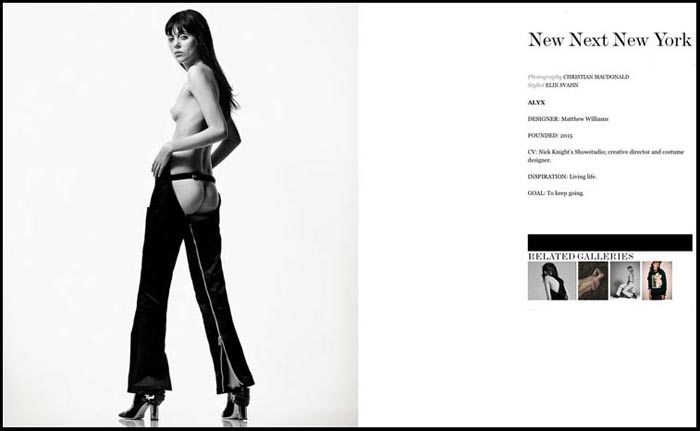 Christian MacDonald: New Next New York, Interview, 2016
Model
Talia Chetrit
Kaufman Repetto / Milan
November 20 – January 10

Talia Chetrit: Parents in the Sun #1,  2014
From Model, Kaufman Repetto, Milan
20 x 25 digital-c print, acrylic mount
From the Kaufman Repetto press release:
In Model, Talia Chetrit reflects on the complex relationship between reality and representation, investigating themes of authenticity in the photographic medium through the exchange between subject and photographer. Alongside the new series of photographs, a video captures Talia Chetrit's parents – present in earlier photographic works – as unwitting subjects of a collection of video clips. Parents candidly records the self-conscious posturing of the artist's mother and father, contrasting the act of staging an image with the relationships created in the act of photographic portrayal.
While Talia Chetrit photographs, a digital camera films the artist's unsuspecting parents, capturing interstitial situations – bits of conversations and gestures – whose intimacy is made public. The video exposes what happens behind the curtains of the photographic sessions, moments which lead to an image but are normally left out of the final photograph, revealing the view of the artist as curious, voyeuristic and directorial. Explicitly rendered is a vulnerable and private exchange between three members of a family, as well as a photographer and her models.

Talia Chetrit: Parents, 2014
Installation view, Kaufman Repetto, Milan
This process exposes artifice – the posing of subjects for a desired effect – while simultaneously revealing the net of relationships that exist between husband and wife, parents and daughter. Accordingly, the family unit alternates between complicity and disobedience to the power dynamic that exists between the photographer and the portrayed subject. The ostensible sincerity of the candid camera gives a window to the illusory character of photography.
The accompanying series of photographs show Talia Chetrit's parents gazing into each other's eyes, then at their phones or a compact mirror, then back at the camera lens. Employing a number of photographic styles, the components of which allude to authenticity or staging, Chetrit debases the tropes of portraiture. Encountered after viewing Parents in the adjacent gallery, a seemingly candid image taken from a second floor balcony feels intently posed. The use of three different camera formats further highlight the ways in which the fabrication of an image influences its reception.
The interrelation of the video and photographic works in Model places emphasis on the unseen structures inherent to photography, investigating the role of photographer and subject as both attempt to fashion an image that reads as sincere. What becomes visible through Talia Chetrit's laying bare of her working process is that from behind the camera lens sincerity can also be constructed.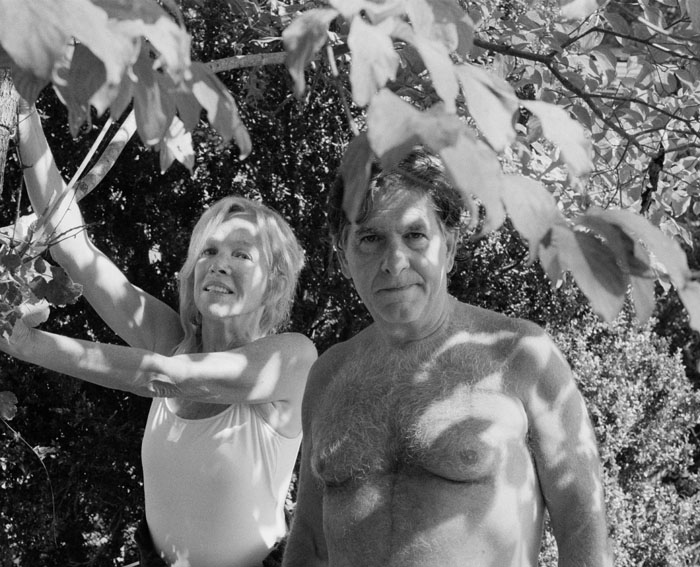 Talia Chetrit: Parents / Trees, 2014
From Model, Kaufman Repetto, Milan
20 x 24 conventionally enlarged silver gelatin print, museum board mount
Aside from the video piece, this exhibition includes (5) digital-c prints and (5) conventionally enlarged silver gelatin prints. You can see installation views and more from Kaufman Repetto here.
This is LTI/Lightside's third solo exhibition  with Talia Chetrit — see more here.
Tags: B+W Silver Gelatin Printing, Digital-C Printing, Exhibitions, Kaufman Repetto, Mounting, Talia Chetrit
La Town
Cao Fei
Lombard Freid Projects
September 10 – October 25
Cao Fei returns for her fifth exhibition at Lombard Freid Projects — this time premiering the 43 minute film, La Town. Projected onto a 9′ x 15′ screen, which dominates the main space of the gallery, La Town drags the viewer on a journey through fantastically film-noir stylized version of contemporary China gone very, very wrong.

Cao Fei: La Town, 2014
9′ x 15′ projection screen / Lombard Freid Projects
In Cao Fei's words:
At a place called the Night Museum", open only after dusk, various artifacts about "darkness" are on display. There is the American horror film: "30 days of Night", Chinese artist Chu Yun's installation "Constellation" and surprisingly, there is even an iPad app game for "The Godfather". The current exhibition is about La Town.
Everyone has heard the myth of La Town. The story first appeared in Europe but after traveling through a space-time wormhole, reappeared in Asia and Southeast Asia. It was last seen near the ocean bordering the Eurasian tectonic plate, vanishing in its midst as if a mirage.
La Town, struck by unknown disaster – where without sunlight, time froze. Polar night was all encompassing so the few instances of white nights have been momentously recorded in the town's history. Yet, through the drifting of time and space, various countries have rewritten La Town's history — and details have been neglected. Now, the story of the small towns past — love affairs, politics, life, demons and disasters — have all been sealed beneath the museums vitrines, the historical "specimens" becoming an authoritative but limited interpretation of this town's history.
The exhibition continues in the back room with five large dibond mounted digital-c print still images from the film (this is our part!).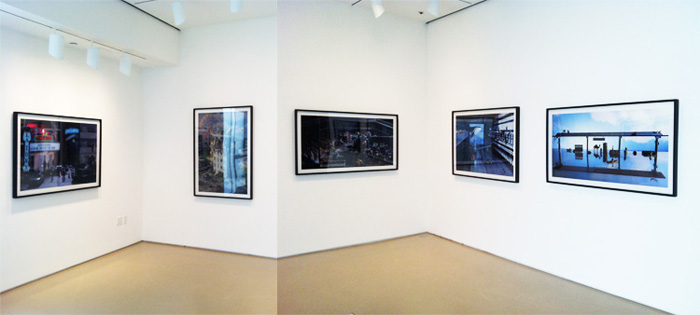 Cao Fei: La Town
Digital-c print, dibond
This is our third exhibition with Cao Fei at Lombard Freid Projects — her previous show Playtime can be seen here.
Tags: Cao Fei, Digital-C Printing, Exhibitions, Lombard-Freid Projects, Mounting
Kids In Love
Olivia Bee
agnès b. Galerie Boutique 50 Howard NYC
June 20 – July 26
By all accounts, Olivia Bee's opening of Kids In Love at the agnes b. galerie boutique on Howard street was a rousing success.
Bee's printed images transcended their intimate boundaries easily transforming into a mega-sized presentation that wasn't even remotely overshadowed by the free posters and t-shirts — or the fervent social-sharing sea of twenty-somethings that eventually overflowed onto the street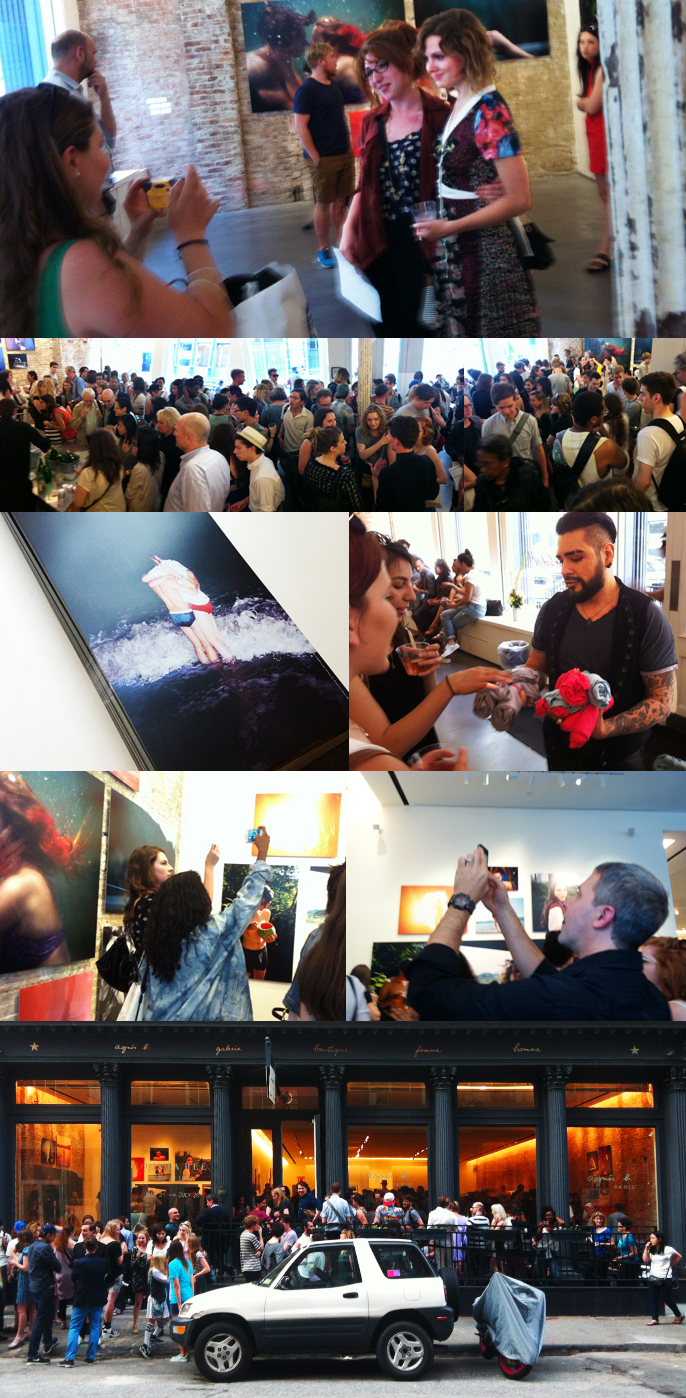 Tags: Digital-C Printing, Exhibitions, Mounting, Olivia Bee, Retouching
Kids In Love
Olivia Bee
agnès b galerie boutique, New York
June 20 – July 26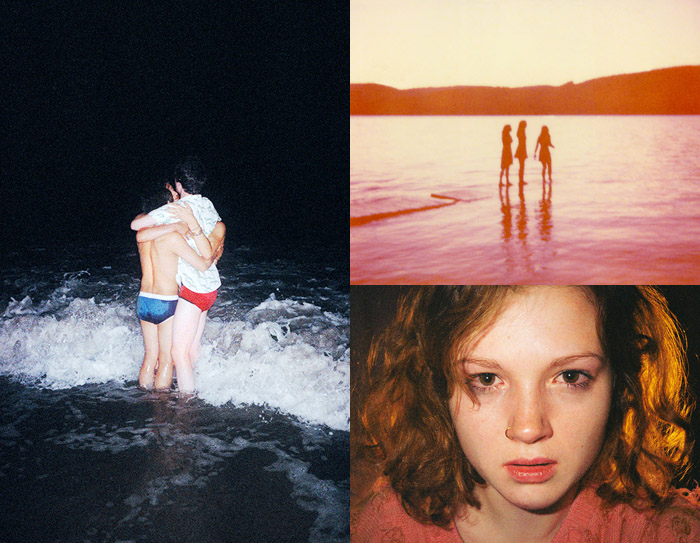 Olivia Bee: from Kids In Love
L: 4th of July (The Family You Choose), 2013
R: top – Running Away Lightly / Magic Hour, 2012
R: bottom – Bad Day, 2013
There's a lot being said about Olivia Bee's Kids In Love photographs and her exhibition at the agnès g galerie boutique — a quick google search will pull up about 3,270,00 results in 0.43 seconds — so I'm going to keep it brief here.
We had a great time producing this show.
Olivia is super-nice and easy to work with.
If you need to know more, check our other posts here or ask google  — the best stuff comes from her and she's quoted, like, everywhere.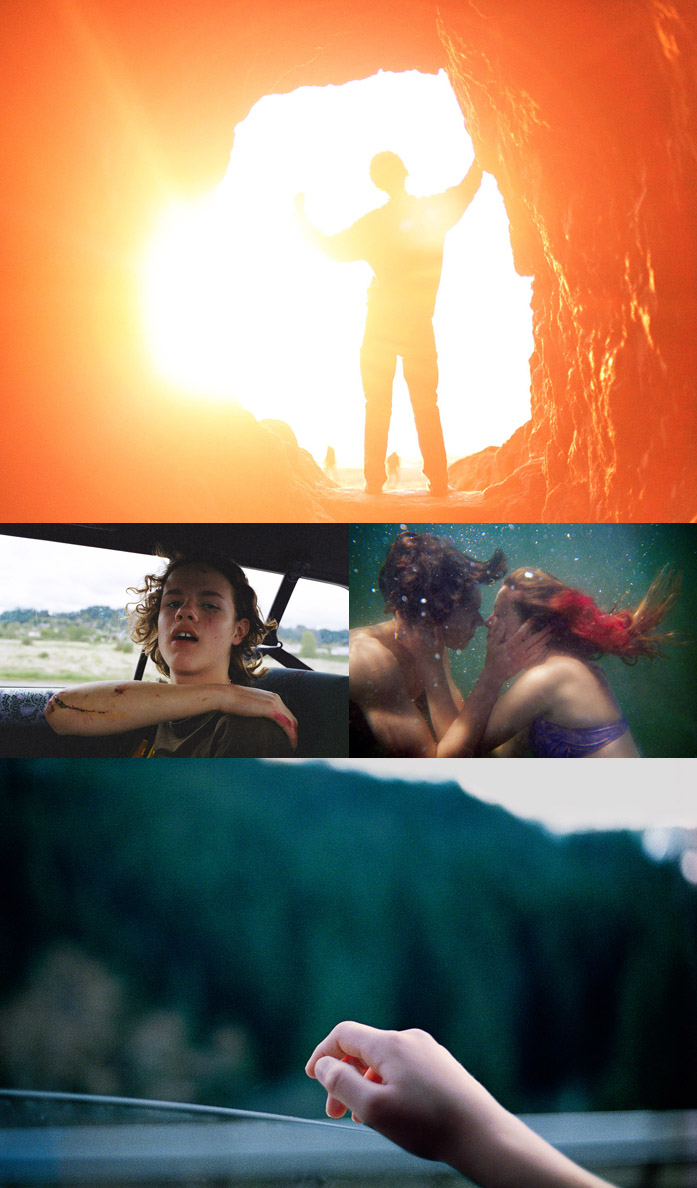 Olivia Bee: from Kids In Love
top: Untitled, 2010
middle left: Max Jumped Off a Train, 2012
middle right: Pre-Kiss, 2010
bottom: Fingertips, 2010
Tags: Digital-C Printing, Exhibitions, Mounting, Olivia Bee, Retouching, Scanning
Kids In Love
Olivia Bee
The first three weeks of June here were all about getting Olivia Bee's Kids In Love exhibition ready for a June 20th opening at the agnès b. Galerie Boutique in Soho.
One one hand — three weeks to image 28 prints isn't the tightest print deadline we've ever worked under (by far) — but considering that we had to produce first-time-ever seen hi-res scans and prints and brace mounting to .080 aluminum and delivery in three weeks — well, lets just say we found ourselves working rather quickly!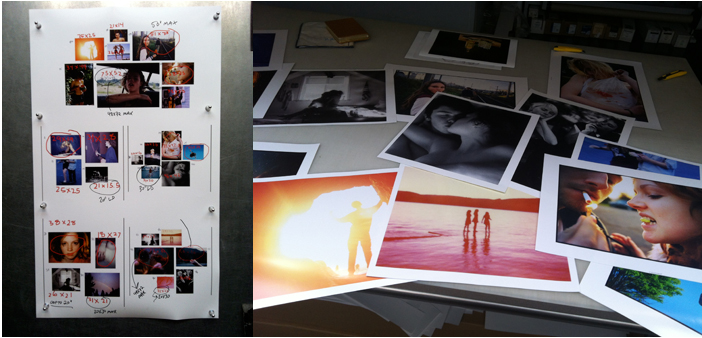 As is often the case, these things start out on the small side …

but then the proofing quickly escalates in complexity (and volume)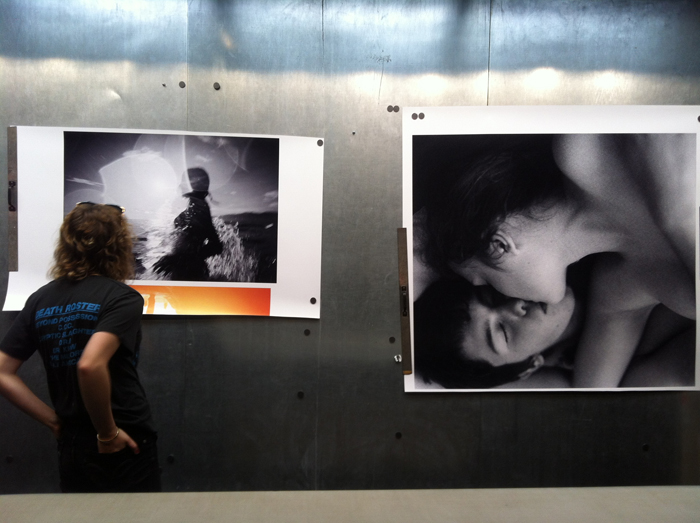 Until eventually — over the course of a week or two —  the full size prints begin to appear.
Tags: Digital-C Printing, Olivia Bee, Retouching, Scanning
Talia Chetrit
Leslie Fritz
September 3 – October 6, 2013


Talia Chetrit at Leslie Fritz, September 2013
From the Leslie Fritz press release:
Talia Chetrit's current exhibition at Leslie Fritz, her third show with the gallery, originates in the artist's revisiting old contact sheets from the first rolls of film she shot as a thirteen-year-old in the mid 1990's. They were intimate, direct portraits of the subjects most immediately available to her: her own family in and around the home. Chetrit re-cropped and re-edited these old images, and returned to photograph her family again for the most recent work in the exhibition, mixing these two moments in this installation. In these images, we see her mother, father, brother, and the photographer herself, pictured today and as they appeared some eighteen years ago.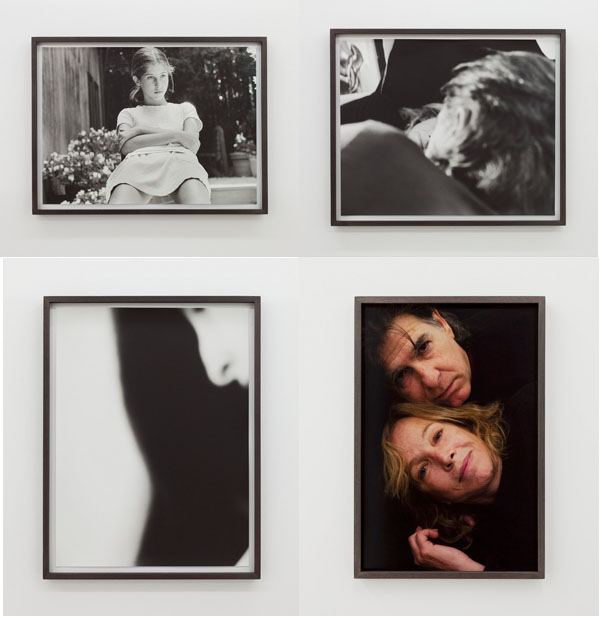 Talia Chetrit: selections from Leslie Fritz, September, 2013
clockwise from top left:
Self-Portrait (13): 1995/2013, 18 x 24 silver gelatin print from original negative
Parents (side, 2013): 20 x 24 silver gelatin print from original negative
Self Portrait (Profile): 2013, 19 x 24 silver gelatin print from original negative
Parents (Stacked): 2013, 14 x 22 digital c-print
I've mentioned previously in this archive that often we'll start work on a project and have no idea what we're being presented with conceptually. This makes sense, considering that our role in the production of these projects is after all, that of the facilitating technician and so it's only natural that we're somewhat removed from the "content" side of the process. It's almost as if we have insider status … but not too far inside, if you get my meaning. Anyway, it's one of those quirks that comes with the job that actually makes life fun around here … specifically: trying to figure what's going on in a project beyond the technical perimeters before actually asking.


Talia Chetrit: selections from Leslie Fritz, 2013
left to right:
Dad: 1995/2013, 6 x 8 silver gelatin print from original negative
Brother: 1995/2013, 6 x 9 silver gelatin print from original negative
In this case: printing negatives shot by the artist eighteen years previous, including a self-portrait (without this being explained), clearly puts this project into that category.
Chetrit's exhibition has been well received with reviews in Artforum, Mousse Magazine, Contemporary Art Daily and the Gallerist. For more, please visit Leslie Fritz online by clicking here.
Tags: B+W Silver Gelatin Printing, Digital-C Printing, Leslie Fritz, Talia Chetrit
Darshan
Manjari Sharma
ClampArt Gallery
September 12 – October 12, 2013
LTI/Lightside is pleased to have provided the print production for Manjari Sharma's first solo exhibition, Darshan, in New York City.
This exhibition is the culmination of exhaustive research by Sharma and and the dedicated efforts of a large team of technicians and craftsmen assembled by her over the past two years. Presented at ClampArt in an elaborate installation complete with incense, lamps, and invocations; Darshan aims to mirror the experience of a Hindu temple and create an environment that calls out to the viewer's innate sense of spirituality.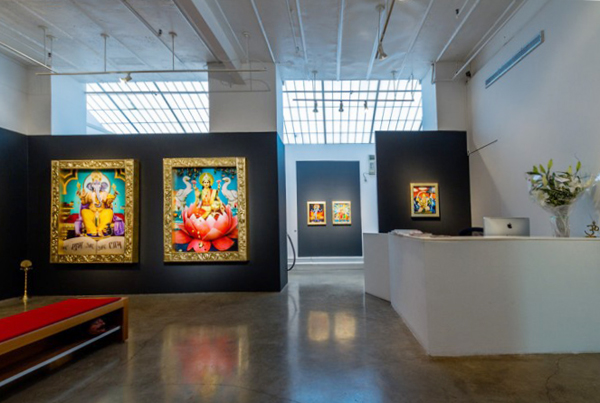 Manjari Sharma: Darshan, ClampArt Gallery, 2013
Photograph courtesy of Randhy Rodriguez
From the gallery press release:
"Darshan" is a Sanskrit word meaning "vision" or "view," and is most commonly used in the context of Hindu worship. It can also be translated as an "apparition" or a "glimpse." One may seek and receive the Darshan of a deity, and upon sight, that Darshan may invoke an immediate connection between that deity and the devotee. A Darshan can ultimately be described as an experience purposed on helping one focus and call out to his or her sense of spirituality.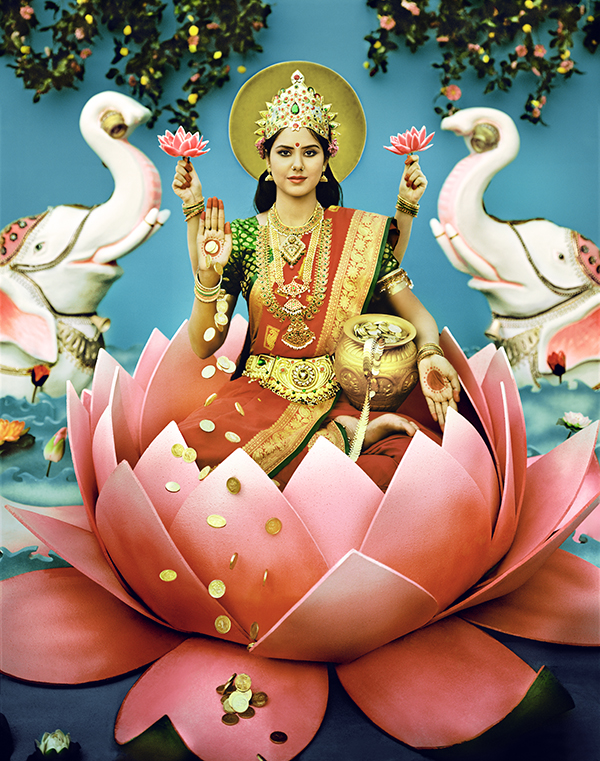 Manjari Sharma: Maa Laxmi, From Darshan, 2012
48 x 60 digital c-print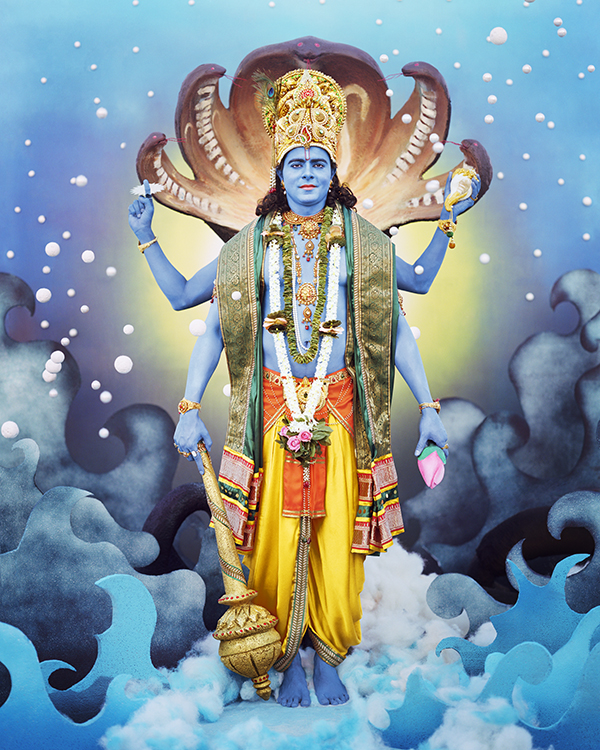 Manjari Sharma: Lord Vishnu, from Darshan, 2013
48 x 60 digital c-print
Tags: CLAMPART, Digital-C Printing, Exhibitions, Manjari Sharma
Lived, Lives, Will Live!
The Propeller Group
Lombard Freid Projects
September 12 – October 26, 2013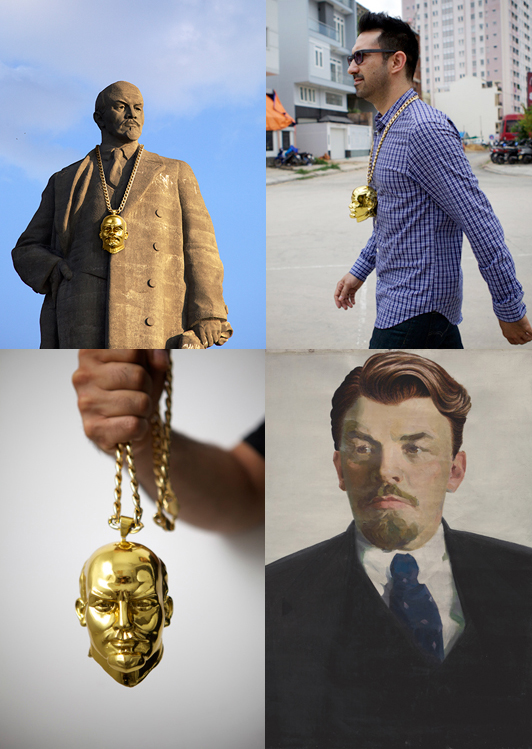 From Lived, Lives, Lived, The Propeller Group
From the Lombard Freid Projects press release:
Ho Chi Minh City and Los Angeles-based collective The Propeller Group—formed by Phunam, Matt Lucero, and Tuan Andrew Nguyen in 2006—will open their debut solo exhibition in the United States at Lombard Freid. Reinvigorating a once famous Leninist slogan, Lived, Lives, Will Live!, the group's new works are part of a larger practice exploring the relationships between politics, celebrity culture, and collective histories. Following close on the heels of the media frenzy surrounding Jay Z's now infamous "Picasso Baby" performance, TPG's paintings, sculptures, and photographs form a new strategy where hip-hop and Hollywood converge as historical and political resurgence.
The rise of Communism in the twentieth century led to the erecting of statues of Vladimir Ilyich Lenin around the world, making him the most monumentalized individual in history. Lived, Lives, Will Live! reexamines the legacy of the revolutionary leader as the unraveling of Communism has brought about the subsequent toppling of these monuments. TPG's works revive Lenin through a hyper-consumerist rebranding of his public image for the twenty-first century.
Inaugurating an ongoing series of paintings, TPG have commissioned hand-embroidered interventions on original painted portraits of Vladimir Lenin that once hung in regional Communist Party headquarters across the U.S.S.R. With the addition of various hairstyles spanning Leonardo DiCaprio's filmography, the revolutionary leader is equipped for contemporary superstardom. Drawing from Internet conspiracies about DiCaprio's being a lost relative of Lenin, the series addresses the political ramifications of representation and celebrity idolatry. As culture blogs report that DiCaprio will play Lenin in a rumored film, TPG will continue the series throughout the actor's career until the two figures are united in a Hollywood historical drama, collapsing history and identity.
Additionally, TPG will embellish public monuments of Vladimir Lenin with jewelry as grandiose as the statues themselves. Beginning with one of the first dismantled monuments of Lenin—removed from Leninplatz, East Berlin in 1992—TPG plan to acquire the head of the monument, plate it in gold, and hang it from an oversized Cuban-link chain on the 27-meter tall Lenin statue in Volgograd Russia—the largest remaining in the world. In preparation, the group has created a set of large scaled architectural maquettes depicting the process of beheading, blinging, and installing the transformed head of the Leninplatz sculpture.
The gold pendant, amplified to a monumental scale, references various methods of portraying power throughout history—royal jewels, war medals, etc.—and the appropriation of these tactics through the ostentation and exaggeration of hip-hop culture. Alluding to diamond-encrusted Jesus pieces and rapper Rick Ross's pendant portraits of himself, TPG's proposed monumental bling explores the border between identity and ornamentation, tracing the malleability of personality in the public sphere.
TPG will also produce a series of photographs, imagining the blinged-out Volgograd Lenin in its site-specific context. These digitally produced renderings highlight the enormous scale of their proposal and reference the unrealized utopian plans of Vladimir Tatlin and El Lissitzky. Pedestals around the gallery will hold jewelry-store displays, showcasing human-scale gold-plated Lenin necklaces. Produced in an edition of 5, these 3D printed necklaces blur the line between sculpture and jewelry, transforming a public monument into reproducible, privately owned commodities.
The Propeller Group uses mass media as a platform to combine seemingly contradictory phenomena: advertising and politics, history and future, and public and private. TPG often pushes their work back into the public sphere, using commodities as a form of public art. As an integral part of their practice, TPG has cultivated the guise of an advertising agency—a public relations firm that confuses the brand and the brand message.
LTI-Lightside was asked to image and print five 30″ x 40″ archival inkjet photographs for this exhibition. We also advised and facilitated the framing of those works along with six additional augmented oil paintings.
Tags: Digital-C Printing, Exhibitions, Framing, Lombard-Freid Projects, Mounting, The Propeller Group
Sebastiaan Bremer
Edwynn Houk Gallery / New York
September 12 – November 2, 2013
Edwynn Houk kicks off the fall season in New York with their third installation of works by Sebastiaan Bremer since he joined the gallery in 2011.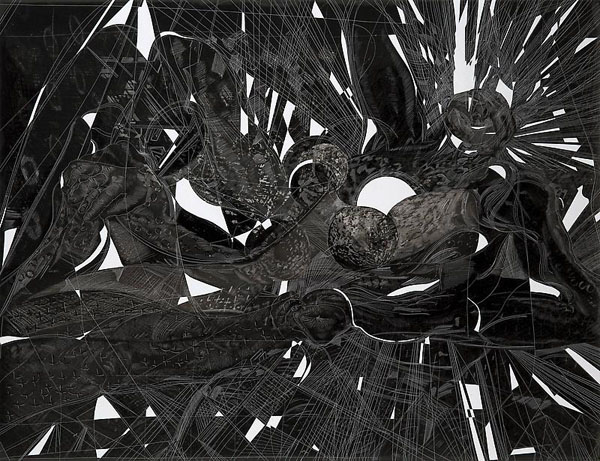 Sebstiaan Bremer: Combustion, 2013
Unique hand-painted and carved digital chromogenic print with mixed media
30″ x 38 3/4″
For this exhibition, Bremer draws from Surrealism, Modernism, and Cubism by literally mashing up portions of paintings and photographs from Picasso, Matissse, Brassai and Brandt … which, the gallery press-release terms as "a twisted form of time travel that inserts his own style and inhabits the studios and canvases of artists working before him".
More from the gallery press release:
Utilizing the artist's signature style of obsessively applied dots of paint to a photographic surface, and adding etching to his working method, Bremer renders the subjects of this series in a dream-like haze of abstraction. Drawing from Surrealism, Modernism, and Cubism, the artist collages photographs and paintings together to create a seductive labyrinth of entangled bodies and art.

Sebastiaan Bremer: Combustion (etching detail), 2013
And in his own words:
I knew that this form of mark-making wasn't invented by me and that these obsessions and desires were not unique to me. Looking further, to see how so many artists have been obsessing about the same ideas, and wrestling with the same problem of how to carve one's place in time, gave me a feeling of going home. At some point I thought to work directly on the art of my predecessors, to follow their carving, their lines, and replace them, rejuvenate them, re-form them. I collaged some together, changed their orientation, overlaid and blended them with other images. I don't dream that I could ever improve them, but I was intrigued by the possibilities of blowing fresh air into them, shifting and reanimating them for a new run. To layer Picasso, who changed styles at the same pace as he changed muses and loves and passions, on top of his greatest competitor, Matisse, along with works by Brandt and Brassaï— this mix of histories and desires and ways of looking feels right to me.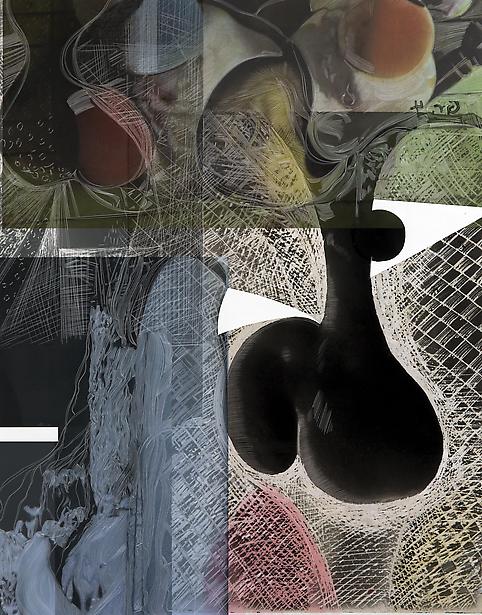 Sebastiaan Bremer: Les Grands Jeux, 2013
Unique hand-painted and carved digital chromogenic print with mixed media
30″ x 38 1/2″
You can see a longer selection of works from this series by clicking here. We're happy to say that we've been working with Sebastiaan since 2007, an overview of those projects can be seen by clicking here.
Tags: Digital-C Printing, Edwynn Houk Gallery, Exhibitions, Sebastiaan Bremer