Playground
James Mollison
Aperture Foundation Gallery
April 16 – June 11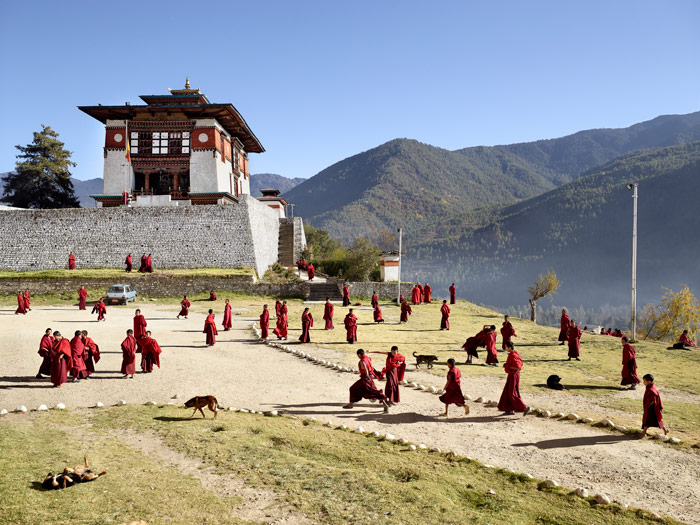 James Mollison: Dechen Phodrang, Thimphu, Bhutan 2011
37.5 x 50 archival pigment print
Back in December 2014, Kellie McLaughlin from Aperture Foundation approached us to print an exhibition for James Mollison's project, Playground.  Aperture and Mollison had been working on the book and the exhibition was to be timed with its release for Spring 2015. We weren't familiar with James' work, though Chris Boot (Aperture's Director) had published a number of his projects over the years before coming to Aperture. So obviously, we had not met him at this point — and as it would turn out — we wouldn't meet him until the opening night of his show!
This could be considered a somewhat unusual approach — or at the very least, maybe not ideal circumstances for producing a 30 (+) print exhibition of works for the first time, with a new customer! But James lives in Italy and wasn't in a position to travel for proofing and well, sometimes these things just happen this way …
The solution turned out to be fairly straightforward: we would simply use FedEx to shuttle a series of tests and proofing rounds between Italy and New York. It was certainly easy enough for us to produce a set of full frame proofs and an additional set of "at-size" sections of each image. This enabled James to review all of his on-screen post-shoot work in physical form and lay out the entire exhibition to get a feel for the balance of color and density. The at-size sections were particularly useful in allowing him to examine the minute details of each complex interaction — a hallmark of this project — and rest assured that everything was falling into place as intended.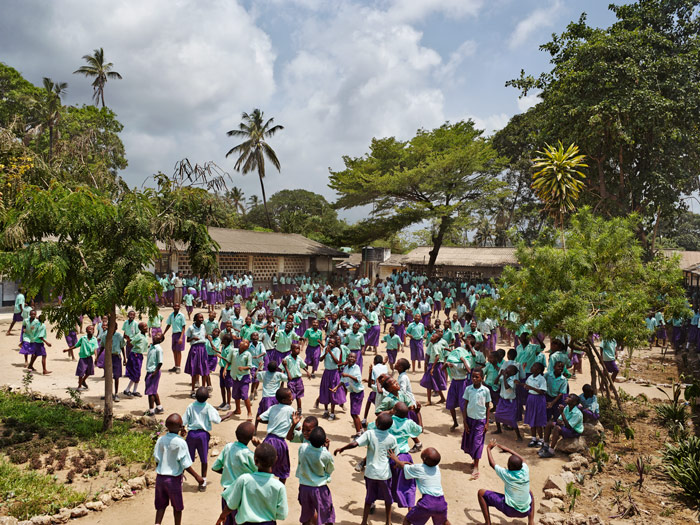 James Mollison: Freretown Community Primary School, Mombasa, Kenya, 2011
From the Aperture Press Release:
Mollison's photo projects are defined by smart, original concepts applied to serious social and environmental themes. For Playground, Mollison photographed children at play in their school playgrounds, inspired by memories of his own childhood and interested in how we all learn to negotiate relationships and our place in the world through play.
Various scenes of laughter, tears, and games demonstrate the intense experiences which happen in the playground. For each picture, Mollison sets up his camera during school break time, making multiple frames and then composing each final photograph from several scenes, in which he finds revealing "play" narratives.
With photographs from rich and poor schools, numerous middle schools, and some high schools, in countries including Argentina, Bhutan, Bolivia, India, Israel, Italy, Japan, Kenya, Nepal, Norway, Sierra Leone, the United Kingdom, and the U.S., Mollison also provides access for readers of all ages to issues of global diversity and inequality.

The scene at Aperture Foundation for the opening of James Mollison's Playground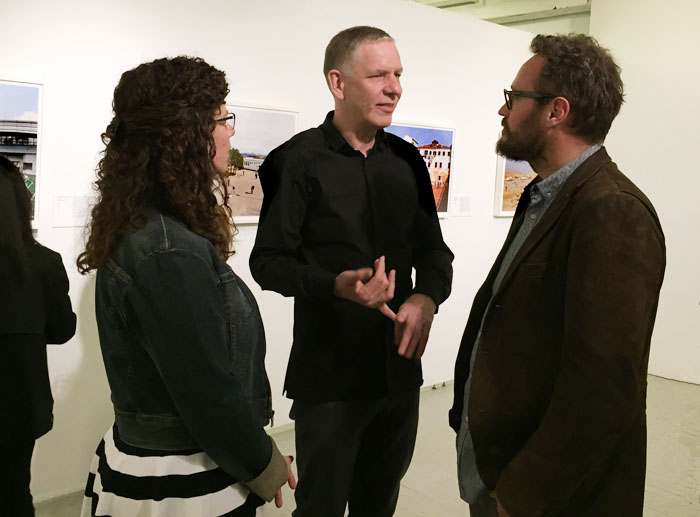 Aperture's Chris Boot (center) counting down the ways he is so pleased with James Mollison's (right) work.
James Mollison's (born in Kenya, 1973) work has been featured widely in such publications as Colors, the New York Times Magazine, and the Paris Review, among many others. He has also published several books, among them James and Other Apes (2004), The Disciples (2008), and Where Children Sleep (2010).
You can see more of James' work on his website by clicking here.
Tags: Aperture Foundation, Archival Pigment Printing (Inkjet), Exhibitions, James Mollison, Mounting