Heavy Duty Landscapes
Jan Staller
ISE Cultural Foundation
January 12 – March 2, 2012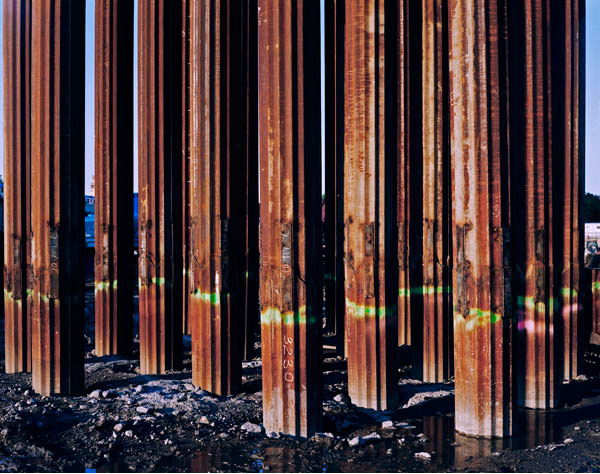 Jan Staller: Pilings, Flushing Queens, 2007
50 x 60 conventional c-print
ISE Cultural Foundation is showing recent works by Jan Staller. The exhibition titled Heavy Duty Landscapes showcases sixteen large format c prints spanning the past seven years. Staller describes his work as follows:
For more than 30 years I have been making surprisingly interesting photographs of subject matter thought by most to have little interest. Included in the ISE exhibit are sixteen large-scale color photographs, virtually all made at local construction sites and scrap yards.
 
Like many photographers, I do my work on road trips. Where most photographers' trips are long journeys in search of the unusual, my road trips are more local- hours and miles spent canvassing the same general territory year after year in search of the familiar. From the highways and service roads within a 20 mile radius of Manhattan I have found imagery in ordinary and ignored sites. With my assistant at the wheel of a late model police car laden with camera equipment, I would scan the landscape for potential subjects. Should a subject be found, we stop the car, put up highway cones and set up the camera and tripod. As I often photograph without authorization, I try to make the work look like official business. As unprepossessing as these subjects may sound, the resulting  photographs are transformative.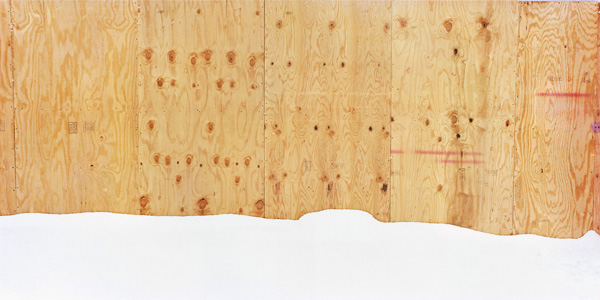 Construction Barricade in Snow, New York, 2010
30 x 60 digital c-print
LTI/Lightside worked with Jan to produce a number of conventional and digital c-prints for this exhibition
Tags: Conventional C-Printing, Digital-C Printing, Exhibitions, Jan Staller, Mounting