Amplifier
Danny Clinch
Fotografiska New York
December 2019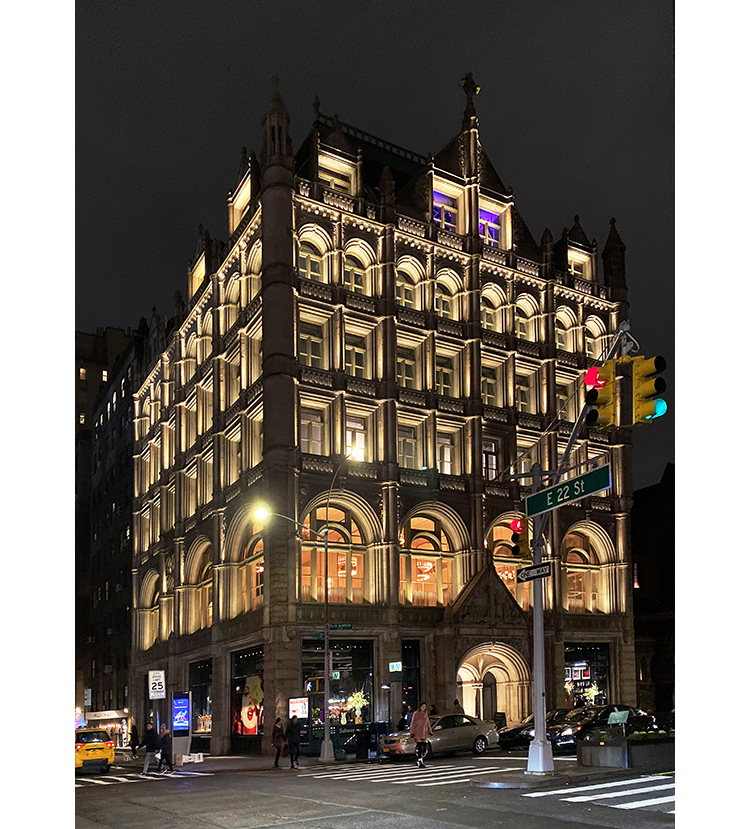 Fotografiska New York
If you're not aware of what Fotografiska is don't feel like you've been living under a rock. Most of us (NY'ers that is) can't even pronounce the name properly let alone be held accountable for not realizing that this group took up residence on 22nd & Park Avenue South and now is poised to take over the world with their gigantor-scale museum/restaurant/book store/cafe/wellness chapel/event space/mega-photographic exhibition hall theme park … (and we mean that in a nice way).
Now, if you don't know who Danny Clinch is then, well … maybe you have been living under a rock. And we mean that in the most gentle "you need to get out more" kind of way.
Either way – here's your big chance to check out the newest game in town (Fotografiska) and one of the longest running hardest working names in show business, our man, Danny Clinch … and all in one easy take. Clinch's pop-up "Amplifier" exhibition/gallery literally christened Fotogafiska's 5th floor event space on December 14th (their opening weekend). Of course, we were there to enjoy the show(s) – meaning both photographic  and musical — and also to review a bit of our own handiwork, having produced a number of pieces for the exhibition.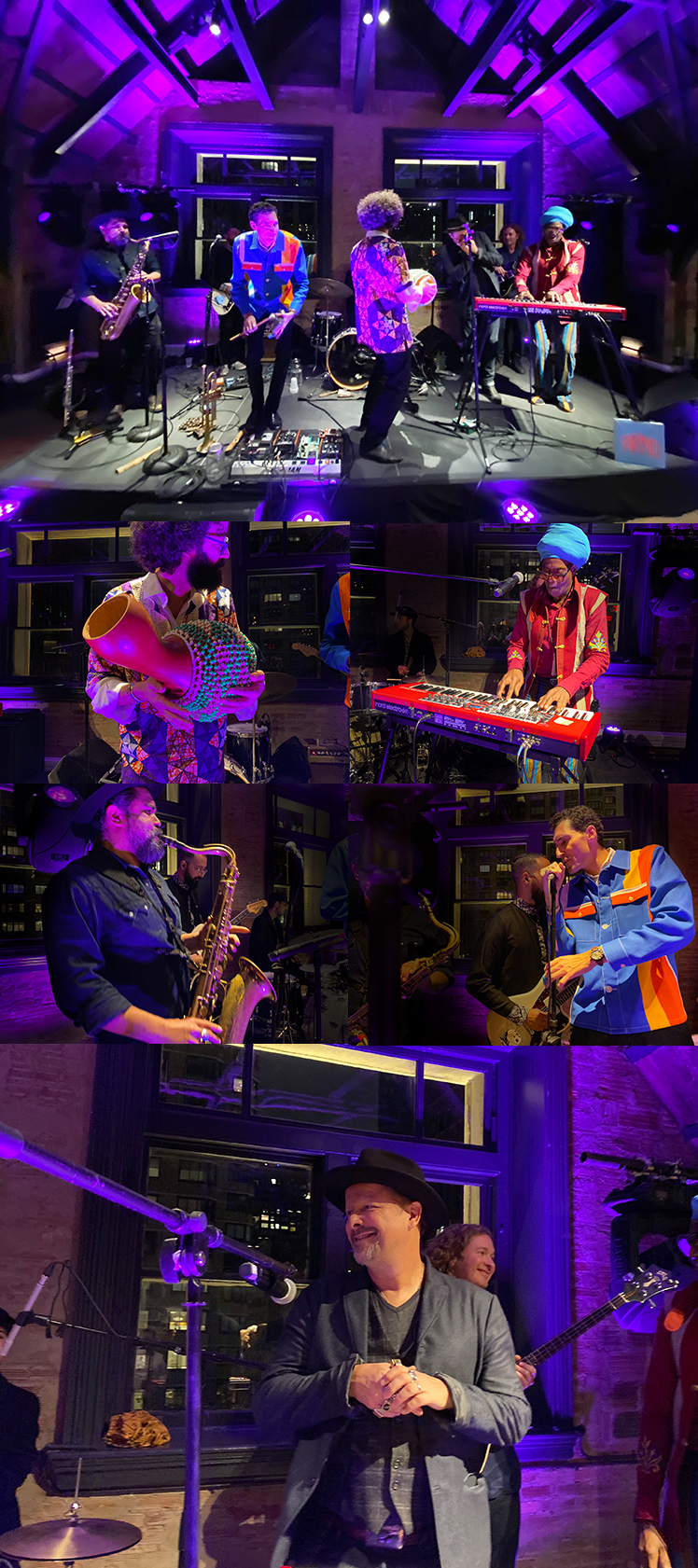 The man himself, performing with Brooklyn's Antibalas
Danny is arguably one of our oldest customers … and easily one of the nicest guys you'll ever meet. Fotografiska is the newest thing going and their future looks quite bright. We consider ourselves lucky to be associated with these fine folks on every count.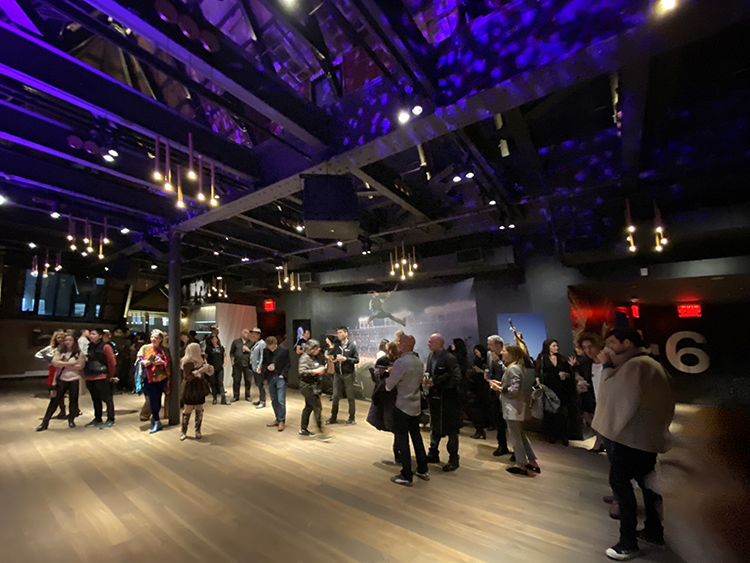 Fotografiska's 5th floor event space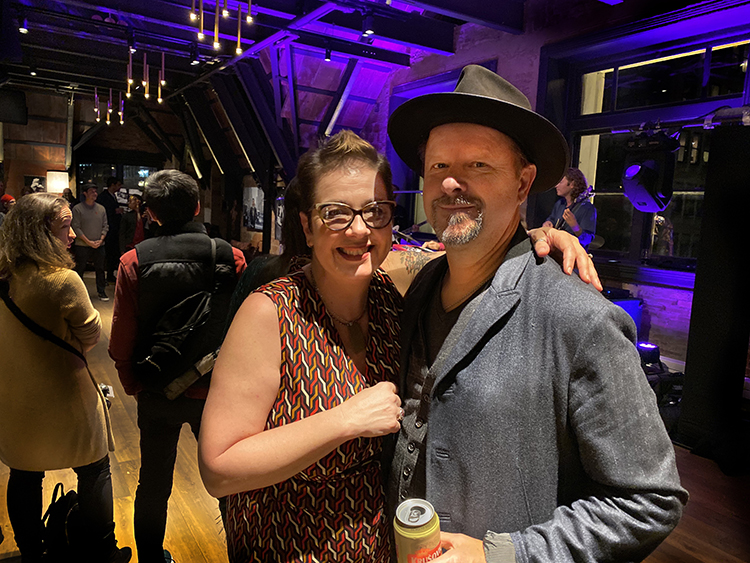 Danny and Maria — hardcore industry survivors.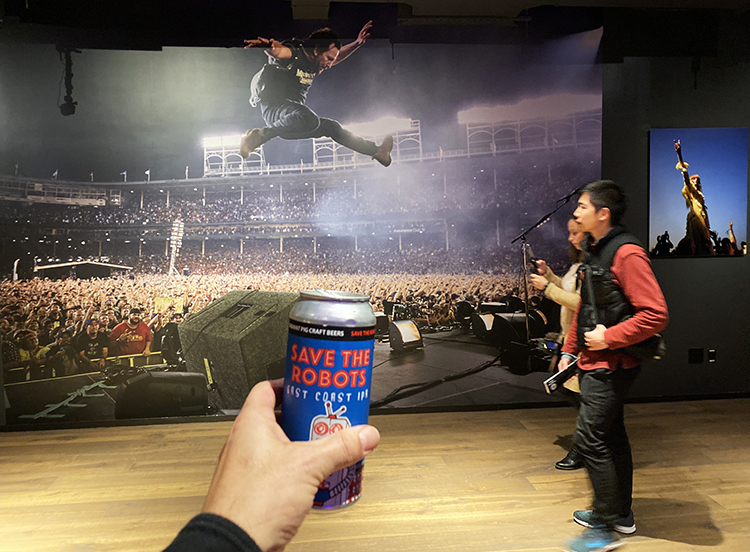 Cheers !
Check out Danny's website here … and all the fine offerings from Fotografiska here.
Tags: Archival Pigment Printing (Inkjet), Danny Clinch, Exhibition Mounting, Exhibitions, Fotografiska New York
Corey, Donna, Jane, Daphne, Giuliana, Ever, Jochem, Eric, Chris, unknown, and myself
Talia Chetrit
Sies + Höke
Nov 16 2019 — Jan 11 2020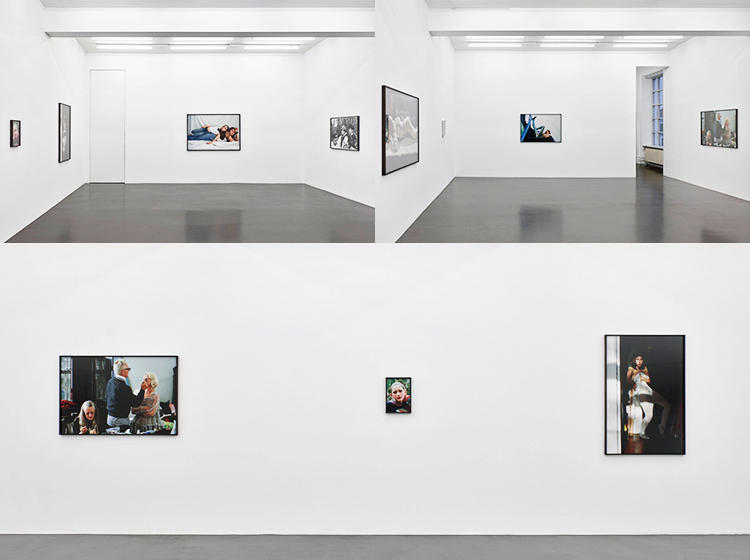 Talia Chetrit: Corey, Donna, Jane, Daphne, Giuliana, Ever, Jochem, Eric, Chris, unknown, and myself
Sies + Höke, 2019/20 Install views courtesy Sies + Höke Galerie

From the Sies + Höke press release:
Corey, Donna, Jane, Daphne, Giuliana, Ever, Jochem, Eric, Chris, unknown, and myself is an exhibition of portraits taken from 1995-2019 by Talia Chetrit. Spanning several decades these eight photographs move us across an uncanny breadth of staged and unstaged portraits— a test photo from a fashion shoot, a portrait of a body-cast from an ancient archeological site dated 79AD, self-portraits in the artist's home, legendary muses backstage. The edit of these photos for the participatory space of the gallery functions as an analog to the contemporary conditions of image-making and image-viewing, a grouping for which a single time-stamp can open our curiosity, and also lay flat against a network of unrelated meanings, both within the exhibition itself and within photography itself.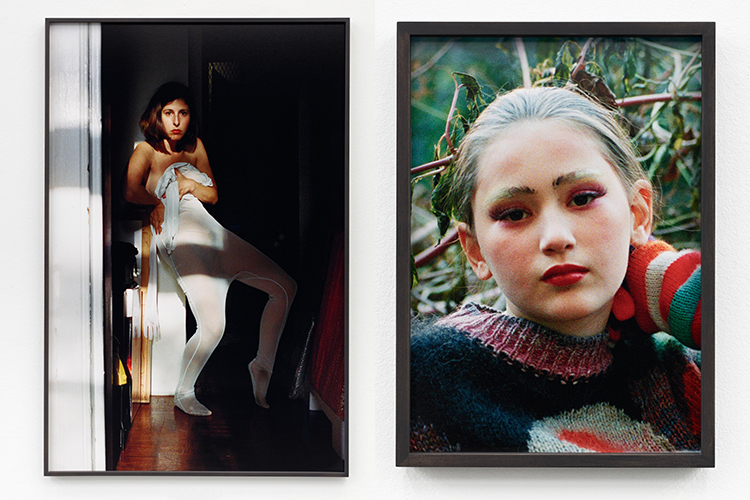 Talia Chetrit: from Corey, Donna, Jane, Daphne, Giuliana, Ever, Jochem, Eric, Chris, unknown, and myself, Sies + Höke, 2019/2010
L: Self Portrait (Mesh Layer) 2019: 32 x 48 archival pigment print / dibond mounting
R: Ever, Cory Tippin Make Up, 2018: 10 x 14 archival pigment print / dibond mounting
This is the third exhibition of Chetrit's work we've helped produce for Sies + Höke. We've been working with Talia since 2009.
For more on our projects with Talia click here
For more on Talia with Sies + Höke click here
Tags: Archival Pigment Printing (Inkjet), Exhibition Mounting, Exhibitions, Film Processing, Imaging, Scanning, Sies + Höke Galerie, Talia Chetrit
41 Degrees Latitude
Micheal McLaughlin
Robin Rice Gallery
April 10 – June 12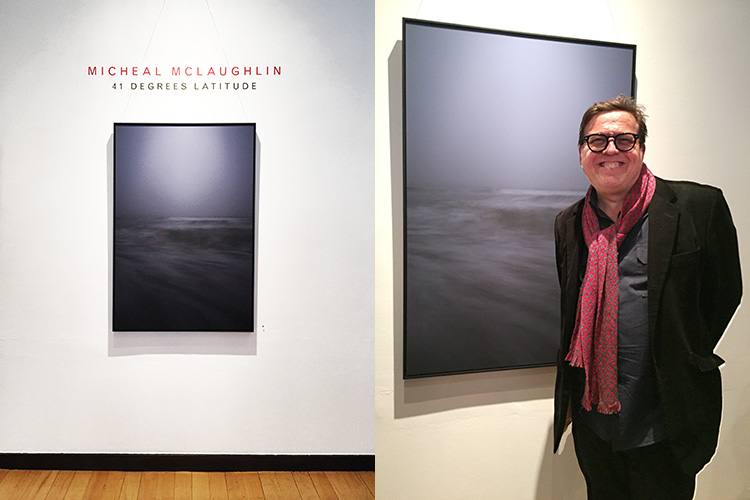 Micheal McLaughlin at Robin Rice Gallery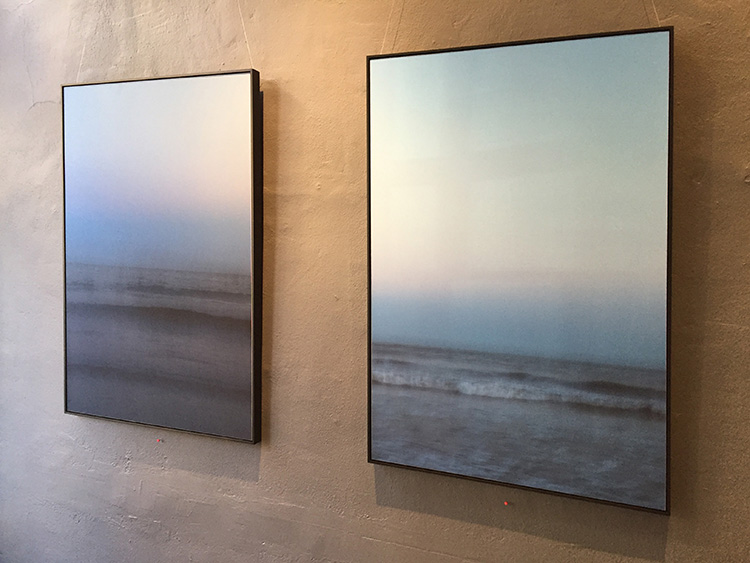 Micheal McLaughlin: from 41st Parallel at Robin Rice Gallery
26 x 40 archival pigment prints
Micheal McLaughlin captured his dreamy oceanscapes along the 41st parallel north, which, not coincidentally runs right though a number of beaches in the tiny state of Rhode Island where enjoyed part of his childhood. You can read more about that in Robin Rice's press release here.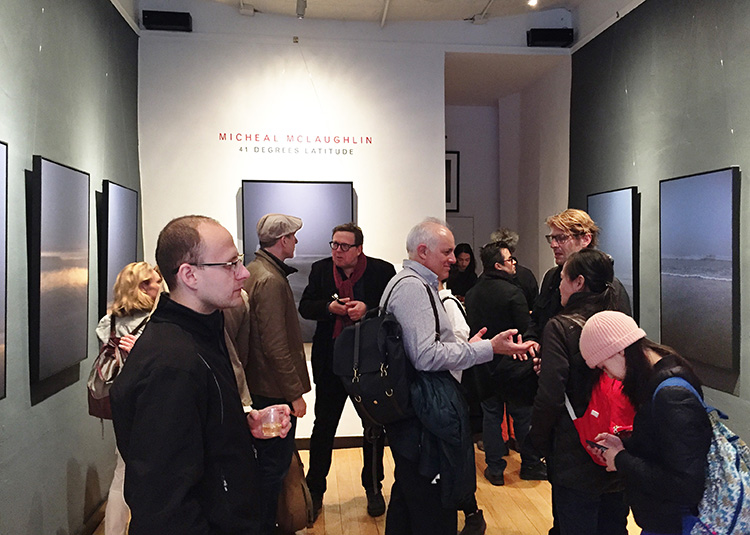 Micheal McLaughlin: 41st Parallel opening night at Robin Rice Gallery.
Michael is a long time customer of LTI-Lightside. We were happy to produce 13 archival pigment prints for this exhibition.
Look for more of his work online here and on his very entertaining Instagram feed here.
Tags: Archival Pigment Printing (Inkjet), Exhibition Mounting, Exhibitions, Micheal McLaughlin, Robin Rice Gallery
New, Used, Rare and Out of Print
Richard Finkelstein
Robert Mann Gallery
September 13 – October 20
From the Robert Mann Gallery Press Release:
Robert Mann Gallery presents a new body of work by Richard Finkelstein in his third solo show with the gallery, New, Used, Rare and Out of Print. Known for his cinematic world of miniature dioramas, Finkelstein explores a new direction in his work that focuses on the manipulation and transformation of books. He investigates the materiality of the books as he documents their reactions against water, paint, folding and cutting … cont.


Richard Finkelstein: from New, Used, Rare and Out of Print, 2018
L: Come Wander with Me
R: A Fine Balance
Archival pigment prints, sintra mount
… the photographs in this series were both intended and unintended. While working with the texts related to the myth by Ovid, Joyce and others, Finkelstein initially immersed them in coffee to age them and have them appear as ancient texts. But as the first books dried, the pages curled and molded themselves into new forms, assumed other shapes and then hardened, causing Come Wander With Me to emerged. The books transformed into a sculptural medium. They had lost their specific identity as the words became distorted or even hidden therefore erasing the past message of the books. The stories and titles which caused the artist to select them were no longer identifiable.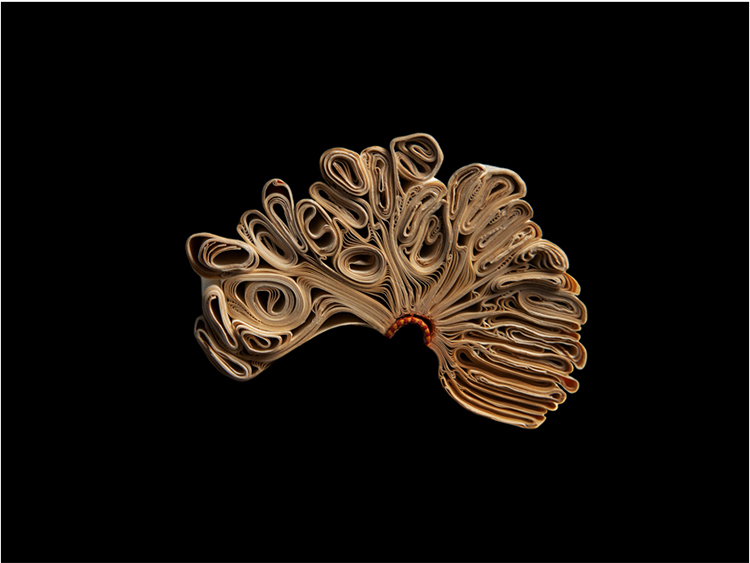 Richard Finkelstein: Sir Robert Morton's Wig, 2018, Archival pigment print, sintra mount.
From New, Used, Rare and Out of Print, Robert Mann Gallery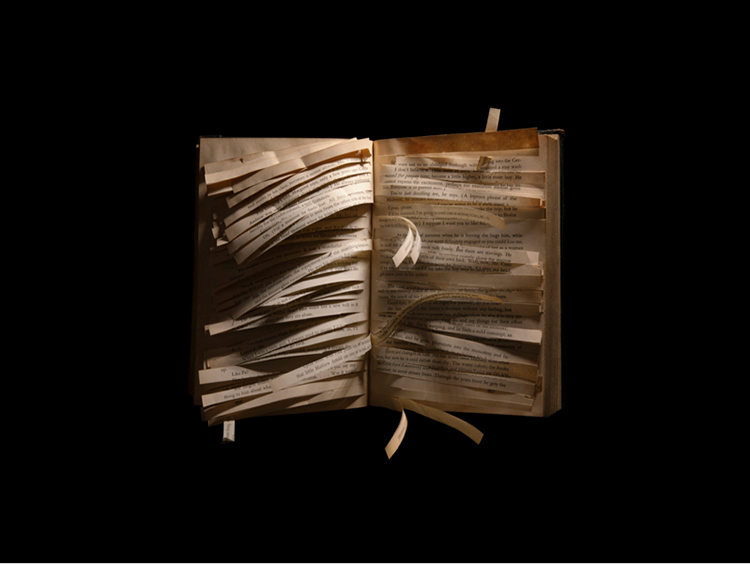 Richard Finkelstein: Interpretation of Dreams, 2018, Archival pigment print, sintra mount.
From New, Used, Rare and Out of Print, Robert Mann Gallery
This is our third exhibition with Rick for the Robert Mann Gallery — you can see our posts from those first two shows by clicking here.
Tags: Archival Pigment Printing (Inkjet), digital imaging, Exhibition Mounting, Exhibitions, Richard Finkelstein
The World Never Ends
James Clar
Jane Lombard Gallery
September 6 – October 20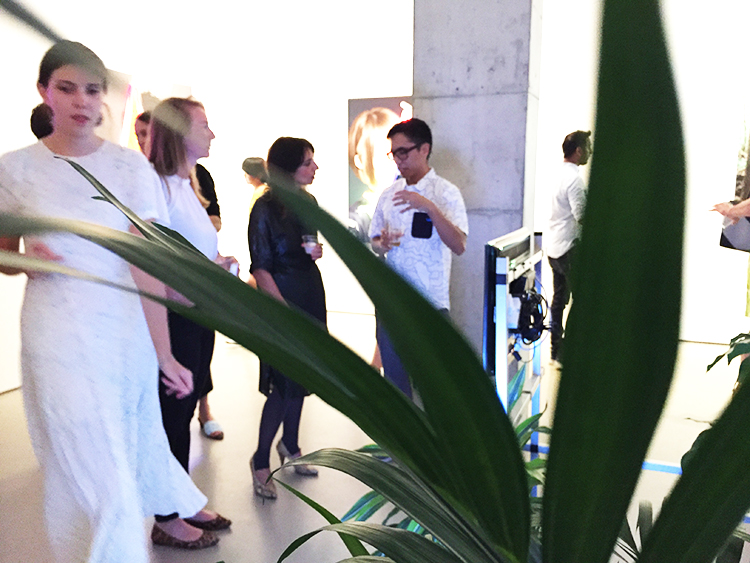 James Clar: The World Never Ends, opening night Jane Lombard Gallery, opening night, September 6, 2018
From  Jane Lombard Gallery's pres release for James Clar The World Never Ends:
Dissociation and the fragmentation of reality through technology are the subjects of investigation in James Clar's exhibition, The World Never Ends. Clar creates an immersive multimedia installation that embraces and opens wide the blurred boundaries of the tangible and the metaphysical. It explores the notions of reality, virtual-reality, and ponders if in our technologically intertwined world, a new form of reality is taking shape.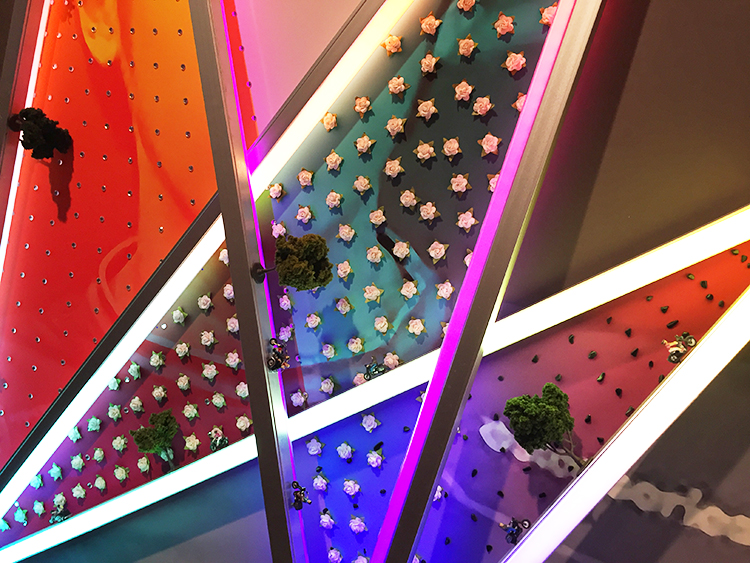 James Clar: The World Never Ends, detail, 2018
brace mounted 118cm x 145cm archival pigment print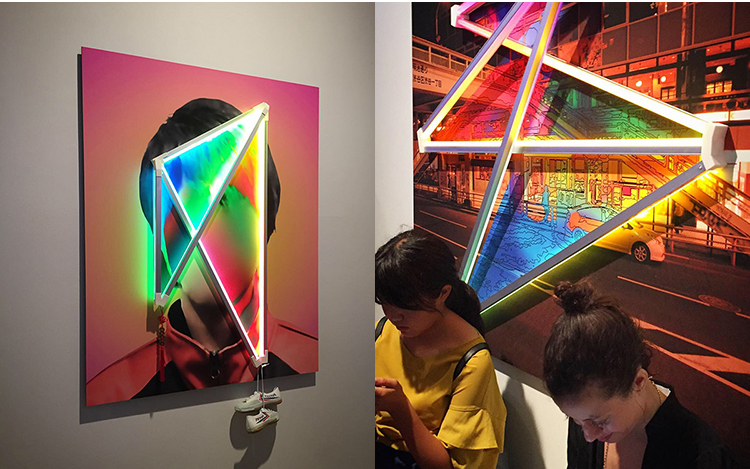 James Clar: The World Never Ends, opening night, Jane Lombard Gallery. September 6, 2018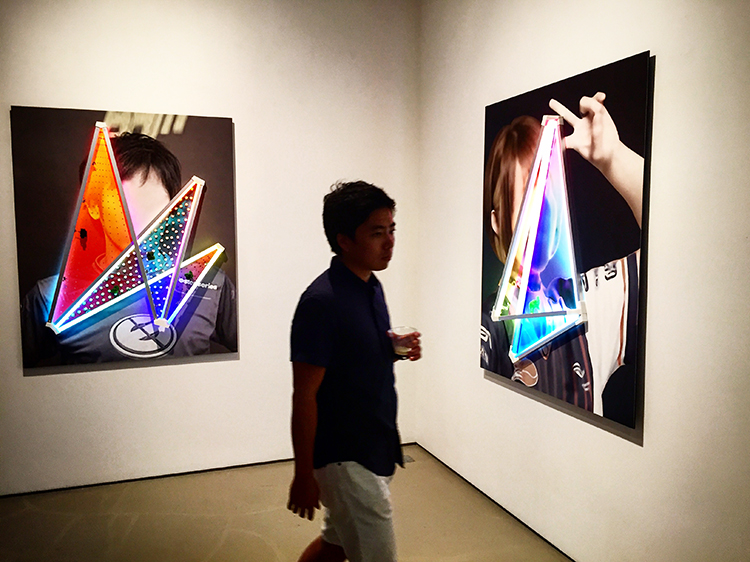 James Clar: The World Never Ends, opening night, Jane Lombard Gallery. September 6, 2018
LTI-Lightside produced six 118cm x 145cm brace mounted archival pigment prints for The World Never Ends. This is our first time working with James. We've been providing services for Jane Lombard for over 10 years — you can see more of that work here and here. You can see more of James' work here.
Tags: Archival Pigment Printing (Inkjet), Exhibition Mounting, Imaging, James Clar, Jane Lombard Gallery
Landscapes
Tina Barney
Paul Kasmin Gallery
January 17 – March 3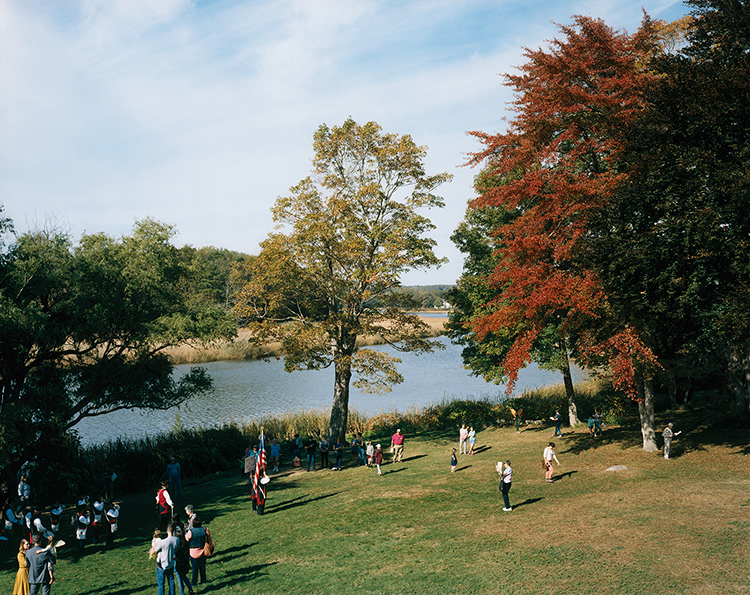 Tina Barney: The River, 2017 from Landscapes, Paul Kasmin Gallery, 2018

Tina Barney: Landscapes, Paul Kasmin Gallery, January 2018
From the Paul Kasmin press release:
Alongside her oeuvre of portraits portraying the daily life of the social elite that Barney is most known for, exists an entire series of landscape photographs taken by Barney using her 8 by 10-inch view camera.  Barney first began her experimentation with landscape photography in the late 1980s and would not revisit the subject again until the summer of 2017.  Returning to her familiar New England backdrop, Barney champions distant views of shingled houses, rocky coastlines, small town thoroughfares and main street squares, challenging herself out-of-doors to refine and build upon her mastery of compositional tactics.  With these landscapes, Barney takes new ownership over the large format medium of color photography, employing the same sophisticated devices but with an expanded field of vision.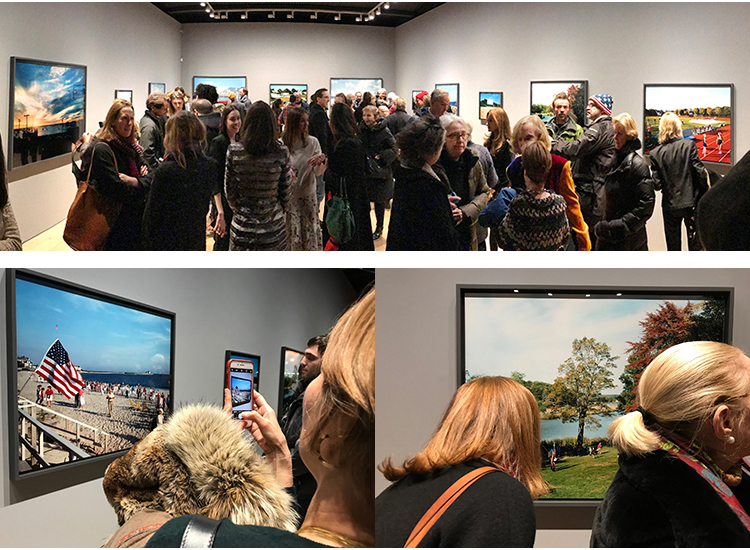 Tina Barney: Landscapes opening reception, Paul Kasmin Gallery, January 2018
We've been working with Tina Barney since 2010, most recently completing the scanning and file work on over 140 images for her Rizzoli monograph: Tina Barney. See images of the book in our project archive post below and additional exhibition posts here and here. Landscapes is up through March 3rd, see more on the Paul Kasmin website here.
Tags: Conventional C-Printing, Exhibition Mounting, Exhibitions, Paul Kasmin Gallery, Tina Barney
Survival Signs
Mounir Fatmi
Jane Lombard Gallery
September 7 – October 21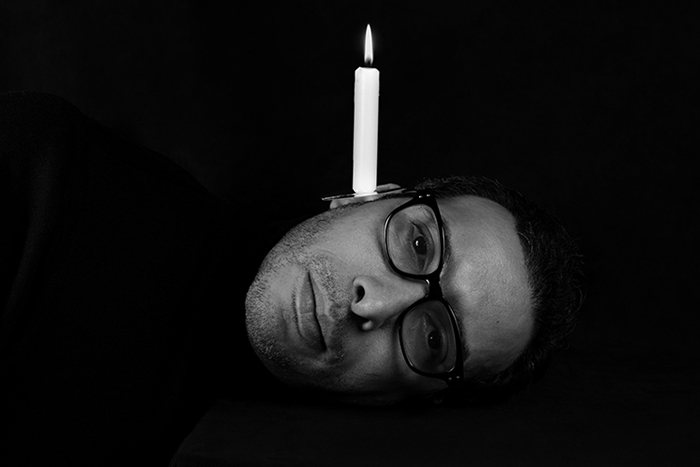 Mounir Fatmi: Calligraphy of Fire, from Survival Signs, Jane Lombard Gallery, September, 2017
32 x 52.5 archival pigment print
From the Jane Lombard Gallery press release:
Jane Lombard Gallery is pleased to present Survival Signs, Mounir Fatmi's third solo exhibition with the gallery. His work directly addresses the current events in our world and speaks to those whose lives are affected by restrictive political climates. "Survival signs" can also be seen as cultural signs, images, objects, experiences, and their connections and relationships to our everyday life. Is our society fluid, open and accepting, or the opposite? Several of the works in the exhibition teeter along a fine line of interpretation; are they revealing moments of construction or destruction, lightness or darkness? The artist presents his works as signs of survival; elements that allow him to resist and understand the world and its changes.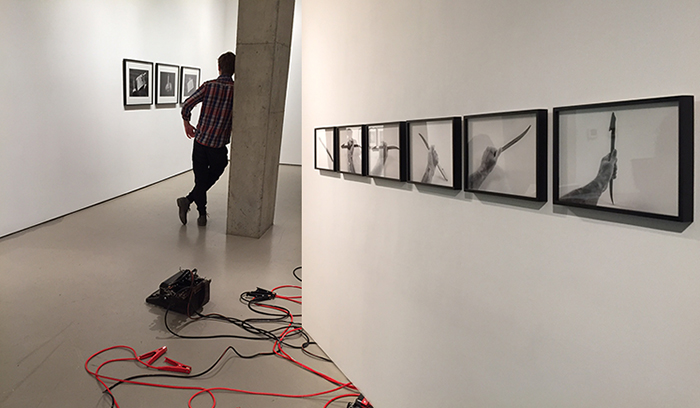 Mounir Fatmi: Survival Signs, Jane Lombard Gallery, September, 2017
We were super-happy that Jane Lombard Gallery asked us to print selections for Mounir Fatmi's Survuval Signs exhibition … but  we were truly floored by his "open letter" regarding his decision not to travel to Trump's new USA:
Open letter from Mounir Fatmi
As you can see, it's been hard for me to write this letter. I had to wait until the last minute. I needed an emergency- the same emergency that drives me to create art in any circumstance, like an ambulance that takes every possible risk in order to save a life. In this case, it's my life I'm talking about.
I left Morocco for good in 1999 in search of a freedom of speech I couldn't find at home.
I had to cut off all ties with my father, my family, my neighborhood and ultimately my country. I wanted to take a step back, to get as far as possible from my cultural context.
I wanted to experience the world. Meet people. Read the forbidden books. Discovering the Beat generation and its authors allowed me to get away. My encounter with Paul Bowles in Tangiers was decisive. Reading Kerouac, Ginsberg, Burroughs, discovering Brion Gysin's calligraphy… All this nourishment allowed me to live, to hope and to dream of a better world.
While I was studying in Rome, I discovered Fra Angelico's small painting from the 15th century, The Healing of the Deacon Justinian. In the painting, the brothers Damian and Cosmas graft the leg of a black man onto the white body of Deacon Justinian. After just one look at this painting, I understood that I was that black leg. I was surprised that everyone around me only saw the perspective, the light and the composition in the painting. I was the only one to see this black leg. This alien element has been living within me and made me who I am today. A survivor. An immigrant worker. A permanent exile.
I haven't changed nationalities. I still travel with my Moroccan passport, which is a work of art in itself. That passport is filled with visas from several countries where I've shown my work these last few years. Traveling with a Moroccan passport is an adventure. I'm never sure I'll get through customs. In addition to the fatigue of traveling, I have to face the stressful interviews by customs agents. One of the most traumatizing experiences I've had was with American customs, a few years back. After three hours of questioning and getting my fingerprints and my picture taken, the agent presented me with a bible and asked me to swear that everything I had told him about me and my relatives was the truth. I told him that the reason I was in this situation in the first place was because I'm supposed to be a Muslim and therefore I didn't see why he was giving me a bible to swear the truth.
Without acknowledging the remark I had just made, he asked me again to swear on the bible, looking straight at me this time. I put my hand on the bible. He asked me to raise the other hand and say: I swear. I swore. I just didn't want him to send me off to Guantanamo under any pretense. That instant was for me a moment of extreme lucidity. No more illusions. I live in a world I am not able to understand.
Of course the customs agent was only doing his job, and his job required him to be afraid of me. His fear wounded me, and I carry it like a scar to this day.
I wanted to help him, but I couldn't. The more I tried to reassure him, the more suspicious I grew to him.
I know that I am just a speck of dust in this machine. A black leg grafted on the body of another man. What I'm relating in this letter is nothing compared to what thousands of refugees endure, dodging death as they hope for a better world for them and their children. I've always believed that America could be a part of that world. That heart capable of welcoming us all and warming us. My illusions were shattered the night the result of the latest election was announced. My disappointment was huge. I realized that we may never see again this free world we dreamed of so much.
Today, I don't have the strength nor the courage to offer myself to a terrorized customs agent faced with a poor Arab artist. I know the situation of immigrants in the USA has gotten worse since the latest immigration laws. That getting through the border is more and more difficult. This time I would be incapable of swearing on any holy book or of accepting any more humiliations. I must protect whatever little hope I have left. That hope is my survival.
I trust you in presenting my work to the gallery's public. I hope one day I can find the courage to come and see you.
Mounir Fatmi, August 18th, 2017
Tags: Archival Pigment Printing (Inkjet), Exhibition Mounting, Exhibitions, Imaging, Jane Lombard Gallery, Mounir Fatmi
My Point of View
Brian Nice
Garrison Art Center
April 23 – May 1
LTI-Lightside has worked with Brian Nice since 2000 processing his film, scanning, and making exhibition prints. However, in 2009, Brian suffered a brain bleed from a cavernous malformation on his brain stem. Before that he enjoyed successful 25-year career as a fashion and beauty photographer, shooting for all of the usual suspects, Elle, Cosmo, Marie Claire, etc.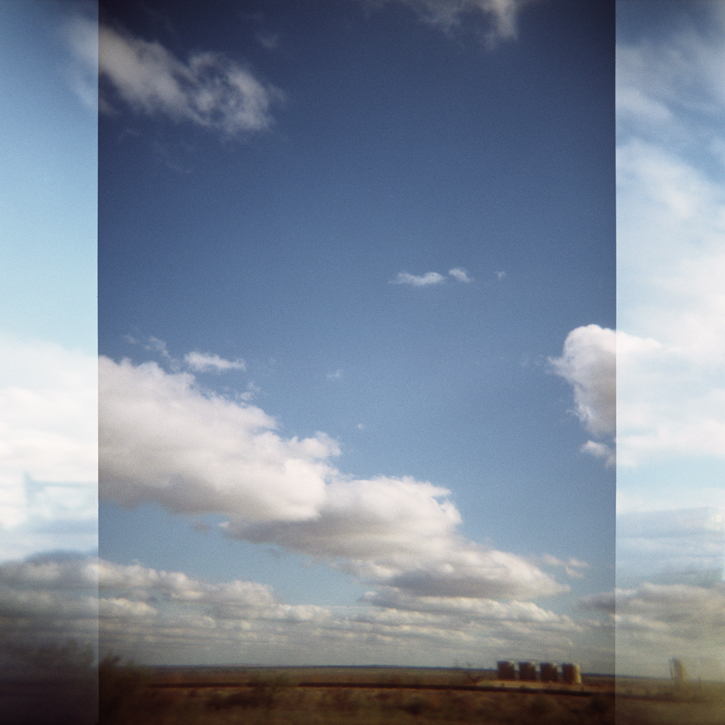 Brian Nice: from My point of View at Garrison Art Center, 2016
40″ x 40″ archival inkjet print / lamination / brace mounting
Brian's life changed forever in 2009, when he first awoke after the hemorrhage he was only able to move one of his left fingers. He has made incredible progress after two brain surgeries and daily PT but still speaks and moves with great difficulty. His mental faculties remain acute. He told the New York Times that he's "mentally fit but in a broken body" and that holding a conversation can be "like an Olympic event."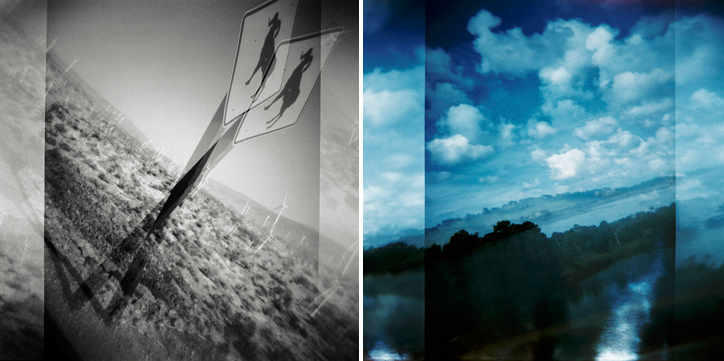 Brian Nice: from My Point of View at Garrison Art Center, 2016
Both 11″ x 11″ archival inkjet prints / lamination / brace mounting
With the phenomenal support of his family and friends (once of which, provided him with a plastic, medium-format Holga film camera) — Brian had an epiphany: the Holga, with its high propensity for flares, blurry images and double exposures perfectly imitated the way he sees the world these days.
So in 2013 (to his therapists' dismay) Brian embarked on a cross-country trip with a small crew — including his mother and friends — to shoot the American landscape as he now sees it. The results are gloriously expressionistic and colorful and serve as a testament to Brian's incredibly optimistic philosophy toward life in his current condition. His My Point of View exhibition is now on view at Garrison Art Center in Garrison, NY.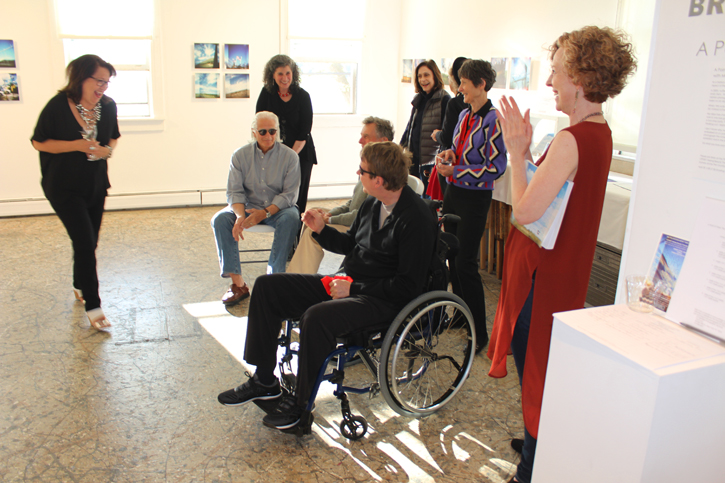 Brian Nice: My Point of View opening at Garrison Art Center, 2016
To see more of Brian's work, and to learn more about his travels as a TBI (Traumatic Brain Injury) survivor, please visit his website here.
Tags: Archival Pigment Printing (Inkjet), Brian Nice, Exhibition Mounting, Exhibitions, Film Processing, Scanning
Ice Bound
Julia Comita and TwistedLamb
345 Broome Street
Opening December 10

Julia Comita & TwistedLamb present Ice Bound
RSVP@ebconsultsworldwide.com
Tags: Archival Pigment Printing (Inkjet), Exhibition Mounting, Exhibitions, Julia Comita