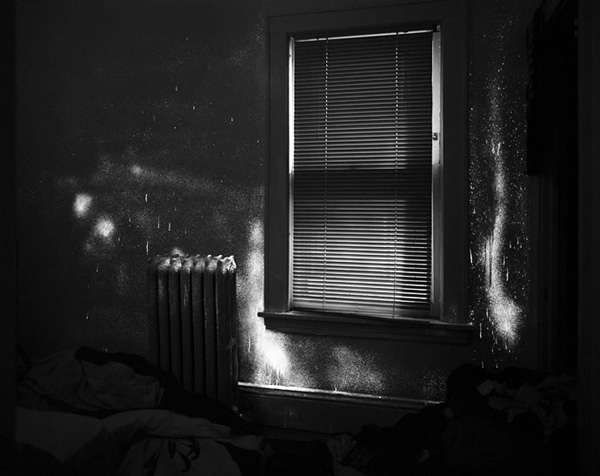 Angela Strassheim: Evidence #1, 2009
Our 2010 $3000.00 WIP-LTI/Lightside Individual Project Grant has been awarded to Angela Strassheim for her project Evidence.
Angela's project was borne of her insider's knowledge of professional forensic photography: she holds a Forensic & Biomedical Photography Certification from the Metro-Dade County, Forensic Imaging Bureau in Miami, Florida. It was through her experience in the field using the protein revealing chemical agent "Blue Star" (which has been flagrantly aggrandized on numerous detective TV dramas) that she began to imagine Evidence as a fine art series.
Evidence

Perhaps we have all processed a question in certain love relationships: Could we be a victim of violence or perform an act of violence against a loved one out of our immense capacity to feel jealousy, anger, rage, and desperation in a moment of extreme emotion?  These photographs allow for the viewer to entertain the idea that this situation could involve anyone of us. My past work in forensic photography, both photographing crime-scenes and documentation for DNA collection, led me to this project.
Evidence is a group of photographs taken at homes where familial homicides have occurred.  Long after the struggles have ended in these spaces, despite the cleaning, repainting and subsequent re-habitation of these homes, the "Blue Star" solution activates the physical memory of blood through its contact with the remaining DNA proteins on the walls. The black and white images are long exposures – from ten minutes to one hour – with minimal ambient night light pouring in from the crevices of windows and doors, capturing the physical presence of blood as a lurid glow.
The color images were taken upon arrival at each home in which there were approximately 140 different visited locations across the U.S. These photographs are evidence that I was physically present at the homes that I researched. They represent the mystery inside a box that is unattainable in a physical sense.  Each image title is a list of the murder weapons used, with-holding names and the gory details of the events.
The crime scene is presented on two levels; it is both an accurate, tragic, and dramatic transcription of the event and a mysterious backdrop onto which one can project their imagination.

Evidence, #2, 48×60

Evidence, #3, 48×60

Evidence, (12-inch stiletto knife), 11×14

Evidence, #4, 28×35

Evidence, #5, 48×60

Evidence, #6, 60×72

Evidence, (assorted kitchen knives 02), 11×14

Evidence, #7, 28×35

Evidence, #8, 48×60

Evidence, (two Mossberg twelve-gauge shotguns), 11×14

Evidence, #11, 48×60

Evidence, #12, 48×60

Evidence, #13, 28×35

Evidence, (pitchfork 01), 11×14
About Angela Strassheim
American, b. 1969, Bloomfield, Iowa; lives and works in New York.  2003 MFA, Photography, Yale University, New Haven, CT .
1997 Forensic & Biomedical Photography Certification, Metro-Dade County, Forensic Imaging Bureau, Miami, Fl.
1995 BFA, Media Arts, Minneapolis College of Art and Design, Minneapolis, MN.  Featured in the 2006 Whitney Biennial and Musee d' Elysee 50-reGeneration exhibition. Nationally and internationally exhibited in solo and group exhibitions.  Collected by museums and various private collectors. Awards include a Bush Fellowship, McKnight Fellowship, Jerome Fellowship, and an Artist Initiative Grant, was a finalist in 2008 for the Les Recontres D' Arles International Photography Award.
Angela first pursued a career in Forensic Photography.  Instead, she now directs the camera toward the subject of family and the domestic environment. Her images "vacillate between what is immediately revealed on the surface and the unsettling nature of what is discovered upon further inspection." In her first series, Left Behind, she took an introspective look at her own upbringing in a born-again Christian home.  In her second series, Pause, she explores what it means to be a daughter and examines the complex dramas that reveal themselves in relationships with the father and other male figures of significance.  In her most recent body of work, Evidence, is ongoing and has expanded to a new body of work about domestic violence.  Currently she is researching a long-term project in Israel that relates to women of the Bible.