Humble Arts Foundation, Women in Photography and LTI-Lightside Photographic Services are pleased to announce Tema Stauffer as the 2012 WIP–LTI/Lightside Individual Project Grant recipient and Anna Beeke as our 2012 Kodak Materials Grant recipient.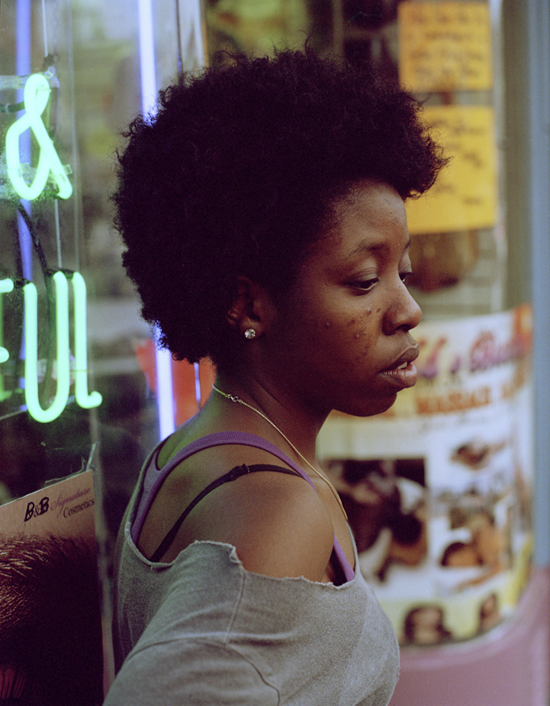 Tema Stauffer: Nikia, May 2012, from the series Paterson
The $3,000 award will assist Tema Stauffer with Paterson, a documentary series of street portraits depicting residents of Paterson, New Jersey during the years following the economic crisis in 2008. In her words: I began the Paterson series in November 2009 in an attempt to examine the impact of economic decline on residents of this historic American city.  I've since made more than fifty bus trips to Paterson over these past three years and have photographed more than a hundred residents who I've approached on the street to ask if they would be willing to be photographed.
The Kodak Materials Grant will aid Anna Beeke with her project Forest, which began with the compulsion to visit the place where she began life and the belief that if she did, she would surely find something interesting there. In Beeke's case, Washington State led her into the forest where she has discovered a place of enchantment full of adventure and the unknown.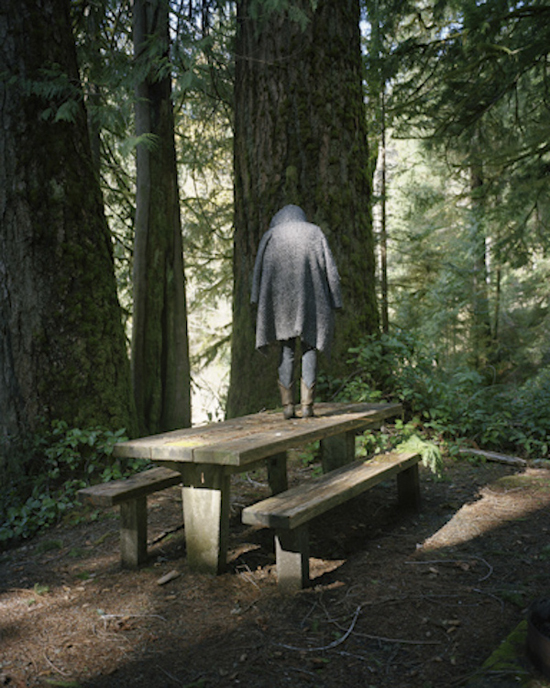 Anna Beeke: Untitled, from the series Forest
To review previous grant recipient projects, please click

HERE

for the LTI-Lightside Individual Project Grant Archive.
Tema Stauffer

is a photographer based in Brooklyn whose work has been exhibited at Jen Bekman Gallery and Daniel Cooney Fine Art Gallery in New York. Her bio lists a lengthy selection of awards, grants and entries in national and international solo and group exhibitions. She has taught at four universities and is also a writer and curator. Stauffer's work has been seen in the New York Times, The Chicago Reader and W Magazine among many other publications. A full bio will accompany our next post detailing the Patterson project.
Anna Beeke

is a documentary and fine art photographer based in Brooklyn. Her work has been exhibited at Clamp Art and the Aperture Foundation in New York as well as numerous venues around the United States and abroad. A full bio will accompany her upcoming solo Humble Arts / Women in Photography online show featuring the project Forest.
LTI / Lightside Photographic Services

offers fine art and commercial photography clients the complete service of overseeing and organizing all stages of processing, printing and presentation with an emphasis on personal involvement that helps resolve their visual presentation concerns in an informed and efficient manner. Our clients include fine art and commercial photographers, galleries, museums, art consultants, curators, collectors and publications who need their photography expertly prepared for exhibition or reproduction.
 


Women in Photography

is an innovative website founded by artists Amy Elkins and Cara Phillips, which features the work of international female artists. WIP is an internet-based project that exhibits work outside of the traditional model of the commercial art world, allowing it to reach a global audience. Mixing emerging photographers with artists that have achieved high levels of success, the project is a resource for photographers, editors, curators, art dealers, and art enthusiasts alike to discover and enjoy the work of female artists. WIP presents a solo exhibition monthly.
 


Humble Arts Foundation

is a 501c3 dedicated to supporting and promoting new art photography. The New York-based non-profit serves the international art community by way of exhibition and publishing opportunities, bi-annual artist grants, and educational programming. Founded in 2005 by Amani Olu and Jon Feinstein, Humble has been a pioneering hub for new art photography and serves as an international resource for collectors, curators, artists, art professionals, educators and the public.
 


Guest Juror, Sasha Wolf

opened the Sasha Wolf Gallery in the summer of 2007 after spending a number of years as a private photography dealer. The gallery specializes in contemporary photography and represents emerging and mid-career artists such as Elinor Carucci, Paul McDonough, Andrew Borowiec and Katherine Wolkoff among others. Prior to her work in the fine art photography world, Sasha worked as a writer, director and producer in the film and television industries and is an award winning short filmmaker. Her last film, Joe, was nominated for the Palme d'Or du court métrage at Cannes and has screened all over the world. Sasha also conducts reviews and judges work for institutions, universities and non-profits numerous times per year. She is a founding member of the gallery collective, Project 5, and a co-owner of The Exhibition Lab, a study center for fine art photography.
 
Tags: 2012 Project Grant Recipients, Humble Arts Foundation, Kodak, Women in Photography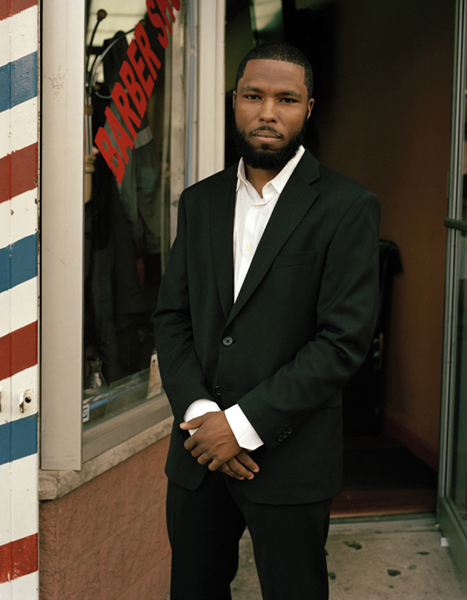 Tema Stauffer: Michael, May 2011, from the series Paterson
Our 2012 $3000.00 WIP-LTI/Lightside Individual Project Grant has been awarded to Tema Stauffer for her project Paterson.
PATERSON
Paterson is a documentary series of street portraits depicting residents of Paterson, New Jersey during the years following the economic crisis in 2008. Paterson is a historic city near the Great Falls of the Passaic River, once prosperous from its mills and silk manufacturing industry. Founded in 1791 by Alexander Hamilton and others and envisioned as the nation's first planned industrial city, Paterson offered jobs and opportunity to an immigrant labor force in the 19th and early 20th centuries, and it was a stop on the Underground Railroad. The city is the setting of two John Updike novels and one by Junot Diaz, and has inspired the poetry of William Carlos Williams and Allen Ginsberg, as well as the architectural photography of George Tice. The third largest city in New Jersey, Paterson began to decline economically during the 1960s and 70s, and has continued to face high rates of unemployment since the recession. Downtown Paterson is lined with dollar stores, barbershops, beauty salons, bakeries, bars, churches, temples, and clinics for addicts in recovery. While its downtown streets are bustling, these streets are also a place of visible struggle and desperation.
The portraits focus on the self-expression of working-class and economically marginalized Americans of the diverse racial and ethnic groups comprising Paterson's population. Shot in natural light on the streets with a medium-format camera, each image explores the psychology of an individual who reveals him or herself willingly to the camera's gaze. The minimal backgrounds suggest the urban environments these subjects occupy; however, these straightforward, realist, and classically composed photographs concentrate on faces and the depth of human experience that is spoken through them.
The medium of photography has historically – and notably through seminal work made during the Great Depression – represented Americans struggling with economic hardship and alienation, and it is this socially engaged and humanistic tradition that has deeply influenced the creation of this work. The portraits of the residents of Paterson contribute to a contemporary dialogue about the current economic reality and the experiences of Americans who exist on our ever-widening margins.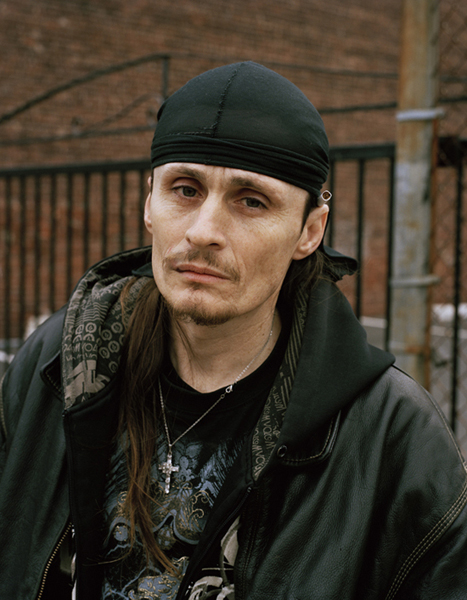 Pedro: March 2011
About Tema Stauffer
Tema Stauffer is a photographer based in Brooklyn. Her work has been exhibited at Jen Bekman Gallery and Daniel Cooney Fine Art Gallery in New York, as well as galleries and institutions nationally and internationally, included a survey of Contemporary U.S. Photography at the Houston Fotofest 2010 Biennial. She teaches at the School at ICP, Ramapo College, and the College of Staten Island, and she has taught art courses at William Paterson University and a photography workshop at Toxico Cultura in Mexico City. She is also a curator and writer for Culturehall, an online resource for contemporary art, and she was awarded an AOL 25 for 25 Grant for innovation in the arts in 2010.
She received Third Prize in The Photo Review Competition 2012, and was chosen as a finalist for the Outwin Boochever Portrait Competition 2013. Her work will be included in the competition exhibition at the Smithsonian's National Portrait Gallery from March 2013 through February 2014.
Stauffer graduated from Oberlin College in 1995 and received a Master's Degree in Photography from The University of Illinois at Chicago in 1998.  She received CAAP grants for projects in 1999 and 2000 and also contributed a series of photographs shot on ride-alongs with police officers to the CITY2000, an archive of photographs examining the city of Chicago in the year 2000. A large body of her work was exhibited through The Minnesota Center for Photography at The Katherine E. Nash Gallery and in a solo exhibition at The Rochester Art Center in 2004. She was a finalist for the McKnight Photography Fellowship in 2005 and was nominated for the KLM Paul Huf Award in 2008.
She has participated in seven group shows at Jen Bekman Gallery, and her solo show, "American Stills," opened in October 2004. Fifteen images from this body of work were selected by The Museum of Contemporary Photography at Columbia College in Chicago for the Midwest Photographers Project. She exhibited her portrait series, "The Ballad of Sad Young Men," along with work by Francesca Romeo at Daniel Cooney Fine Art Gallery in 2009.
Her work also has been exhibited at the LiShui Photography Festival and Museum of Photography, The Chicago Cultural Center, The Terra Museum of American Art, The Musee Departmental d' Art Contemporain de Rouchechourt, The Hyde Park Art Center, The Detroit Contemporary, The Rehabilitation Institute of Chicago, The 3rd Ward Brooklyn, Tyler School of Art, The School of the Art Institute of Chicago, Adrian College Gallery, Central Lakes College Gallery, The Joymore Gallery, The Butcher Shop Gallery, The Gallery 400, The Icebox Gallery, Heaven Gallery, David Allen Gallery, Jon Oulman Gallery, The Lyceum Theatre Gallery, Dean Jenson Gallery, Moti Hasson Gallery, Randall Scott Gallery, Sasha Wolf Gallery, and Flanders Gallery.
Stauffer's work has been in The New York Times, The Chicago Reader, The City Pages, The Rake Magazine, Lavender Magazine, The Village Voice, and W Magazine.  She has contributed to online publications including Ausgang, A Field Guide to the North American Family, and Humble Arts Foundation's Group Show.  Her work was also published in the Fotofest 2010 Contemporary U.S. Photography Catalogue along with a curatorial essay by Aaron Schuman, "Whatever Was Splendid: New American Photographs."


Anna Beeke: The Threshold 2012, from the series Forest
Our 2012 WIP-LTI/Lightside Kodak Materials grant has been awarded to Anna Beeke. The $1,000 grant will support an ongoing series Forest, which began with the compulsion to visit the place where she began life and the belief that if she did, she would surely find something interesting there.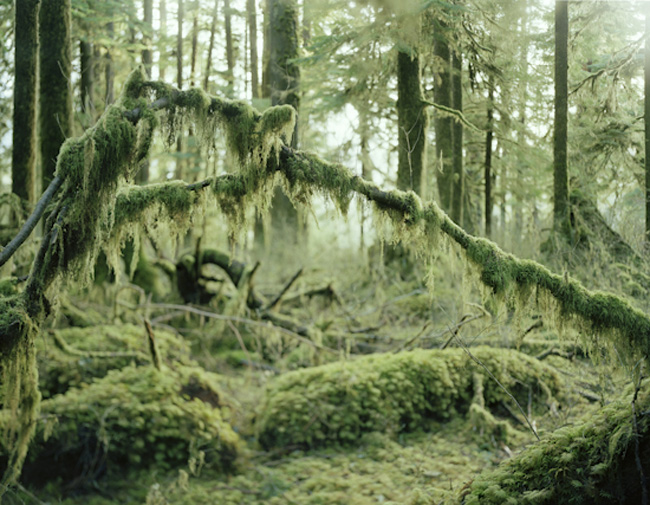 Anna Beeke: Mosses 2012, from the series The Forest
From Anna Beeke:
My series of images about the forest began in a rather fanciful and serendipitous way:
Knowing I had been conceived in Washington State, but never having travelled to the Pacific Northwest, I was recently struck by the compulsion to go to the place where I began life and the conviction that if I did, I would surely find something there.  What I discovered, or re-discovered, was the forest, and within it a more imaginative mindset. I grew up, like so many countless others, on the Brothers Grimm and various related fairy tales and myths. The forest plays a major role in the majority of these stories: as a place of enchantment, the landscape of an epic journey or the fulfillment of a quest, but also as the unknown, a dark and dangerous place outside the bounds of normal society where anything can happen, the battleground of good and evil.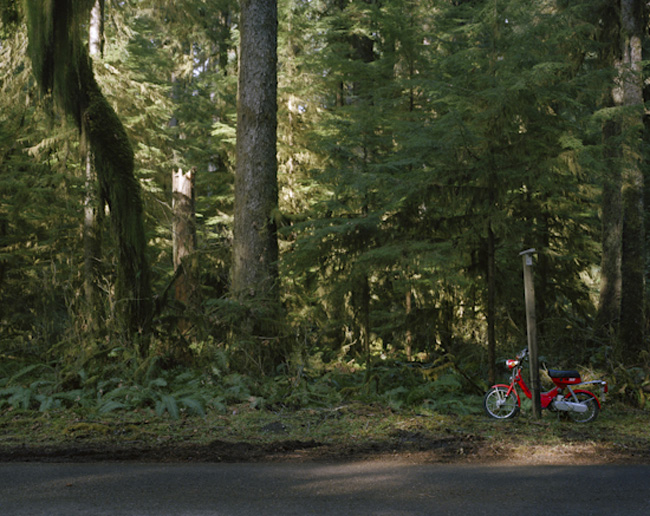 Anna Beeke: Moped 2012, from the series Forest
I am interested less in specific tales and more in the perceived mystery, magic, and danger of the forest, how these ideas have been constructed in our collective consciousness, and how they are reflected in contemporary reality.  My working method follows the structure of many of these stories: I go into the forest seeking adventure and the unknown. Small moments of magic and surprise, delight and fear, and chance encounters with strangers along the way inform my direction; my experiences in the forest become not myth or written tale, but the images in this body of work.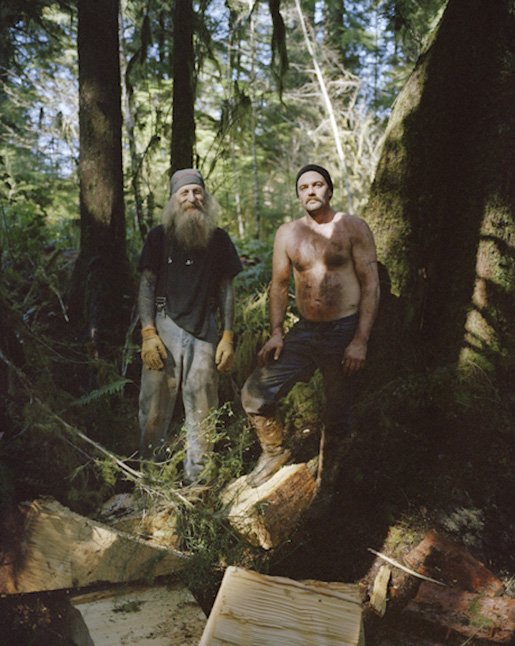 Anna Beeke: The Woodcutters II, 2012 from the series The Forest
Though I come from a photojournalistic training, I've always had serious misgivings about the politics of going into someone else's territory and photographing, though I've done it quite a bit. The forest, to me, is an impartial province; it is both everybody's forest and nobody's forest. This makes it the perfect place for a photographic encounter, a neutral territory in which personal experience and the experience of others, the forest of today and the timeless forest, can intermingle without question.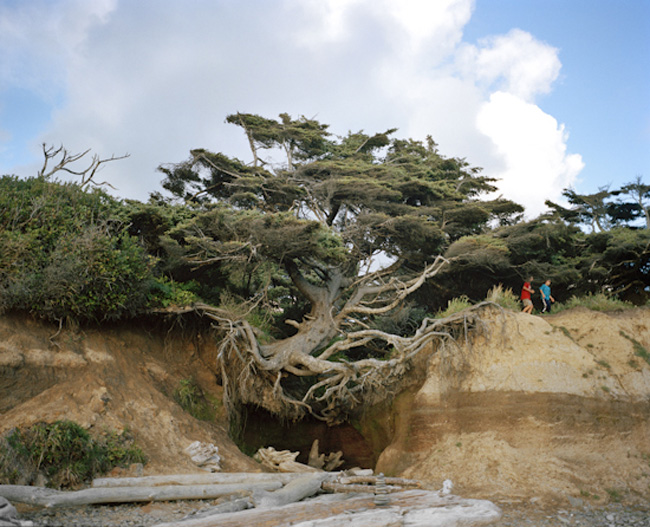 Anna Beeke: The Tree of Life 2012, from the series The Forest
Though these images are—for all intents and purposes—documentary, I seek in their amalgamation the transmission of something more metaphoric; an appeal to the imagination, a suggestion to the subconscious, a departure from the strictly realistic. Though my project is now based mainly in the Hoh and Quinalt rainforests of Washington State, I hope to expand it to include chapters in other forests.

Anne Beeke: Parking Lot 2012, from the series The Forest
About Anna Beeke
Anna Beeke was born in Washington, DC in 1984 and resides in Brooklyn, NY. She is currently pursuing her MFA at the School of Visual Arts (class of 2013), she is a graduate of the International Center of Photography's certificate program in Photojournalism and Documentary Photography (2009), and she received her BA in English from Oberlin College (2007). Anna's work is included in the book and exhibition: "reGeneration2: tomorrow's photographer's today;" she was also selected as a 2009 participant in the Eddie Adams Workshop and received the too much chocolate + Kodak film grant in 2010. Anna's work has been exhibited internationally at galleries including ClampArt and the Aperture Foundation in NYC, the Musee de L'Elysee in Switzerland, the Michaelis School of Fine Art in South Africa, FAVA Gallery in Ohio, and at festivals such as Recontres d'Arles, the Flash Forward Festival, and the Pingyao International Photography Festival, and the Rencontres Internationales de la Photo de Fes.