Tina Barney
Rizzoli International Publications
2017

Hardcover, 236 pages, 142 image plates

Tags: Archival Pigment Printing (Inkjet), Conventional C-Printing, Film Processing, Imaging, Scanning, Tina Barney
Four Decades
Tina Barney
Paul Kasmin Gallery
May 7 – June 20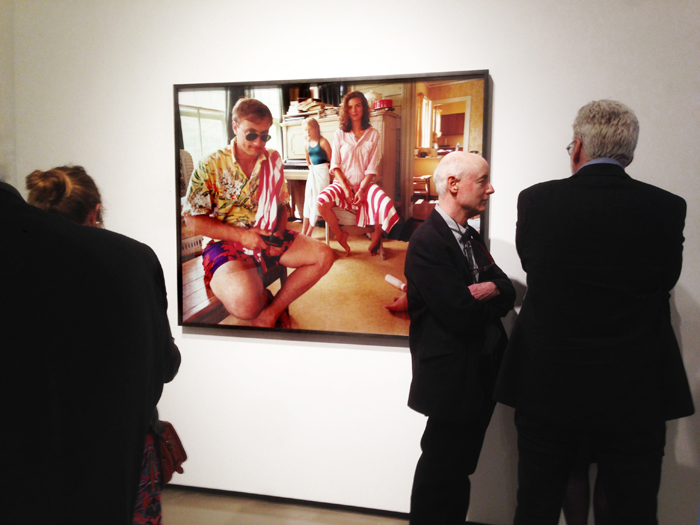 Tina Barney Four Decades,  Paul Kasmin Gallery, 2015
From the Paul Kasmin Gallery press release:
Since the early 1980s, Tina Barney's large-scale photographs have laid bare candid moments in the elusive lives of those in the upper classes of American and European society.  Through Barney's humanist lens, she consistently demonstrates that life in a rarified world is idiosyncratic and spontaneous in its own way. The works presented in Four Decades offer a succinct overview of Barney's oeuvre, featuring notable early works such as Mark, Amy and Tara, 1983, and The Reception, 1985. Later photographs from the acclaimed series "The Europeans" and "Players" continue to articulate a narrative about the lives of the wealthy as Barney depicts familiar scenes against lushly saturated, opulent backdrops allowing the viewer to share in intimate moments. Four Decades also highlights one of Barney's editorial masterpieces, The Limo, 2006, as well as works from her series "Small Towns," focusing on the nuances of regional American life.


Tina Barney: Four Decades opening at Paul Kasmin Gallery, 2015
This is Tina's first exhibition with Paul Kasmin and our second with her. Four Decades allowed us to print a few pieces from her archive that we had not seen before as well as more recent work that we've been involved with since we started working together in 2010.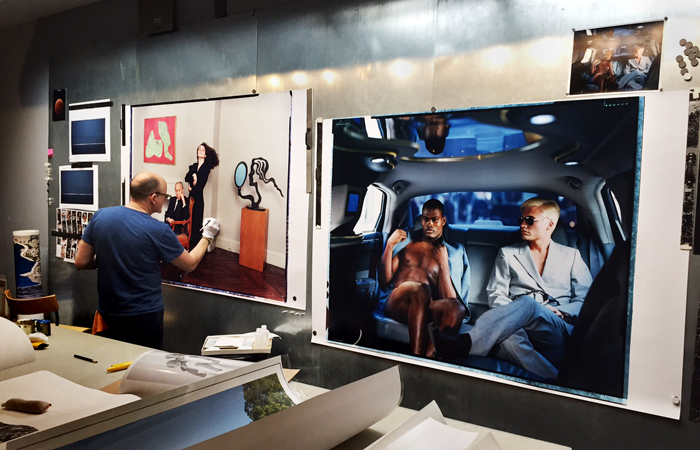 Production on Tina Barney Four Decades at LTI-Lightside, 2015
Tina Barney's legacy is well documented, of course … but here's a brief bit anyway — again, from the Paul Kasmin Gallery press release:
Born in New York City in 1945, Barney turned her concentration to photographing in color with a large format view camera in 1982 – an analogue process she steadfastly continues today. The artist was included in the 1987 Whitney Biennial, and significant solo exhibitions have since been held at the Museum of Modern Art, NY, in 1990; Das Museum Folkwang in Essen, Germany, in 1999; The Barbican Art Gallery, London, in 2005; the Museum der Moderne, Salzburg, Austria, in 2006; and the First Center for the Visual Arts, Nashville, TN, in 2015. Barney's works are in the permanent collections of the Museum of Modern Art, New York, NY; the Whitney Museum of American Art, New York, NY; the Los Angeles County Museum of Art, CA; and the Museum of Fine Arts, Boston, MA, among many others. She currently lives and works in New York City and Westerly, Rhode Island. 
You can see more works from Four Decades here.
Tags: conventional c-prints, Exhibitions, Paul Kasmin Gallery, Tina Barney
Small Towns
Tina Barney
Janet Borden Gallery
October 3 – Novemver 21, 2012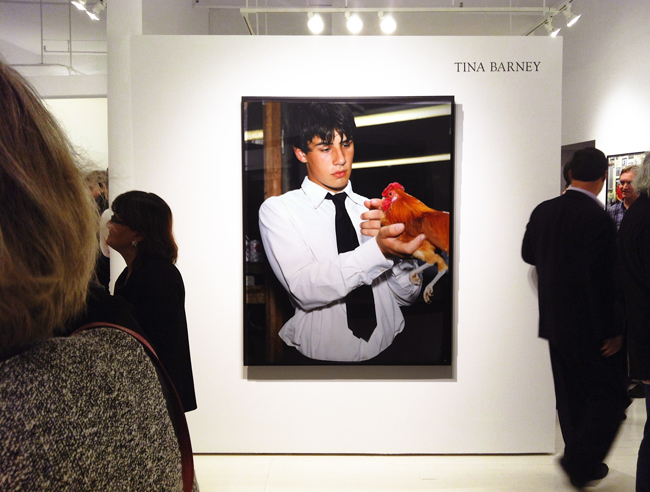 Tina Barney: Small Towns, Janet Borden Gallery, 2012
Tina Barney's Small Towns is a great big feeling show in Janet Borden's bright and beautifully intimate space. The project spans from 2005 to the present and is best described in Tina's own words (as lifted from The New Yorker Photo Booth section, November 2011).
"In 2005, I was driving from my house, where I've lived since the nineteen-sixties, to Westerly, Rhode Island—a 15 minute drive," Barney told me. "I realized I had overlooked this town where I've shopped for groceries, gone to the dry cleaners, fixed my car, gone to the bank, and repaired a watch. I began thinking about a new project to photograph." The project, "Small Towns," is in many ways different from her earlier bodies of work. "I was outside, which is rare for me, and I was also photographing strangers," she said. But there are similarities as well. "The communal act of repeating events over and over, year after year, that develops into traditions, has always been the main attraction in whatever I seem to photograph," she said. For "Small Towns," Barney "started by photographing holiday parades with the local marching bands, craftsmen whose families had worked in the same locations for decades, such as metal workers, stone carvers, garage mechanics, and carpenters. A theme developed that branched out over six years into discovering situations like county and agricultural fairs, flower shows, Civil War re-enactments, Renaissance fairs, and all of the visual and patriotic delights that feed my fascination."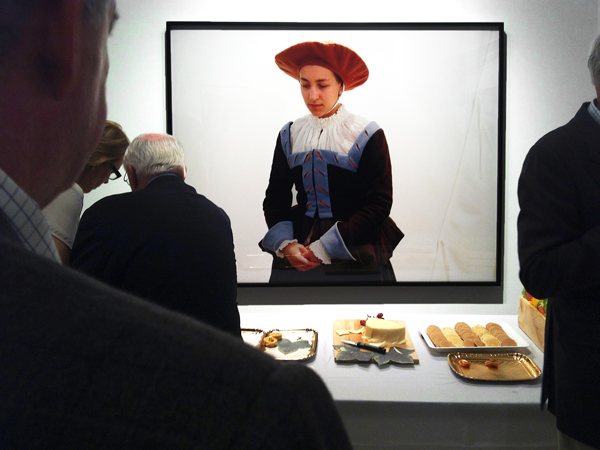 Tina Barney: Small Towns, Janet Borden Gallery, 2012
Barney's pieces are conventionally enlarged c-prints from original negatives, produced at LTI/Lightside. You can see a larger selection of images on the Janet Borden website by clicking here.
There is also a thorough review of Small Towns on the fascinating DLK Collection blog …  if you've never visited that site, then you owe yourself the treat. Click here for a real eyeopener and be sure to noodle through the checklists and other reviews  … again, if you've never been there,  you can thank me later.
Tags: Conventional C-Printing, Exhibitions, Film Processing, Janet Borden Gallery, Mounting, Tina Barney