Not Long Hidden
Rick Wester Fine Art
January 23 – March 1
Single-handedly punching back at winter, Rick Wester Fine Art has mounted an invitingly warm group-exhibition celebrating the tactual essence of summer featuring some excellent surf imagery from our great friend, Joni Sternbach (among others).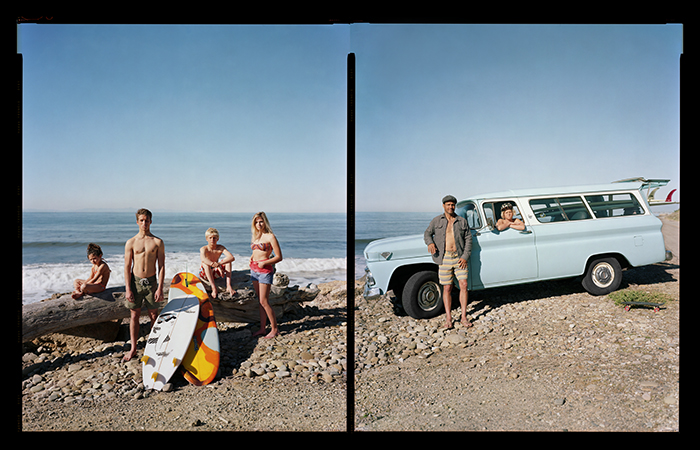 Joni Sternbach: 13.08.29 #53 Lisa + Mikey, Ditch Plains, Montauk, 2013
30 x 40 archival pigment print
From the gallery's press release:
In the midst of the coldest winter in New York in 20 years it seems that no amount of freezing sunshine, Vitamin D or dry radiator heat can overcome the chill of the wind off the Hudson, East or Harlem Rivers. Rick Wester Fine Art is pleased to present a visual antidote to Seasonal Affective Disorder with NOT LONG HIDDEN, a group exhibition that combines the work of five photographers who have explored and incorporated into their work a highly visceral and sensual vision of summer light, color and tone. Kate Joyce (Chicago, IL), Jakub Karwowski (Krakow), Joe Maloney (Hancock, NY), Cheryle St. Onge (Durham, NH) and Joni Sternbach (Brooklyn, NY) all share unique sensibilities towards how radiant light shapes their imagery. Like music that transforms auditory sensation into emotion and action, the photographers of NOT LONG HIDDEN create the sensory equivalent of stopping, mid – step on a summer's day, to take in the color and absorb its warmth. Each pursues distinctly different subject matter and approaches, however all dwell within the realm of the documentary photograph with remarkably individual results .
Click here to see more from NOT LONG HIDDEN at Rick Wester Fine Art
Tags: 8 x 10, Archival Pigment Printing (Inkjet), Film Processing, Joni Sternbach, Mounting, Rick Wester Fine Art
Out of the city for summer?

Well, if you're in London or even just slightly up the Hudson River from New York City for any reason, here are two shows to check out. No matter where you are, get yourself outside and enjoy the weather!

P.S. and don't forget to apply for the 2010 WIP – LTI / Individual Project Grant … (if you're a woman, of course).
Renaissance
Bill Armstrong
Hackelbury Fine Art, Ltd.
June 10 – July 31, 2010

Bill Armstrong: From the Infinity series: Renaissance #1005
40 x 48 optically enlarged c-print
Bill Armstrong's Renaissance images are part of an extensive body of work called the Infinity Series and are aptly named after a crucial aspect of the creative process where he rephotographs found images with his focusing ring set at infinity.Armstrong's appropriated material is subjected to a variety of physical manipulations – photocopying, cutting, painting, rephotographing and the extreme de-focusing that enables him to blend and distill hues – all of which contribute to transform the originals and give them new meaning in a new context.
LTI-Lightside produced six conventionally enlarged 40″ x 48″ c-prints for this exhibition.
Surfland
Joni Sternbach
Kenise Barnes Fine Art
June 5 – July 34, 2010


Joni Sternbach: From Surfland: 08.08.13 #8 Surfer Gals
20 x 24 archival pigment print, scanned from unique collodion tintype

Joni Sternbach has covered a lot of ground with her project Surfland… from shooting up and down both coasts in the United States to exhibiting the photographs seemingly everywhere in between and as far away as Lishui, China. Along the way, the work has received widespread critical attention both online and in print. Surfland, the book, also won in the 2008 Photolucida Critical Mass Awards hard cover Monograph category. LTI / Lightside produced thirteen 20 x 24 and 8 x 10 archival pigment prints and one30 x 40 digital c-print for this exhibition
Reminder:
The 2010 Women in Photography – LTI / Lightside Individual Project Grant is open for submissions. Follow this link for all the information you'll need to apply:
Tags: Archival Pigment Printing (Inkjet), Bill Armstrong, Conventional C-Printing, Exhibitions, Joni Sternbach, Scanning