All Access: The Rock and Roll Photography of Ken Regan
Ken Regan
Morrison Hotel Gallery
Oct 20 – Nov 22, 2011
He's back … Ken Regan brings more of his early rock and roll imagery to the New York Soho Morrison Hotel on Thursday, October 20th. We only started working with Ken about six months ago when we printed his first Morrison Hotel exhibit, an all Bob Dylan show held in conjunction with the release of a limited edition folio of Regan's Dylan images.
Now Morrison is taking the opportunity to further it's offerings of Regan's work, something not lost on us as we handle original negatives of say, Elvis's return from the army or The Beatles on the tarmac at JFK …  and like the first exhibit, this one titled All Access, is timed to coincide with the release of a new book.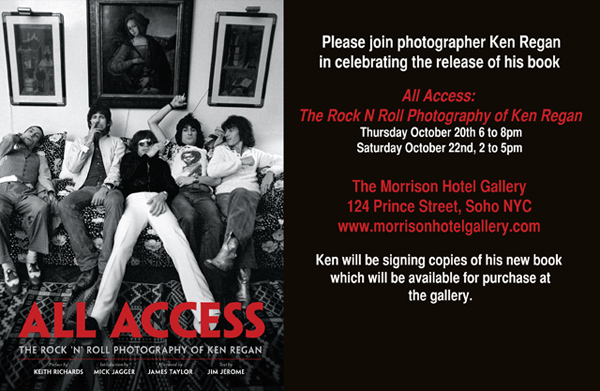 Tags: Archival Pigment Printing (Inkjet), B+W Silver Gelatin Printing, Exhibitions, Ken Regan, Morrison Hotel Gallery