Ah summer … we hope you're enjoying yours. We were lucky enough to have helped three of our fabulous clients prep shows for this laziest of seasons. The works are so nice we couldn't help but post them here (click on the individual images to view a longer selection of each series):
Eyes
Sebastiaan Bremer
Houk Zurich,
June 9 – July 28, 2012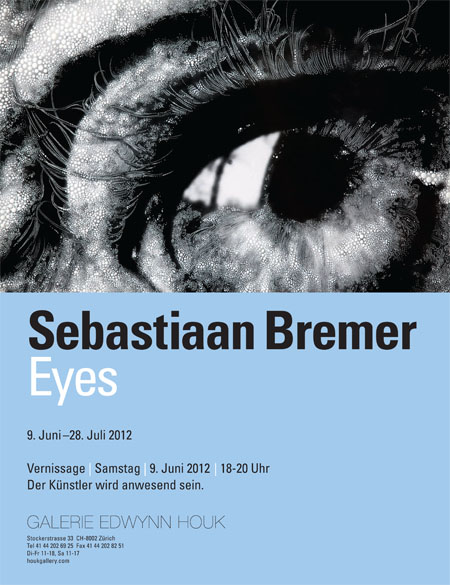 Sebastiaan Bremer stated the summer off with an amazing opportunity presented to him through the Edwynn Houk Gallery. Somehow, he was giving the blessing to rework with his own hand a series of iconic images of artists eyes originally shot by the British master, Bill Brandt. Brandt's super close up images of Max Ernst, Henry Moore and Alberto Giacometti among others become the jumping-off point for Bremer's signature approach of applied dots of ink and paint.
As Gregory Volk wrote in The more you look, the more you see (2004)  "Bremer's technique is novel and utterly hybrid. Using various inks,

he draws directly on slightly blurry c-print enlargements of photographs

, and often adds splotches and streaks of photographic dye.
So yeah, the "slightly blurry c-print" part is what we contributed to this one …
Sex Cells
Natasha Gornik
Emanuel Fremin Gallery
June 28 – July 28, 2012
Emmanuel Fremin presents Sex Cells, a group show curated by Asli Unal.
From the press release: In Sex Cells, eight contemporary photographers explore how we direct sex appeal, both consciously and unconsciously, as a means of empowerment and manipulation. From the provocative to the grotesque, the featured artists combine familiar props and subjects in an original manner as they tackle themes of seduction, bondage, religion and bestiality."
Here we produced four pieces for Natasha and I have to say, they are total knock outs. From the compelling imagery to the slickly conceived framing presentation; this represents a benchmark for Gornik's work and portends of great things to come from her.
After Images
Amy Arbus
School House Gallery, Provincetown, MA.
June 20 – July 18, 2012
We got to work on these tricky portraits by Amy Arbus this summer as well. Sometimes we'll start work on a project and have no idea what we're being presented with (conceptually) … and really, that's not such a stretch 'cause I mean, we are the technicians after all and somewhat removed from the "intellectual" side of the process … it's actually kind of fun, trying to figure what's going on in a project beyond the technical perimeters. So as you can imagine, this is one of those projects that had us scratching our heads for a bit …
From the gallery's press release:  Arbus is no stranger to portraiture, but this latest series is perhaps her most visually arresting to date: After Images is a daring and vivid evocation of classic paintings by Picasso, Modigliani, Schiele, and Ingres to which the photographer brings her own style and originality.
And in her words: In emulating these paintings, the challenge for me has been to use much softer lighting than I have in the past and to figure out how to represent the sloped shoulders, elongated necks and fingers that don't exist in real life. The more I make these images the more involved I become in how they differ from the originals.
That's it for now so … go outside and enjoy!
Tags: Amy Arbus, Digital-C Printing, Exhibitions, Natasha Gornik, Sebastiaan Bremer